MarketPlace announced the promotions of Bermudians Mitchell Foote and Michael Cann to store managers.
A spokesperson said, "Mr Foote and Mr Cann previously served as assistant store managers at Shelly Bay MarketPlace and Somerset MarketPlace, respectively.
"In their new roles, Mr Foote and Mr Cann will oversee store operations at A1 Smiths and A1 Paget, respectively, with a focus on: safety and cleanliness measures, ensure a positive shopping experience and customer satisfaction, associate training and development and ensure shelves are loaded with fresh and quality products at all times."
Michael Cann and Mitchell Foote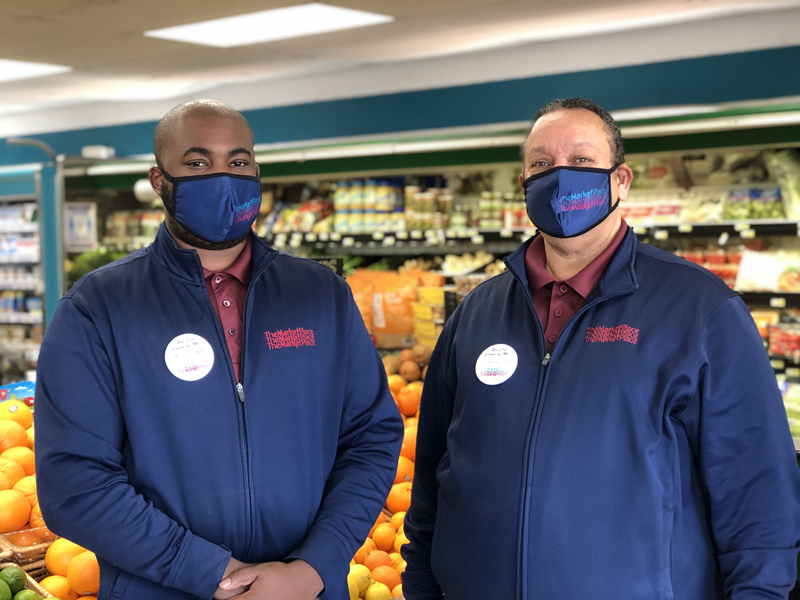 "I enjoy providing a positive experience for customers and I am excited by this opportunity," said Mr Foote. "I look forward to growing and improving operations and elevate the customer experience."
"I am beyond excited and I am enjoying this leadership role" said Mr Cann. "The growth opportunities have been rewards for my continued hard-work."
The company said, "With eight years of experience and two stints with The MarketPlace, first joining in 2012, Mr Foote has forged a path in retail excellence. He has demonstrated great leadership and initiative while operating in one of our larger stores.
"Since joining The MarketPlace in 2016, Mr Cann rapidly worked his way up from a part-time merchandiser to a full-time warehouse person before becoming an assistant store manager upon successful completion of the MarketPlace Management Training Programme."
Seth Stutzman, president of The MarketPlace group of stores, said: "Since Mitchell's return to The MarketPlace he has breathed new life into his role, truly showing his commitment to better serving our customers. He is a positive leader that takes great initiative with a strong work ethic. Michael is an eager, determined and disciplined young talent; his positive energy is contagious.
"Early on, Michael displayed many of the key leadership attributes: sense of urgency, exceptional time management, fast learning, flexibility and a willingness to go above a beyond. He brings a needed youthful presence to our leadership team and his commitment to staff and customers is remarkable. Our goal has long been to foster and develop local talent and placing them in key leadership roles.
"We are thrilled to welcome Mitchell and Michael to the leadership team as they continue to deliver excellence."
Read More About