Institute of Directors Bermuda elected their 2021 Executive Committee Members at its Annual General Meeting today [Feb 25].
A spokesperson said, "The election sees the elevation of a few existing Executive Committee members into new roles, the addition of new members and the departure of familiar faces.
"Michelle Cardwell and Sara Schroter will assume Co-Chair roles, replacing Rochelle Simons, outgoing Chair and the first female chairperson of the Branch, whose term has ended.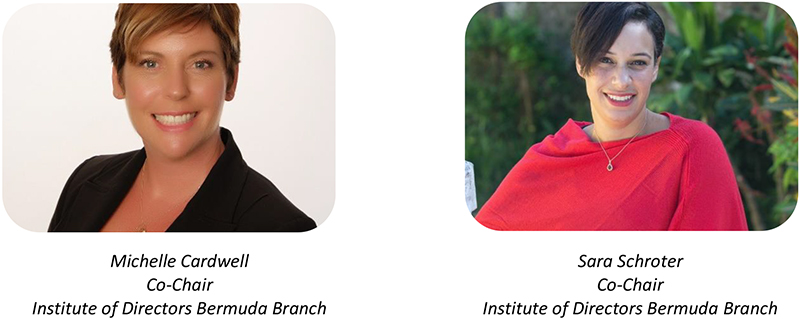 "Ms. Schroter and Mrs. Cardwell joined the Branch Executive Committee in 2015 and 2017, respectively. They both share that they believed in the mission of the Branch and were keen to assist in its growth. Their experiences with the Committee provide them with insight into the local organization's operations and its relationship with the IoD UK.
"As a member of the Executive Committee, Ms. Schroter chaired the first and co-chaired the second Branch Governance Conferences held in 2018 and 2020. Mrs. Cardwell's Executive Committee role includes chairing the Branch Membership sub-committee since 2017.
"She has led the creation of social events, engaged with prospective and current members about the organization, held key contact responsibility for the non-executive director directory, in addition to co-chairing the 2020 Governance Conference. Also stepping down from the Executive Committee is Roger Gillett, past Chair of the Branch."
Ms. Schroter and Mrs. Cardwell commented: "We speak for not only the Executive Committee and our members, but also the business community, in extending our gratitude and appreciation to Rochelle and Roger.
"It is thanks to their dedicated commitment and vision of how the IoD could support and promote good governance in Bermuda that the branch was revitalized here in 2012. In fact, this year marks the 30th anniversary of the IoD having a branch here, which is a milestone that we will be celebrating throughout the year."
A spokesperson added, "Joining the Executive Committee are 4 new members, Lloyd Holder, Andrea Jackson, Samantha Kyme and Phil Martin, who with current Executives Amanda Sodergren, Paul Slaughter, Neil Glass, Natalie Neto and the co-chairs, will bring total volunteer executives to 10.
2021 IoD Bermuda Branch Executives
Michelle Cardwell, Co-Chair
Sara Schroter, Co-Chair
Amanda Sodergren, Secretary
Paul Slaughter, Treasurer
Neil Glass
Lloyd Holder
Andrea Jackson
Samantha Kyme [Alternate to Natalie Neto]
Phil Martin
Natalie Neto
"Ms. Schroter and Mrs. Cardwell are looking forward to working together to advance the organization in keeping with 2020 strategies, including:
"Successfully transferring the structure of the branch to its new legal status.
"Embedding the new organizational structure by supporting the Executive Director and Member Support Executive, and new Executives to fulfil their roles as Ambassadors.
"Enhancing the reputation of the Branch as the leading source of information, training, and expertise for good governance in Bermuda, and
"Continuing to foster and develop strong relationships with the IoD London and the network of international branches through the transition of the new corporate structure, and beyond."
Read More About