[Written by Dale Butler]
The six-week 11.00am and 1.00pm Culinary Arts Luncheon, revived at the Bermuda College, sold out in one day, highlighting the strong foundation formed over the years. Hostess L'Tanya Roberts, Dean of Business, Hospitality and Technical Education, was on hand to ensure that all COVID-19 protocols were followed when she welcomed guests.
Her team of instructors in the kitchen and dining-room did a superb job for the opening luncheon on Friday, February 19th.
In the kitchen, Chef Lecturer Teneika Eve was actively engaged with culinary students along with fellow stalwart Shawn Ming, Chef Instructor. Lecturer Rui De Sa, no doubt, set the pace for the service we received.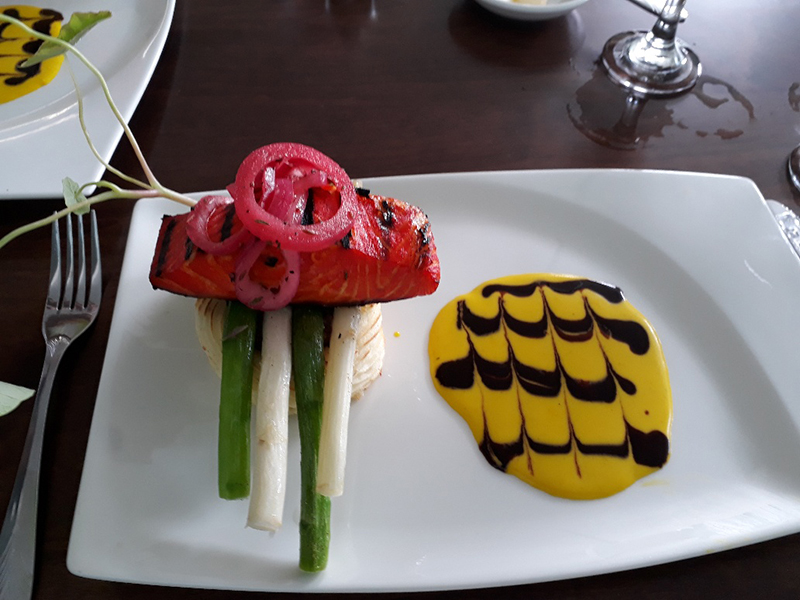 The luncheons are a golden opportunity for students to demonstrate their culinary and serving skills in front of a live audience. I commend them and their instructors for building on the high standards established by Fred Ming, the former Head, and his retired team.
A three-course meal at $35 and a complimentary drink is unbeatable. They did not skimp on the size of the courses and kept them nutritional and delicious.
Tasters consisted of butternut squash—blended with warm spices and finished with a hint of cream. My guest, a chef with years of experience, was impressed and, indeed, gave his three courses a 10. I enjoyed the onion soup—topped with gruyere, mozzarella, and toasted bread and the vegetable quiche with peppers, onions, spinach, and cheese, formed into a delicate quiche, was a pleasant surprise.
Main courses were the grilled salmon or the broiled chicken. Based on the smiling faces I saw – and the empty plates – they were a hit. The salmon was marinated in local carrot and scallion oil. So, I had to try that, and the menu indicated that the boneless chicken breast was brushed with rosemary oil and Chardonnay veloute.
Both entrees were accompanied by pickled red onions, steamed asparagus, and mashed potatoes stuffed with Portobello mushrooms. The entrance of the salmon, with a long portion of nasturtium, was an eye-catcher, and I'm certain that students will explain to those unsure if it can be eaten. It was interesting to note the unusual soup bowl and the larger-than-life plate used to serve the chocolate trio for dessert.
We left totally satisfied and can only commend the lecturers and students for the great job they did to revive this much loved event that gives students a meaningful way to practice their skills.
PS: Call because sometimes folks do drop out. Rarely, but possible.

Read More About
Category: All, Entertainment, News