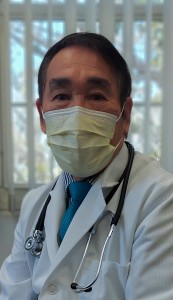 [Column written by Dr Roger Wong]
The novel coronavirus is an adversary that humans have never faced before, and as such we are at a huge disadvantage. The coronavirus can be lethal; COVID-19 has contributed to thirty deaths in Bermuda over the period of a single year. Imagine—thirty road deaths in twelve months would be considered a crisis, a call for action. Likewise, we can and must fight back against the coronavirus.
Instead of passively hoping that you yourself will somehow manage to escape the virus, you can personally join all Bermuda in taking action against it. We can fight Covid-19 by wearing masks, social distancing, washing our hands frequently, and vaccinating our bodies against the virus.
The Covid vaccine helps our bodies to design and generate antibodies specifically against Covid-19, giving us more of an advantage that we do not naturally possess.
As general physicians, my colleagues and I advise our patients as best we can—according to the highest standards of scientific, evidence-based medicine—on how each and every one of them can enjoy the best possible overall health.
Vaccinations have been a tool in our medical arsenal for over two hundred years. Humans have fought back against diseases such as polio, tetanus, yellow fever, smallpox, measles, and so on very effectively using vaccinations; and most children growing up in Bermuda today are taken routinely by their parents to receive vaccines. Whilst it is important in addition to take other basic measures to maintain your personal health—optimizing your diet and lifestyle for a robust immune system—the Covid vaccine is currently the best protection against the coronavirus that medical science has to offer.
The vaccine will teach your body how to protect itself against Covid-19 before you become infected and even if you never do. As the pilot of your own healthcare, consider the vaccine as a potentially preventative measure that just might help to stop the Covid virus from putting you in ICU. A 2021 study published by the New England Journal of Medicine and the British Medical Journal showed that being vaccinated against Covid considerably reduces one's risk of becoming severely ill from the virus or requiring hospitalization because of it.
You should also consider your loved ones, your friends, co-workers, and acquaintances. Consider those who are especially vulnerable: the elderly, for example, and persons with pre-existing health problems like asthma. Consider those whose pre-existing illnesses make them physically unable to receive the vaccine. Because of the Covid virus' flexible nature, and because every human body is in some way unique, you could be carrying the virus and spreading it to others while feeling perfectly fine yourself. You may have no symptoms at all, you may not even realize you are carrying the virus; yet you can still, without your knowledge, transmit it to others who may become seriously ill.
If you have taken the vaccine, however, your risk of infecting those around you is significantly mitigated. The more of us who are vaccinated, the stronger our chances of reducing the spread of Covid-19.
Even if you've tested positive for Covid, you should consider getting vaccinated. The vaccine may well help to strengthen your immunity against other variants of this fast-mutating virus.
Whether we admit it or not, our daily routine involves risks. We Bermudians press on with our lives despite these risks. The risks of adverse side effects from the Covid vaccine are far outweighed by the vaccine's advantages.
Consider taking the Covid vaccination. Discuss it with your doctor. Do it for yourself. Do it for your loved ones. Do it for all Bermuda.
- Dr Roger Wong, Point Finger Road Medical Center

20 Most Recent Opinion Columns

Opinion columns reflect the views of the writer, and not those of Bernews Ltd. To submit an Opinion Column/Letter to the Editor, please email info@bernews.com. Bernews welcomes submissions, and while there are no length restrictions, all columns must be signed by the writer's real name.
-


You can find more information on the links below and also on our dedicated website BermudaCovid.com, which is the most comprehensive resource and historic record available of Bermuda's handling of the pandemic.
Read More About