The African Bermuda Dispersion Cultural Tour and the Griot will be hosting a free webinar on Thursday, June 3 focused on the life of Dr. Pauulu  Kamarakafego.
A spokesperson said, "Join a free webinar with the African Bermuda Dispersion Cultural tour and the Griot for a tribute book reading and discussion based on the life of Dr. Pauulu R.N.O.B. Kamarakafego, Dr. Roosevelt Brown [1932-2007], with sponsorship from the Department of Community & Cultural Affairs.
"He was a Bermudian and a great world-renowned scientist, civil rights leader and political activist, Dr. Pauulu R.N.O.B. Kamarakafego [born Roosevelt Brown] played a key role in Universal Adult Suffrage in Bermuda. He was also an ecological engineer, Member of Parliament, worked in various countries, and was a consultant to the United Nations.
"The two books that will be read and discussed are 'Me One, The Autobiography of Pauulu Kamarakafego' and 'They Call Him Roose, Pauulu Kamarakafego and the making of a Bermudian Revolutionary.'
Date: Thurs, June 3rd at 7:30pm – 9:30pm
Webinar Registration: here
Enquiries at info@titantoursbermuda.com.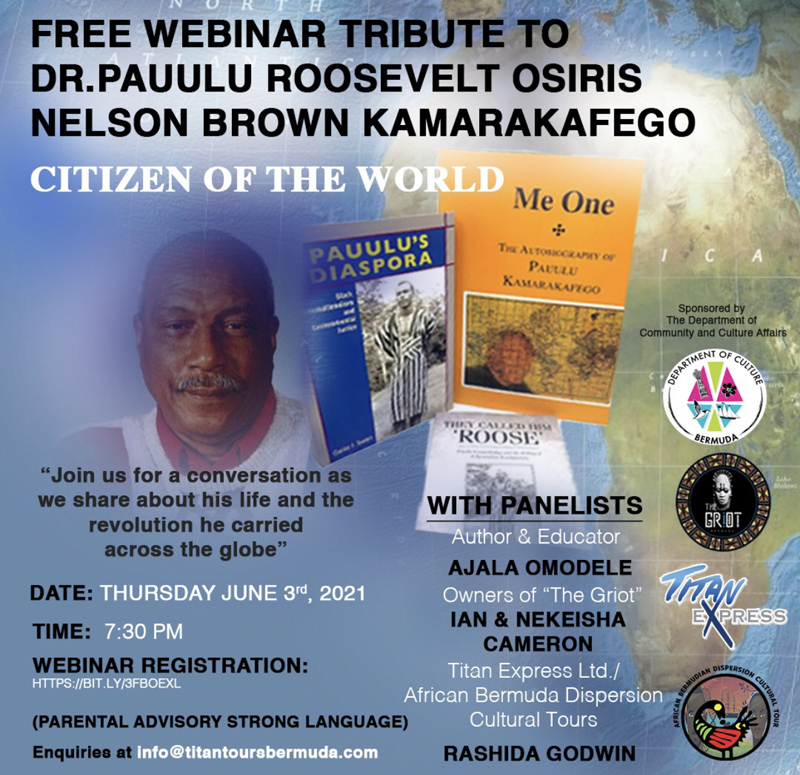 Read More About