The Bermuda Sloop Foundation's [BSF] celebratory 15 year anniversary flotilla will be taking place this weekend.
A spokesperson said, "Staying the course with its milestone celebration series, the Bermuda Sloop Foundation continues with its first ever Alumni Week showcasing shared experiences of former students, trainees and crew on board the Spirit of Bermuda, which launched many alumni into careers in the maritime industry.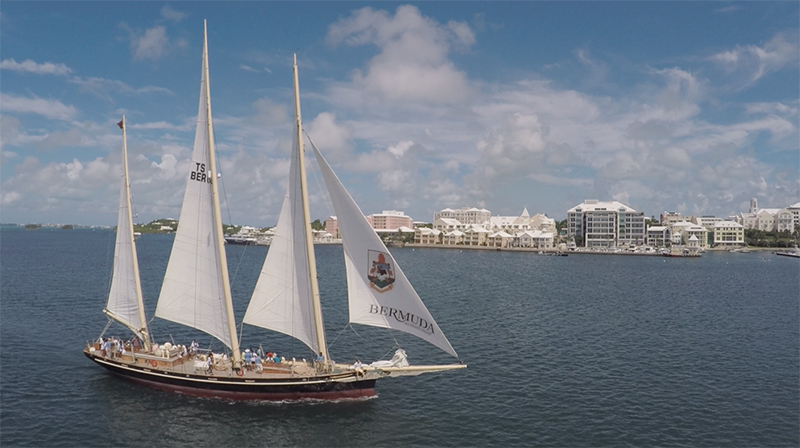 "While unconventional at the time of its launch, experiential learning aboard the Spirit of Bermuda has since evolved to be a great complement to standard classroom teaching styles. As visionaries, the founders of the Bermuda Sloop Foundation – Alan Burland, Jay Kempe, and Malcolm Kirkland – had the foresight to create new learning and developmental pathways for Bermuda's youth, ultimately earning many young people roles within the maritime industry, who have since turned those opportunities into thriving careers."
Bermuda Sloop Foundation programme officer and alum Jamila Hanley said, "Celebrating 15 years of life-changing educational experiences for Bermuda's youth is an amazing accomplishment. Earning my STCW – Standards of Training Certification and Watchkeeping and now as a BSF programme officer, I'm able to impact the future youth of Bermuda who stand to benefit from the character-building skills developed through their time aboard the ship."
The spokesperson said, "Understanding that every young person has the potential to grow beyond the confines of their life's circumstances, the BSF designed a programme for middle school children between the ages of 12-14. A vulnerable time for any youth, the programme would institute five core competencies focusing on Social-Emotional Learning [SEL]: Self Awareness, Self-Management, Relationship Skills, and More Responsible Decision Making.
"In addition to SEL, all BSF programmes provide STEM education, leadership training, and character development involving seven values: responsibility, accountability, resilience, self-confidence, teamwork, courage, pride, and awareness.
"Post-sail training reviews of Spirit of Bermuda programmes by parents and guardians of participating youth have been highly favourable over the years. Recent data collected indicates youth have:
An increase in self-confidence, recognizing strengths, and identifying emotions
Improved impulse control, self-discipline and motivation, goal-setting, stress management, and organisational skills
Demonstrated empathy, appreciation of diversity, and respect of others
Further developed their communication, social, teamwork, and relationship building skills
Shown an increased ability to identify problems, analyse situations, evaluate, reflect, and show ethical responsibility
"Although in-person celebrations will be scaled down to adhere to government Covid-19 safety measures, virtual activities to acknowledge and carry on the work of the Bermuda Sloop Foundation will continue. A collection of messages from alumni based in Bermuda and around the world will be released online over the coming weeks.
"The public is also encouraged to share their 'Sloop Adventures' with the BSF tagging @bermudasloopfoundation on Facebook, Instagram, and LinkedIn.
"Bermuda Sloop Foundation's celebratory 15 year anniversary flotilla will be taking place on Saturday, October 2 in Hamilton Harbour. Boat owners and spectators are welcome to join in the on-water parade from 3.00pm to 5.00pm, with BSF flags available upon registration. Complete details, including Covid safety guidelines for the event, can be obtained by emailing info@bermudasloop.org."

Read More About
Category: All