A number of groups and community members have appealed to the UK to join an initiative aimed at making Covid vaccines available to less developed countries, stating that "promoting vaccine access – ending 'vaccine apartheid' – constitutes both a moral imperative and serves the interest of the whole of humanity."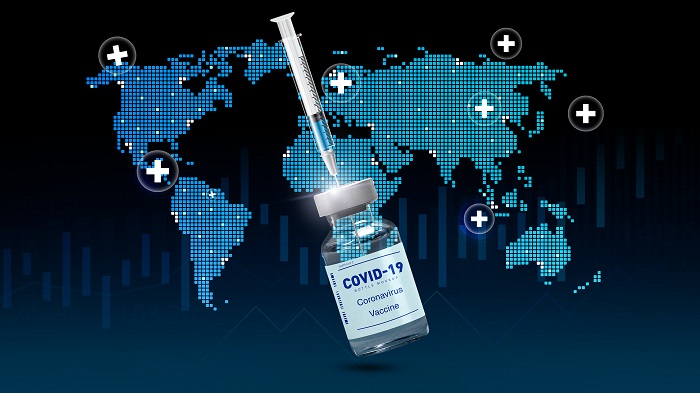 The Joint Statement said, "This axiom captures the reality that we all are facing globally, with respect to the Covid pandemic. It is in the interest of all who share the planet to facilitate having the Covid 19 vaccines accessible to everyone who wishes to take it, as quickly as possible.
"However, given the nature of the current economic system with its priority for profits, the right to life is commodified. So that while vaccination rates for at least 'one shot' in 'developed' countries such as those in North America and Europe are already more than 68% – with 'spare available capacity', while those rates in 'less developed' countries, such as those in Sub-Saharan Africa, remain below 5%.
"Given the current circumstance; the projections are that it would take at least two more years to make the vaccine accessible to everyone, globally.
"In light of this circumstance, an initiative championed by India and South Africa at the World Trade Organization [WTO], seeks to allow for a Temporary Waiver of Intellectual Property Rights on Covid 19 Vaccines.
"This would allow vaccine production to take place across the planet, especially in the Global South; providing a timely expansion of accessibility for Covid vaccines. Note that India, South Africa and other relevant countries, possess adequate infrastructures to facilitate this process.
"Promoting vaccine access – ending 'Vaccine Apartheid' – constitutes both a moral imperative and serves the interest of the whole of humanity, in that it drastically reduces the potential for the spread of the variant strains of SARS-COV-2.
"This proactive initiative has gained traction, with more than 100 countries supporting it. While the United States was initially reticent, a couple of months ago, they came on board, in favour of life over profit. The European Union has demonstrated a measure of support, but two countries have -surprisingly – not 'come to the plate', to-date. They are the United Kingdom and Germany.
"As citizens of the British Overseas Territories, we, the undersigned, urgently call for the U.K. to join this initiative, promoting sustainable public health outcomes and championing the most fundamental of rights – that of the right to Life.
"The United Kingdom has an opportunity for a significant pivot in its relations with some 2 billion people who reside in countries that made up the British Empire of previous centuries. Of course, there is no changing the narrative of the past, nor any of the externalities that pertain. However, supporting the temporary Waiver at the WTO, in order to open up access for the Covid Vaccines, will substantially address the well-being of their lives, today and into the future.
Supported by the following: 
"NGO Executives: Bermuda Trade Union Congress [BTUC]; Citizens Uprooting Racism in Bermuda [CURB], Social Justice Bermuda [SJB].
"Local Residents supporting on their own behalf – Organizational references included, only for identification. Michael & Carol Ashton: veterans in hospitality industry; Norma Astwood: former educator, senior civil servant & former Senator; Tulani Bulford: entrepreneur & activist; Dale Butler: former Minister of the Cabinet; Dr Gordon & Elizabeth Campbell: senior member of medical community & supporters of the arts;
"Dr John Cann: former Chief Medical Officer; Dante Cooper: General Secretary of the Bermuda Union of Teachers; Bishop Nicholas Dill: Prelate of the Anglican Church of Bermuda; Joan Dillas-Wright: President of the Senate & former Nurse; Elizabeth de Jean Saunders: former school counsellor; Glenn & Deonn Fubler: former educators: Chris Furbert: President of the Bermuda Industrial Union; Charles Gosling: Mayor of Hamilton; Kevin Grant: General Secretary of the Bermuda Public Services Union.
"Dr Duranda Green: President of the Bermuda College; Wendell Hollis: lawyer & former Officer of the Bermuda Regiment; K. Randolph Horton: former Minister, Speaker of the House Assembly & sporting icon; Melanie Ashton Hocking; Dwight Jackson: Gen Sec BTUC & Educator; Malcolm & Martha Kirkland: champions of youth projects; e.g. Spirit of Bermuda; Dianna Kemp: icon in the legal fraternity.
"Pastor Kenneth Manders: President of the Seventh Day Adventist Church of Bermuda; Dr Cheryl Peek-Ball: former Chief Medical Officer; Cheryl Pooley Alves: community activist; Cordell Riley – Acting President of CURB; W. Alex Scott: Former Premier of Bermuda; Donald Scott: chairman of the Bermuda Monetary Authority & former Cabinet Secretary; Sir John Swan: Former Premier of Bermuda; Dr Wilbert Warner: mentor in our medical fraternity; David Wingate: former senior civil servant & environmental icon; Kristin White: coordinator of SJB; Roy Wright: former Dean at Bermuda College."

You can find more information on the links below from our dedicated website BermudaCovid.com, which is the most comprehensive resource and historic record available of Bermuda's handling of the pandemic.
Read More About