Canada-based Algonquin Power & Utilities Corp — which owns BELCO — announced its "commitment to a net-zero by 2050 target."
"This target is rooted in Algonquin's purpose of sustaining energy and water for life and is a reflection of the Company's track record of being a leader in the transition to a low-carbon economy. Concurrently, Algonquin is releasing its 2021 ESG Report, which details Algonquin's progress with respect to environmental, social and governance ["ESG"] matters," the company said.
Screenshot from the report: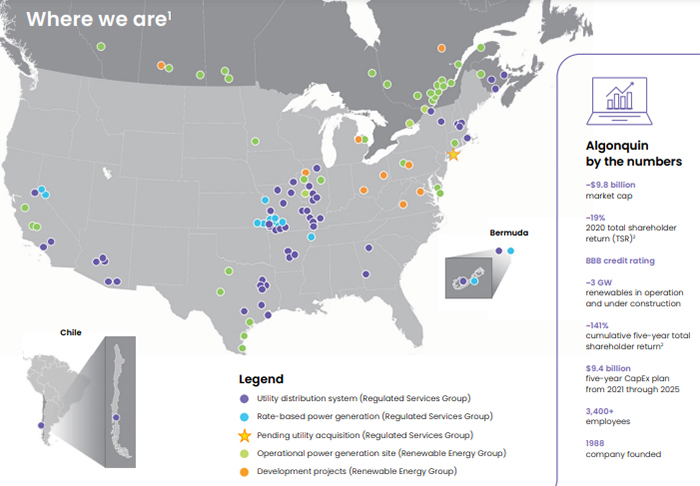 As it pertains to Bermuda, the report said, "We announced the acquisition of Ascendant in June of 2019, and after receiving regulatory approvals in Bermuda, we closed the transaction in November of 2020. Ascendant is the parent company of several companies and brands, the largest of which is Bermuda Electric Light Company Limited [BELCO], the sole electrical energy utility on the island. We're thrilled to welcome over 300 Ascendant employees to the Algonquin family, and excited to work with them in achieving the island's sustainability goals.
"Our regional business in Bermuda is following the example of other Algonquin business units by making sustainability a key focus, and aligning its ESG efforts with our enterprise-wide strategies and targets. The island of Bermuda is home to approximately 64,000 people who all depend on our regulated entity, BELCO, to power their homes and businesses. This Earth Day, BELCO publicly announced its commitment to sustainability, sharing an open letter with customers, social media followers, and the media.
"Environmentally, BELCO is committed to reducing dependence on fossil fuels and has a target to move to 100% renewable energy in an initiative named B-100. As the current Integrated Resource Plan [IRP] supports offshore wind from the perspectives of customer savings and reliability, offshore wind is being closely evaluated as a renewable energy solution for powering Bermuda.
"In preparation for B-100, BELCO has actively been modernizing its grid, which is currently limited in its capacity to support large scale renewable generation. Working closely with the Bermuda government's Department of Works and Engineering, new transmission cables are being installed in multi-service duct banks that will eliminate the need to dig up the roads for cable replacement in the foreseeable future.
"While installation of Advanced Metering Infrastructure [AMI] has been delayed due to COVID-19 restrictions in Bermuda, we still expect it to be completely rolled out by summer 2022. AMI will enable the local service teams to see outages immediately and will help ensure accurate billing, which is expected to lead to a better customer experience and greater system resilience."

Read More About
Category: All, Business, Environment