[Written by Stephen Wright]
Boxer Tyler Christopher claimed his second professional win with a dominant points victory over Mohamed Husain at the Holte Suite, Villa Park in England last night.
Christopher was a class above Husain, landing shots with regularity on the brave but limited debutant to win the super-welterweight bout 39-37 on points.
The Bermudian barely put a foot wrong from start to finish; however, he admits he was disappointed with his lack of composure by reacting angrily with Husain's voracious fanbase moments before the bell.
"Fighting at Villa was a big step up for me," Christopher told Bernews. "If I could rate myself, I'd rate myself B-.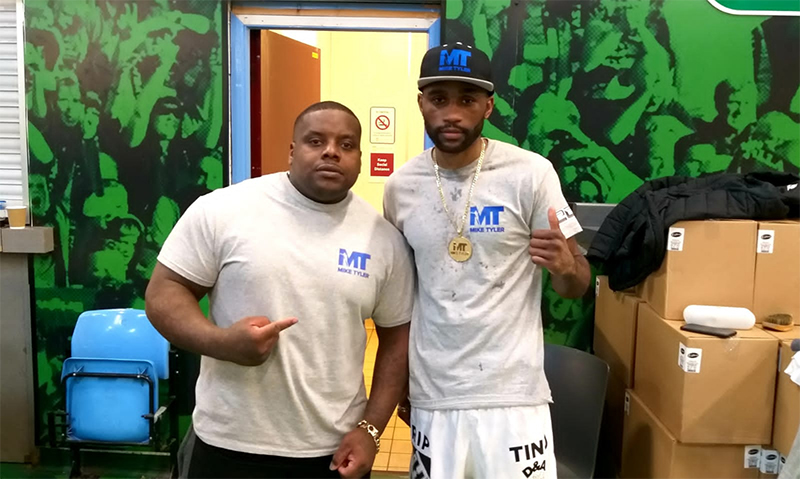 "I let the crowd get to me. I could see all these guys cheering for him, and it made me feel frustrated because I'm the home fighter; I was in the home corner. This comes with the territory, and I'll learn from it."
With Christopher coming off an impressive debut win over Josh Hodgins last month and Husain making his first outing in the paid ranks, the bout was a "fifty-fifty" contest in the eyes of the promoter.
In truth, it was far from it, with Christopher easily evading the vast majority of Husain's wild punches and haymakers before punishing him with sharp and eye-catching combinations.
"I had better boxing ability," the southpaw added. "He caught me with a shot here and there, but I stayed dominant and landed the better punches.
"I stuck in there, I'm a hardened warrior, and I can fight. I've been fighting all of my life. I got the job done.
A look at Tyler Christopher in action last night:
"I knew that he knew he was down [on points]. By the third round, he had to knock me out.
"I thought the referee was being nice [awarding Husain] one of the rounds. I thought I won all four of them."
Birmingham-based Christopher received a ticking off from his coach Anthony Hull for exchanging verbal jabs with his opponent's supporters shortly after entering the ring.
"Where Tyler messed up was getting involved with the crowd before the fight," Hull, the head coach at DNA Boxing School of Excellence in Stirchley, said. "That drops 20 per cent of your energy.
"I think he wanted to shut the crowd up, but I told him, 'As a professional, you need to learn to do you and forget about everyone else'."
Interview with Tyler Christopher after his victory
Hull said he was encouraged by how Christopher stuck to the game plan and dealt with the awkward and unrefined pressure of Husain by using the jab to create and maintain distance.
"Tyler had way more class than him," Hull added. "I thought he won every round all day long.
"Tyler was backing off, keeping the distance while the other kid was charging forward.
"The way I look at it, Tyler is serving his apprenticeship. These are learning fights before titles."
Jon Pegg, who manages Christopher, believes the 25-year-old can potentially fight for a regional belt in the not-too-distant future.
"We're looking at February 5 for his next fight," Pegg said. "We want five fights next year, and if all goes well, a Midland title fight at the end of the year."

Read More About