[Written by Stephen Wright]
Tyler Christopher made a blistering start to his professional boxing career, knocking his opponent through the ropes in the final round of a one-sided bout on Saturday night.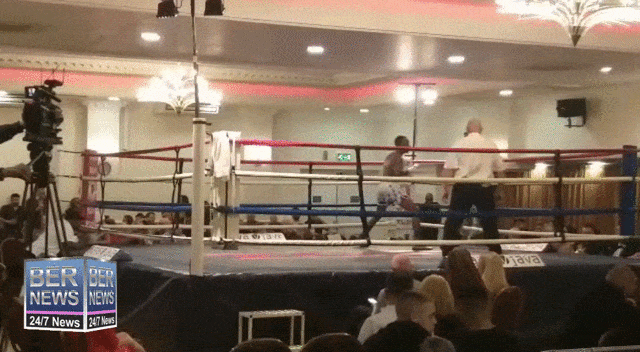 Christopher proved to be a real crowd-pleaser at the H Suite in Edgbaston, Birmingham, crowning a commanding display with a stunning left hook that sent Josh Hodgins tumbling out of the ring.
Hodgins did manage to finish the fight strongly, landing a couple of heavy blows himself as Christopher momentarily lost composure; however, the win was a mere formality by then, with the referee awarding the Bermudian a 40-36 points victory.
"The fight went exactly as I planned, probably even better, being as I knocked him out of the ring," said Christopher, who trains full-time at the DNA Boxing School of Excellence.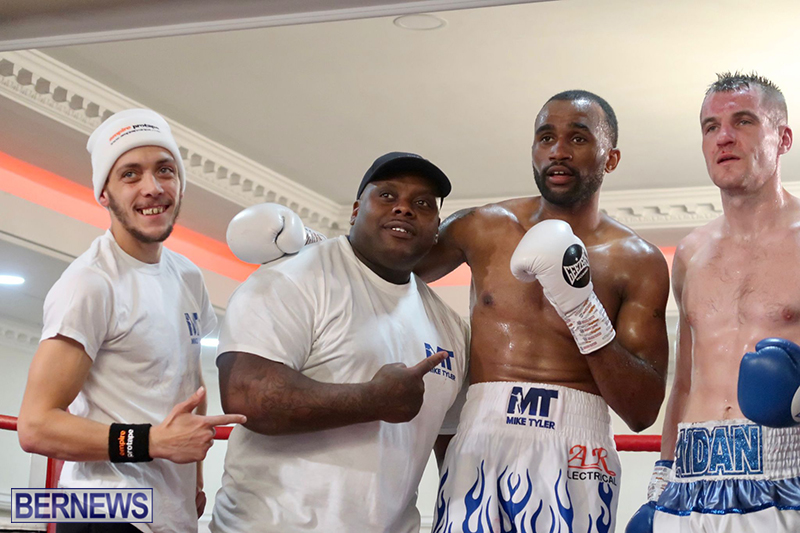 "I've been working with my strength and conditioning coach, Vinny [Vincent Guy], and that's probably the reason why I had the power to knock him through the ropes.
"It was a dream come true to get my first pro victory. I loved every minute of it."
It has been a long wait for Christopher to make his pro debut, having had several bouts cancelled in the past few months due to the Covid-19 pandemic.
The southpaw wasted little time exerting his sharper skills against a determined but limited Hodgins, who is now winless from six outings in the paid ranks.
Christopher controlled the distance with his piston-like jab, sliding and pivoting off the ropes whenever his physically superior opponent forced him to retreat.
Cutting an authoritative figure during the opening three rounds, he was using his ramrod right hand to good effect, piercing and prizing open Hodgins's guard before unleashing a flurry of quick, sharp and accurate punches.
Before the bout, Christopher's coach, Anthony Hull, had spoken of the significant improvements his fighter had made since swapping Bermuda for Birmingham, and those refinements were very much evident, particularly in terms of his neat footwork and ability to control the distance.
Disciplined and focused throughout, Christopher stuck to his game plan of fighting on the outside, rarely exchanging at close quarters with Hodgins, a career middleweight who had dropped to super-welterweight to face Christopher.
"I just wanted to go out there, stay composed, and not let the occasion get to me, being as it was my debut," Christopher, 25, added. "I think I handled it pretty well.
"I dictated the pace from round one, worked my jab, which was my range finder. It was pretty much smooth sailing.
"The game plan was to work through the combinations – my uppercuts, my looping shots, my hooks – all the things I work on with my coach."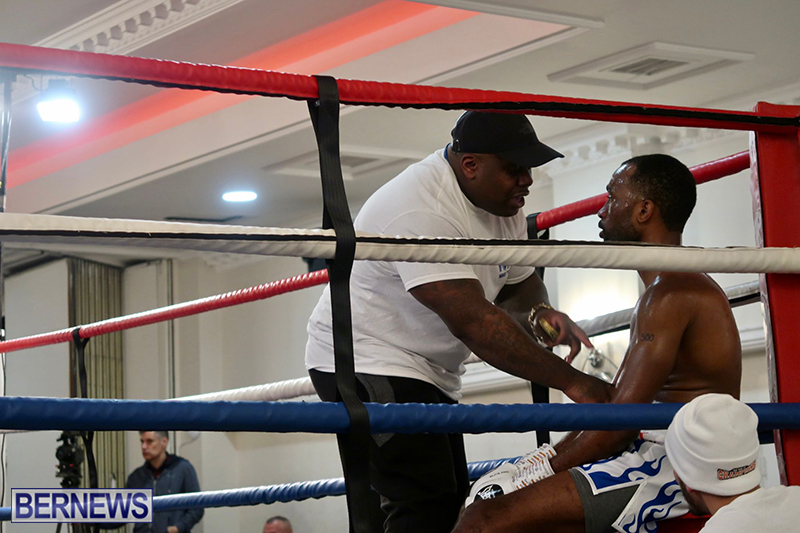 It was a looping left hook that Christopher landed midway through the fourth round to send Hodgins sprawling through ropes.
Hodgins clambered back inside the ring, looking more abashed than hurt, and proceeded to enjoy his best period of the bout, landing two thudding left hooks to stagger Christopher, whose inability to fend off those crude punches exposed a few defensive deficiencies, showing he is still very much a work in progress.
"I probably lost a bit of focus after knocking him out of the ring," he admitted. "I got the crowd all riled up, which got me all riled up, but my coach brought me back down and told me to keep my composure.
"I didn't feel anything; I think I just got loose and lackadaisical."
Christopher now hopes to return to the ring next month and has not ruled out joining fellow Bermudian professionals Nikki Bascome and Andre Lambe on the scheduled fight night on November 6 at The Fairmont Southampton.
"I've put everything into this sport," Christopher said. "I've made sacrifices and it felt great to make my pro debut.
"It feels good to put my name up there with Troy [Darrell], Nikki [Bascome] and Andre [Lambe], all the great Bermudian professional boxers.
"Hopefully, I can get on the Bermuda card, if it's still on. I want a couple of more fights before the end of the year."

Read More About