Cathy Gurret Lama recently raced to third place in the 70.3 Ironman race held in Indian Wells, California.
A spokesperson said, "Cathy Gurret Lama achieved third place in her age group of 65-69 years old in 70.3 Ironman race held in Indian Wells, California, a very popular desert city 90 minutes east of Los Angeles.
"The 70.3 Ironman, Indian Wells, CA and half Ironman attracts the best of Southern California triathletes. The race was forecasted to be fast and furious with every age group level well represented. Even the pros made a journey to the desert, with Lionel Sanders, Vincent Luis and Jelle Geens leading the male pros' starting lineup. Luis and Geens raced the 70.3 Ironman distance for the first time in their career after the Olympic Games and careers in the short circuit racing format.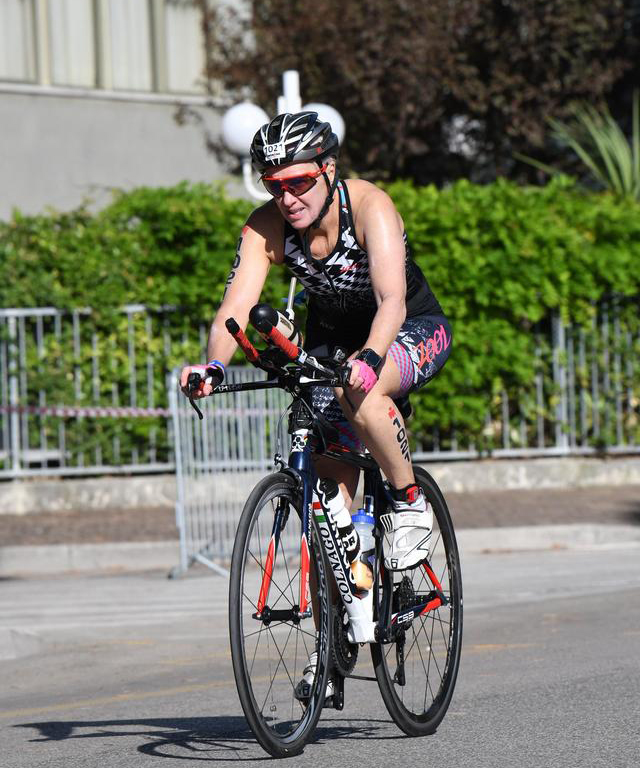 "On a beautifully sunny day on Sunday, December 5, 2,000+ athletes stood on the edge of Lake Cahuilla ready to battle.
"Ms Gurret Lama had her work cut out from the beginning.
"She exited the water in 40'10", second fastest in her age group, and she begun the 56 miles ride on the open landscape of the desert. The out and back loop was exposed to the constant winds that grew stronger as the race developed.
"Ms Gurret Lama finished the bike in 3:19, the fourth fastest bike of the day, averaging a very strong 16.5 miles per hour, very positive considering the stiff windy condition and slight uphill on the return loop.
"The 13.1-mile run was on the very undulating PGA golf course near the Indian Well Tennis Center and it taxed all the triathletes due to the severity of the constant climbing and quick sharp descents on the entire route. It did not help that the temperature escalated to over 90 degrees without shade but the cheering volunteers, thousands of spectators and the many aid stations made up for the difficult conditions.
"Ms Gurret Lama finished the run in 2:33, the third fasted run, and placed third overall in her age group on her final race of the year.
"Over all it was a very successful racing year for Cathy, with a second place at 70.3 Ironman Panama City, Florida, a third place at 70.3 Ironman Oregon, Salem and a third place at 70.3 Ironman, Indian Wells, California.
"Overall in 2021 she is ranked 10th in the world in her age group of 65-69 years by Ironman Co, a well-deserved achievement."

Read More About