[Written by Dale Butler]
The new bakery takeout featuring Halal Broasted Chicken opened in July with a staff of seven. It is operated by Owners/Managers Clinton Muhammad and Hassan Salaam in the centre of The Heartbeat of Hamilton on the corner of Court and Dundonald Streets, in a bright yellow building. Formerly Zaki's Bakery, operated by the venerable Zaki Muhammad, the new owners were very conscious of his solid reputation for good food that was sought after by Bermudians over a 30-year period.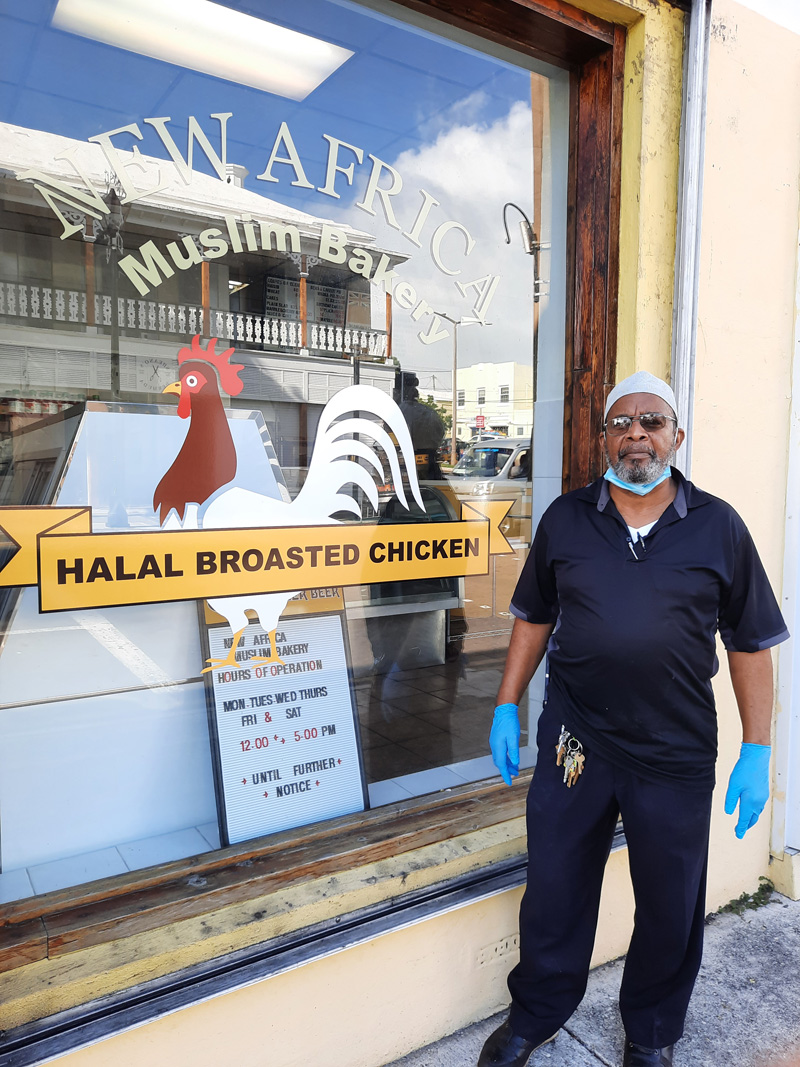 It was therefore expected they would honour his legacy and, without a doubt, the new owners did just that with Bermuda's favourites:
bean soup
bean and carrot pie
steak-umms
wheat, raisin or apple muffins
raisin bread at only $6.75
wheat bread $6.00
chicken and potato wedges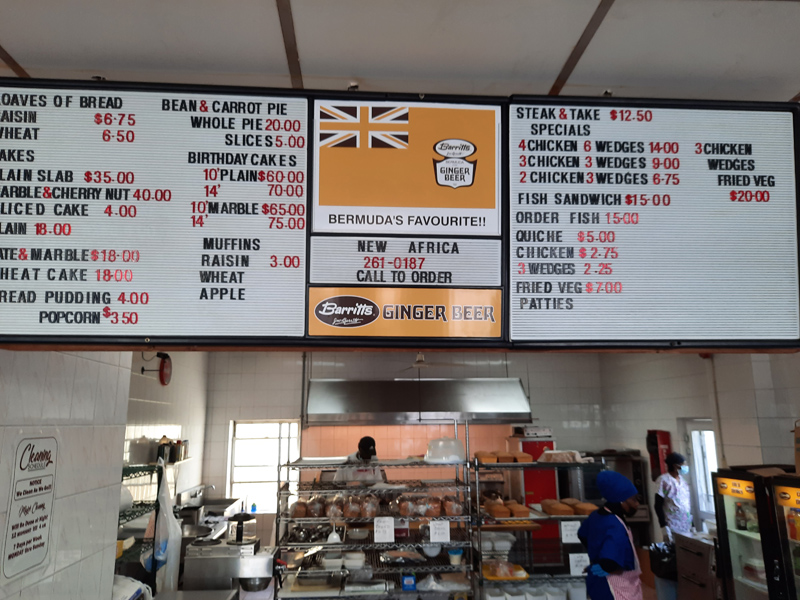 Still very popular is the and sandwich which Manager Clinton Muhammad educated me on the use of saltfish that migrates to Canada and fish caught in Bermuda's waters.
By far, the next most requested items are their cakes which are well decorated, as requested in your initial order. Ready for your taste buds are wheat, strawberry marble, marble and date slices. It is best to order in advance.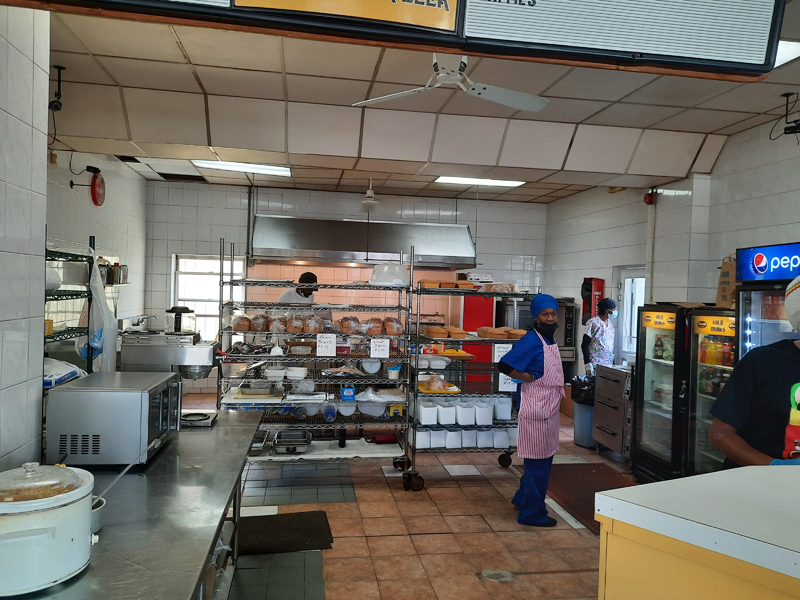 Some 50 years ago, Bermuda was exposed to the views of Master Fard Muhammad who introduced the book How To Eat To Live by Elijah Muhammad. The book highlighted "the proper foods to eat to improve mental power, physical appearance, the prevention of illnesses, curing ailments and prolong life." Many of us read it, benefited from it, and it is quite relevant today.
I enjoyed the bean soup, muffins, chicken and potato wedges and the steak-umms are still blessed with that traditional sauce from long ago. With a birthday in January I know where my cake will be coming from.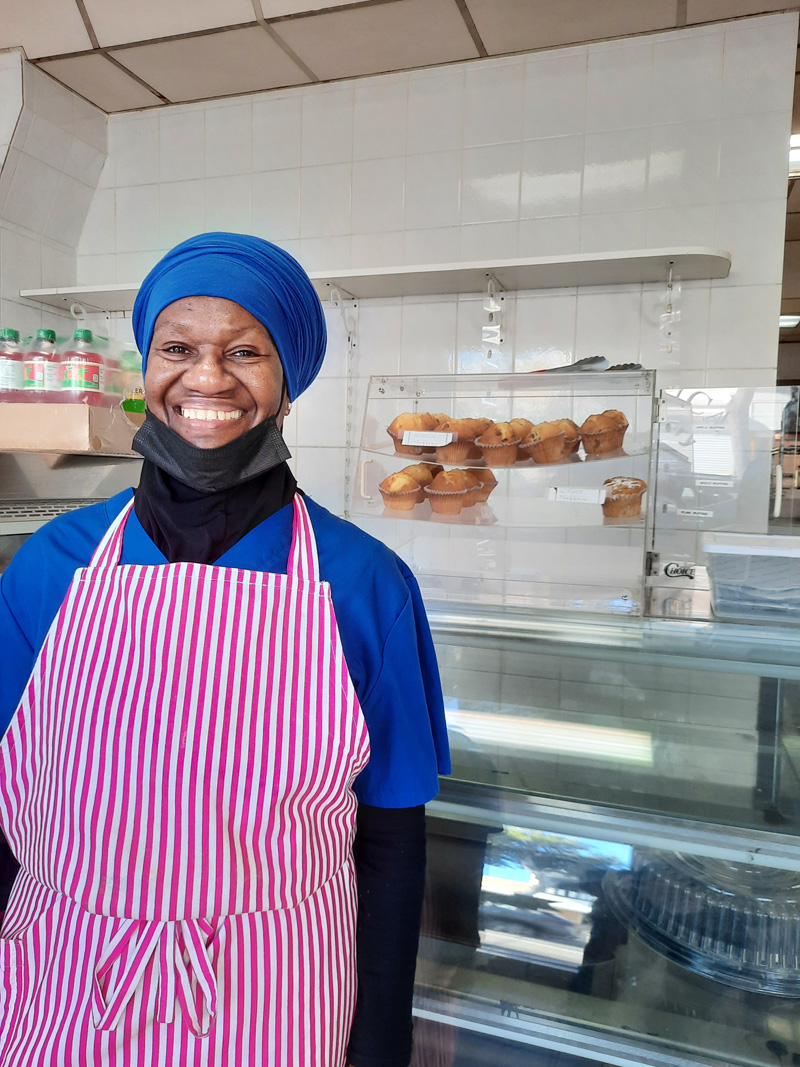 The New Africa Muslim Bakery is standing strong with a great selection of food and good service. Contact number is 337-3609. At the moment, they are currently open from 12.00pm to 5.00pm — which might change in the new year. Congratulations! Keep up the good work!
PS: "Halal food is that which adheres to Islamic law, as defined in the Koran. The Islamic form of slaughtering [dhabiha] animals or poultry involves killing through a cut to the jugular vein, carotid artery and windpipe. Animals must be alive and healthy at the time of slaughter and all blood is drained from the carcass."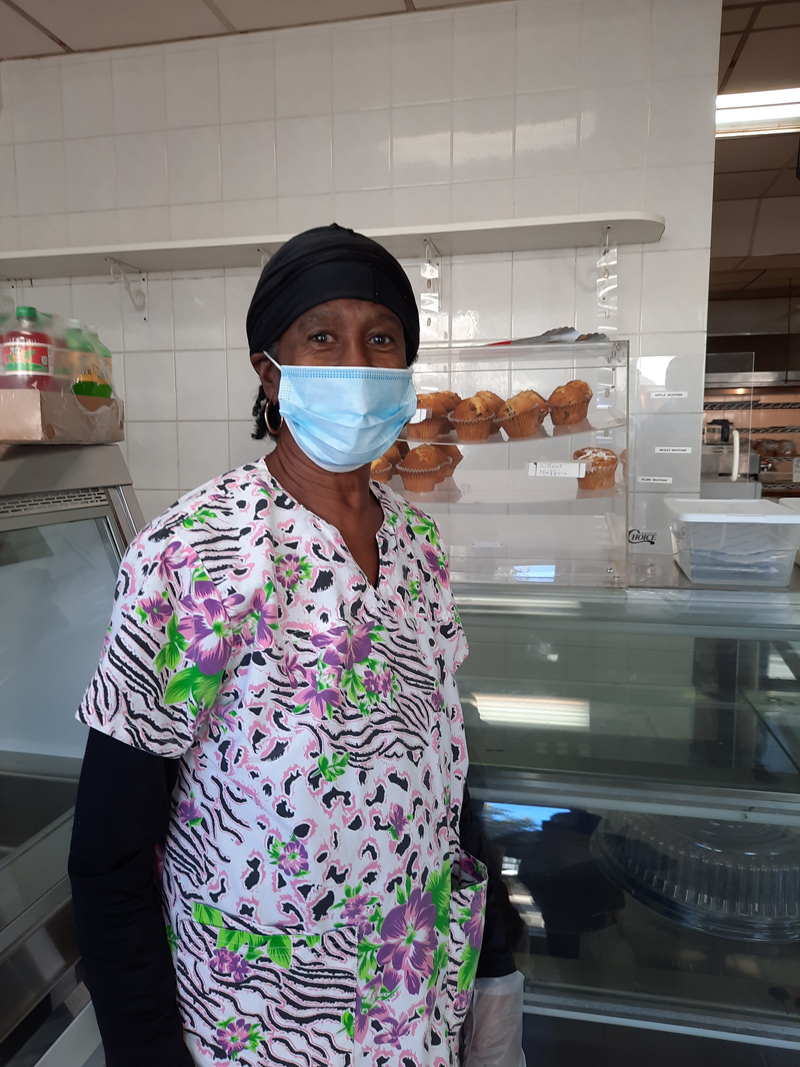 - Dale Butler is a former educator and Minister of Culture who also writes music reviews for Bernews.

Read More About
Category: All, Business, Entertainment, News