[Written by Dale Butler]
Strategically located on the corner of Court and Victoria Streets in Hamilton, opposite the historic St. Paul A.M.E. Church and Dame Lois M. Browne-Evans buildings, is Sung Sing Restaurant, in operation since 1998.
With four out of seven restaurants already reviewed along The Heartbeat Restaurant Gateway on Court Street, it was a delight to eat Eurasian/Chinese cuisine at Sung Sing, which has adapted, over the years, more to Western preferences. Which meant I could not sample Dim Sum Lanzhou Hand Pulled Noodles, Fish Head Curry, Hokkien Mee or Laksa, etc.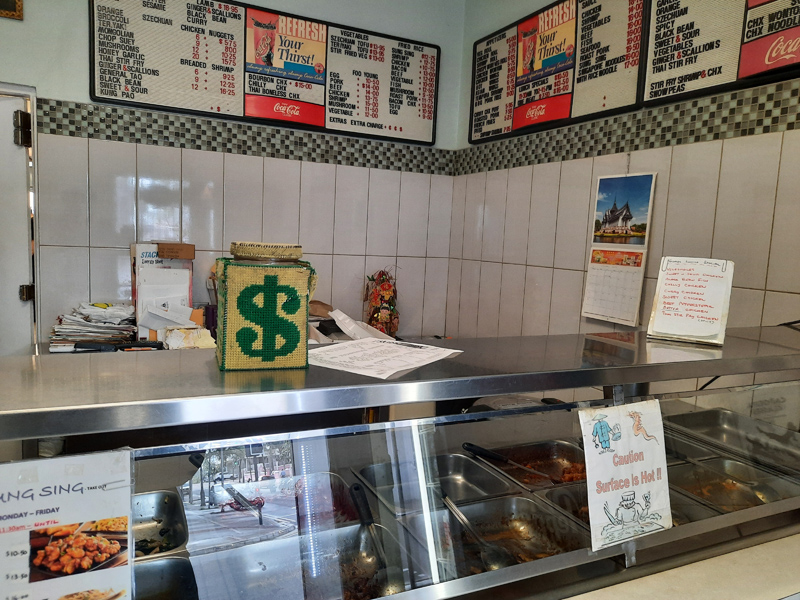 Executive Chef Kevin Lim and his assistant Rosmar Fernandez represented a reduced team, but they have a tremendous amount of expertise between them in order to expedite their extensive menu of lunch and dinner treats.
Chef Lim has a long arm of experiences in Singapore and Bermuda, having worked at the Hamilton Princess Hotel, Fourways Inn & Catering, Mac Herman's Restaurant, Conch Shell, The Wok, and Showbizz restaurants. With such diverse culinary experiences in Bermuda and Singapore, I was able to figure out his secret. Two years ago I spent three weeks in Singapore, eating in classy hotels and busy takeout centres, enjoying food cooked to perfection – no matter how elaborate or simple the venue. They have it cooking in Singapore and he has been using his home training in Bermuda since 1976.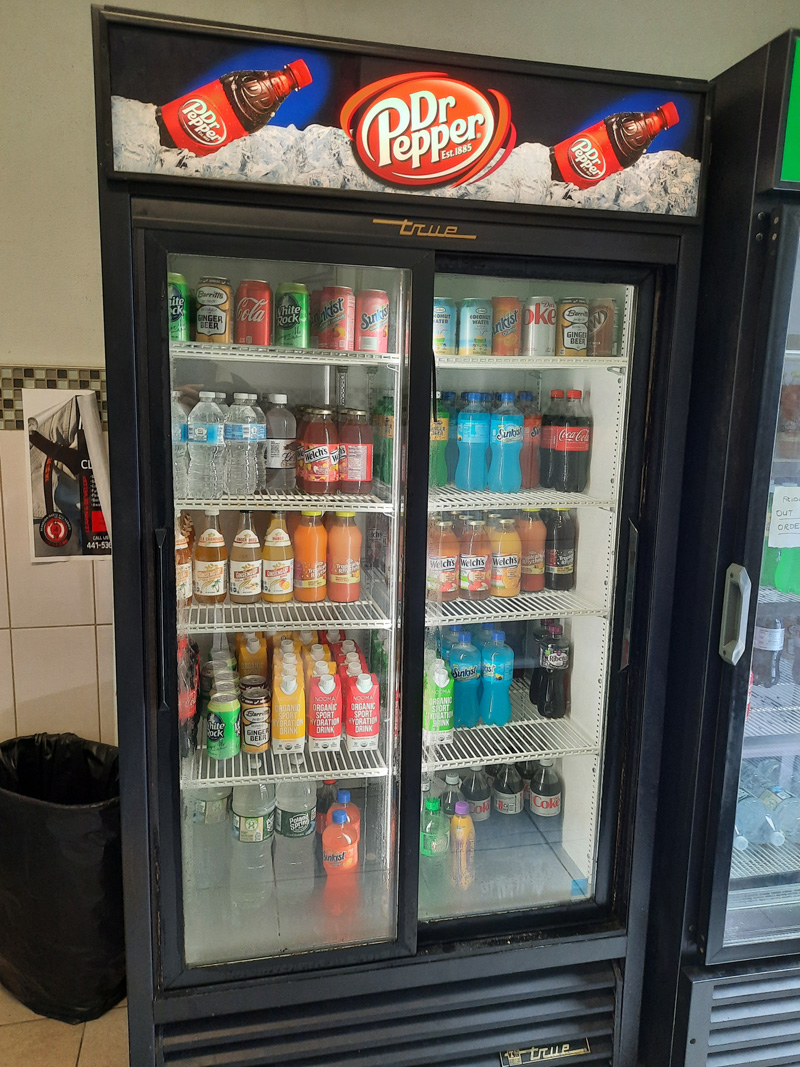 Bermudians, however, in the 1960s, received their initial tasting of Asian food from the Chinese restaurant that was located a mere stone's throw away on Court Street, and later at New Queen Restaurant on Church Street. Over a period of time, local favourites became chicken fried rice, egg rolls or sweet and sour chicken. But once Bermudians began to attend school overseas or travel abroad, this soon changed as they were exposed to a greater variety of Asian dishes.
Popular at Sung Sing now are Chili Chicken, Honey Garlic Chicken, and Sweet & Sour Chicken, Thai Boneless Chicken and "all of our rice dishes," Chef Lim stated with great pride. Having already sampled the usual Bermuda weaknesses, I decided to break the bank and the Bermuda preferences and it was worth every penny.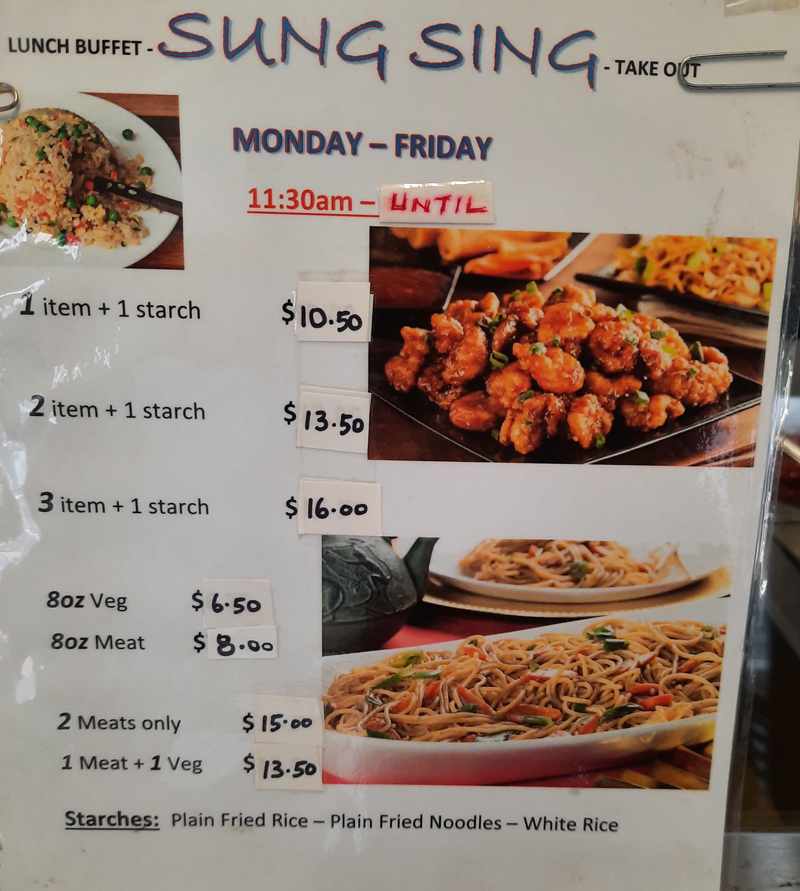 Service from Kevin's wife, Vivian, is always efficient and she is very aware that a lot of Bermudians do not like hot or spicy dishes. So, when I ordered the Thai Stir Fry I was gently reminded of its contents, but I went ahead anyway. I was not disappointed. It was absolutely delicious, enough for two people and not nuclear strength. Additional dishes I ordered over a period of days included:
Chicken Rolls
Curry Puffs
Sung Sing Fried Rice [Chicken, Shrimp, Pork]
I salute the chefs for finding a winning formula, as all of the dishes were excellent. But there was a surprise.
Sung Sing has an extensive menu with
12 starters
19 vegetarian and side dishes
5 types of soup
The remainder of the menu is fit for an emperor, with a large selection of chicken, shrimp, fish, beef, pork, Egg Foo Young [Chinese omlettes], noodles and chicken nuggets. And, not to be outdone, they even have lamb plus a $10.50 to $16 hot lunch buffet of meats, starches and vegetables for your selection. They also offer a variety of soft drinks and water along with all take out utensils. To guarantee your dishes are hot with sauces, sealed in taste and no chance of spillage, they carefully wrap the bigger containers.
The surprise was the Chicken Wonton Soup. 'Oh, my goodness!' As soon as I removed the top and took one spoonful it burst with flavour. I am a soup connoisseur, having grown up in a house with an uncle who specialized in soup making – usually enough to feed an army but always fresh and well-seasoned. Therefore, I know the quality and taste of a delectable soup, which I eat at least three times a week.
Their Chinese Wonton Soup was exceptional, with tender chicken and a broth which I had never tasted before, not even in Singapore. It had a distinctive taste that will soon become a signature dish for them. I ordered crackers to go with the soup, which also surprised me. Served hot in a brown bag; I think I'm addicted.
Sung Sing Restaurant is open Monday to Saturday from 11:30 a.m. to 9 p.m.; closed on Sundays. Call-in orders can be made on 296-8758. They provide a pickup catering service to family-size or large events.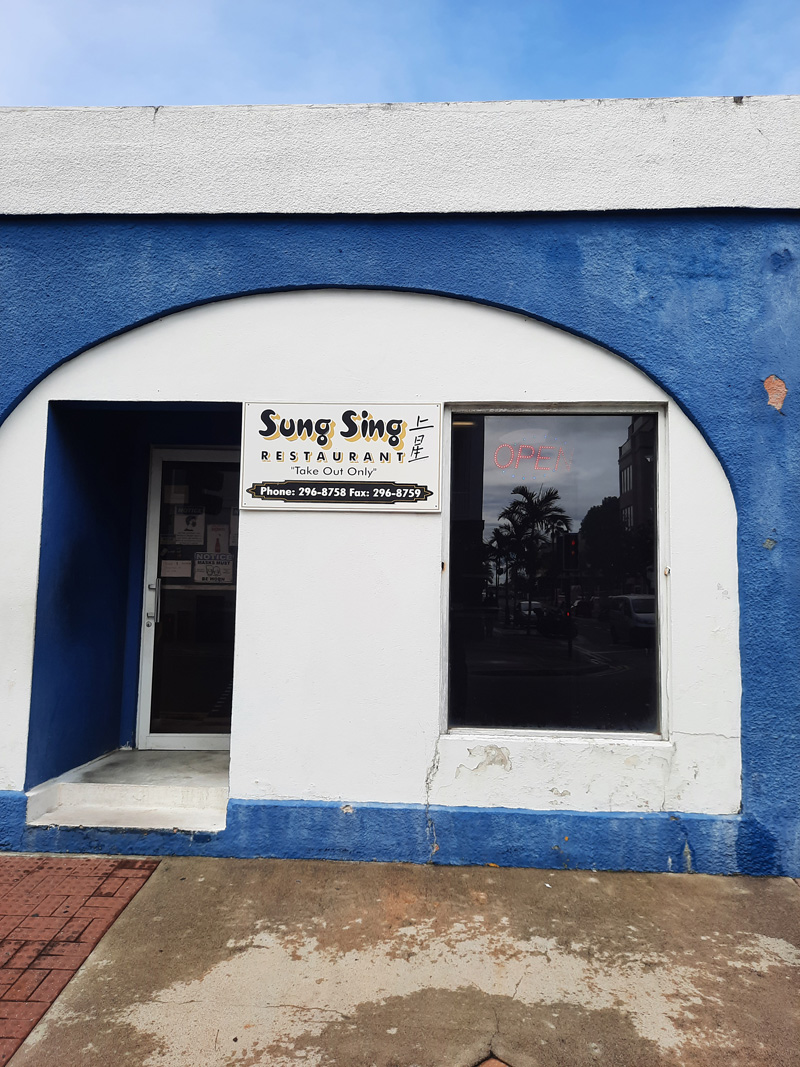 - Dale Butler is a former educator and Minister of Culture. He has written numerous food and music reviews and his first book review recently published in Bernews was on Why I Killed My Brother by Zavane.

Read More About
Category: All, Business, Entertainment