[Written by Dale Butler]
After weeks of hearing from numerous people that I must go to VIDA Restaurant at Azura [the former Surf Side] at 90 South Shore Road in Warwick, I bit the bullet and was excited about the changes I observed at this four star refurbished resort [2020]. The venue is spectacular and a great lift for Bermuda's hospitality industry.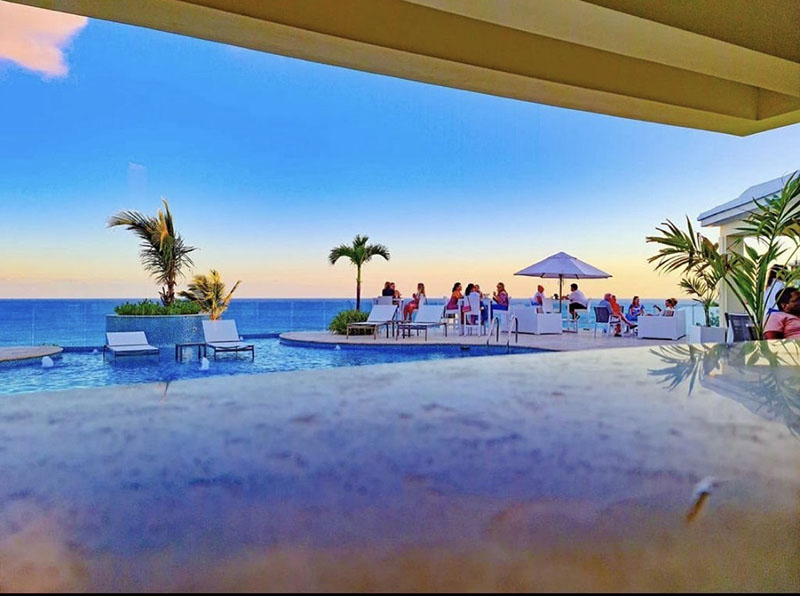 Once seated you will never get a chance to read a book. The minute you arrive, you lose perspective, and your stress disappears as you are transformed by the beautiful pool, surrounding gardens and the all-encompassing ocean and sky that is sometimes blessed with a full moon.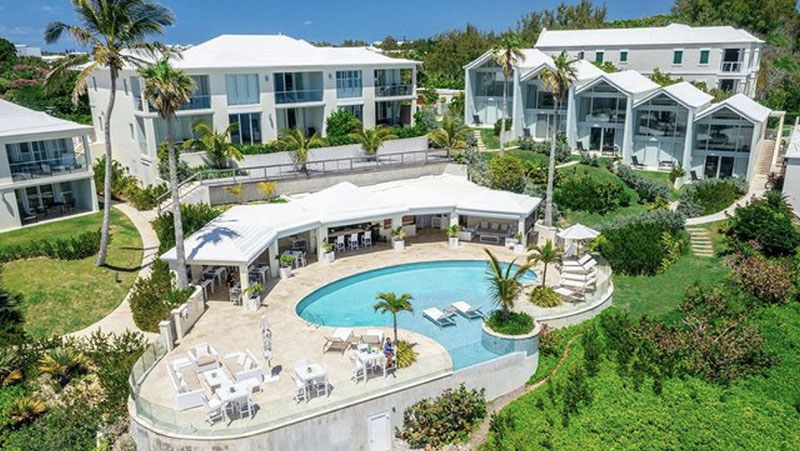 Looking at the big picture, from the eastern end of the island going towards the west, from the St. Regis Bermuda Resort, White Horse Pub & Restaurant, Wahoo's Waterside Bistro & Patio, the Wharf Restaurant & Bar, Tucker's Point Bar & Restaurant, Mid-Ocean Club, Loren at Pink Beach Club, Café Lido and now, VIDA, all the way to Henry VIII Restaurant, Sushi Bar & Pub, The Reefs Resort & Club, Bella Vista Bar & Grill, Pompano Beach Club, Cambridge Beaches, Woody's Sports Bar & Restaurant, and a host of restaurants in Dockyard, we have a very competitive set of coastline restaurants set to serve, delight and satisfy even the most discerning of palates.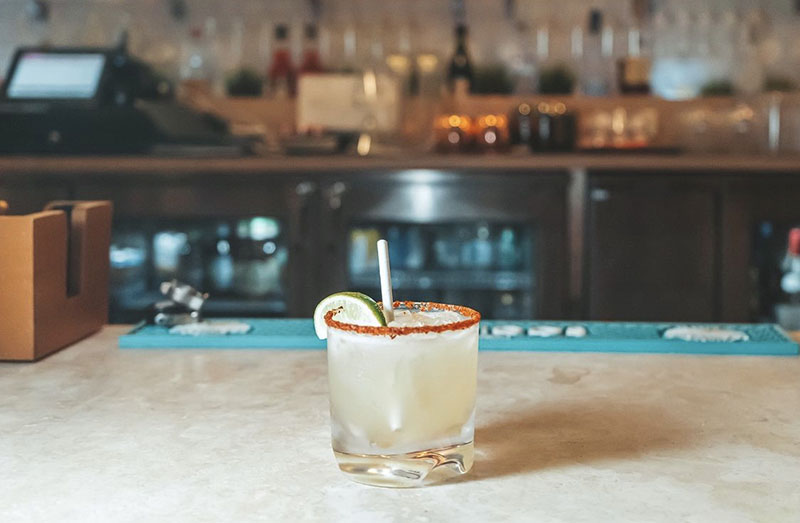 VIDA at Azura has risen to the standard of their competitors since its opening May 21, 2021, and its aesthetically pleasing views, coupled with their secrets, will guarantee their success. Currently open seven days a week for breakfast, lunch and dinner from 8.30pm to 9.00pm, with the bar staying open until 10.00pm, owner/general manager, Keegan Stirling, has assembled a great team of bartenders – Stephanie Lee and Ryan Griffiths – along with waitresses Sophia Manders and Savannah Staines, who were first class and enhanced the dining experience.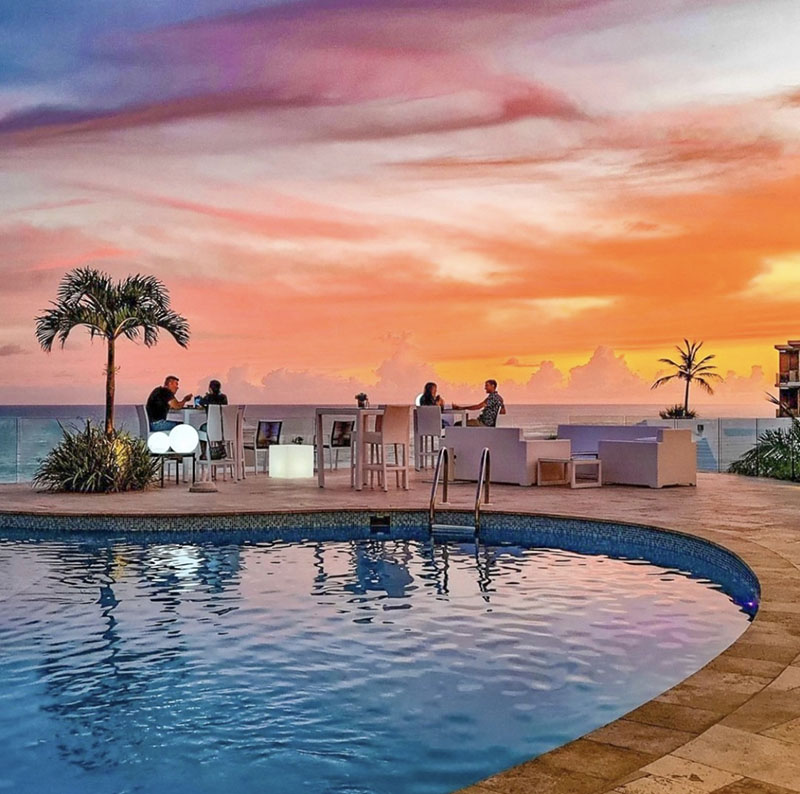 There has been much talk about friendly, efficient and knowledgeable local service, and the VIDA team are so exceptional I earnestly hope the Bermuda Tourism Authority and hospitality leaders ensure that new entrants get to sample exactly what the world used to hear about hospitality when it came to Bermuda's service.
VIDA's staff are 100% Bermudian. With many of our veterans now retired, they would be delighted to know that from the kitchen with chefs Tameya Davis and Mark Bartley the food is outstanding and brought to life by the front of house staff who are warm, welcoming, informed and highly proficient. On my two visits they did not miss a step.
The Mojito Cocktail set the pace, and was followed by my soup selection. The first time I had the popular and common butternut squash soup, but the chefs had put their own very subtle spin on it so that our bowls were empty in a hurry. An award-winner for sure. The second time I took a risk. I had never had mushroom and rice soup, but it was also a highlight that I enjoyed immensely.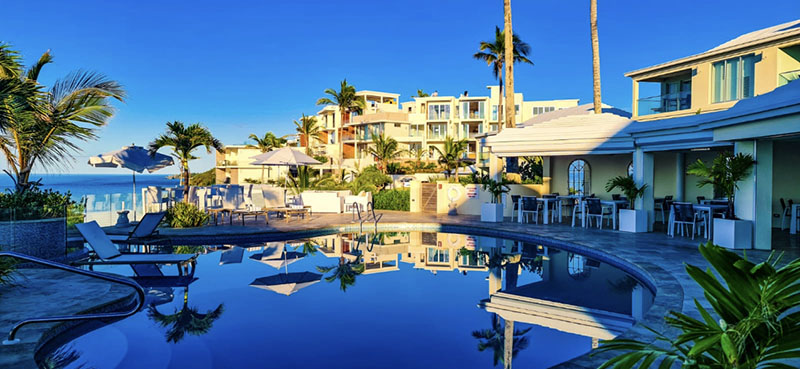 There are seven appetizers, including caesar salad, Mediterranean bruschetta, and salmon mousse tarts, to name but a few, and eight entrées like chicken involtini, catch of the day, chicken linguine [one of the many reasons why I returned], sous vide rack of lamb – cooked to perfection [yes, you can pick up the bone - the juice was worth it] – quinoa cakes and vegetable stir-fry with chicken, shrimp or locally made chorizo, if you want. My guest indicated it was outstanding. I found it difficult taking my eyes off the plate, and the aroma was mesmerizing.
An excellent list of cocktails, regulars and frozen, with a good selection of white or red wines by the glass or bottle highlighted the total ambient experience at this coastline restaurant. The Mediterranean Margarita is their most popular cocktail drink, and worth a try. The icing on the cake came with the traditional Italian dessert, tiramisu, and on my second visit an award-winning almond cake which had a perfect balance that capped my dining experience.
Overall, my VIDA self-treat was well worth my time and every dollar I spent. As for the opinions expressed to me, for weeks, concerning VIDA I can honestly say, without any reservations, how grateful I am for following through.
Congrats VIDA at Azura! You have a bright future and I commend all of your efforts to make dining first class with excellent service [secret one] and food [secret two] in an absolutely beautiful setting [secret three]. Overwhelming!
Dale Butler had 20 years in the restaurant business. As the Professor of local music he also reviews music events for Bernews. He can be contacted at daledbutler@gmail.com.
Read More About
Category: All, Business, Entertainment