30 new electric buses "have shipped from China and are en route to Bermuda via New York," the Government has confirmed.
Last month, Minister of Transport Lawrence Scott announced that 30 electric buses were purchased from Golden Dragon Bus Company in China, and they are scheduled to go into service in April 2022.
The Minister noted that each bus cost $114,200, saying "comparison, the last diesel bus purchased from Portugal in 2018 cost $250,000."
As everyone is aware, the bus service currently has cancellations on a near daily basis, and the Minister previously explained that in addition to purchasing new buses, the Department of Transportation is "recruiting additional bus operators, which will ensure that we have the resources required to provide a reliable and consistent public bus service."
Photo previously provided by the Ministry of some of the new buses in China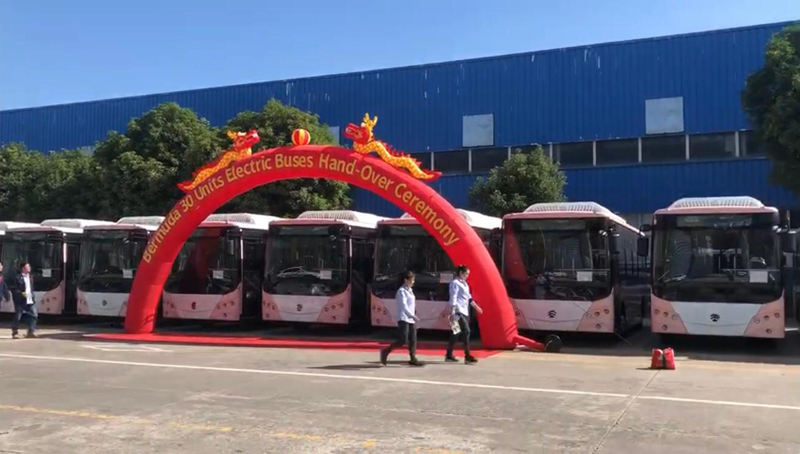 Bernews asked for an update on the new buses and the Ministry confirmed that "the 30 buses have shipped from China and are en route to Bermuda via New York."
A Government spokesperson added, "The Ministry of Transport continues its process of procuring 30 electric buses from the Golden Dragon Bus Company Ltd.
"As Minister Lawrence Scott indicated in a recent public update, the Company has completed the pre-delivery inspections and is currently preparing the buses to be shipped from Shanghai to Bermuda. The Ministry of Transport will also ensure that the skills and knowledge of the DPT team are enhanced as part of this new initiative.
"An engineer from the Golden Dragon Bus Company will be based in Bermuda for three months after the buses arrive to support with commissioning and training of the Department of Public Transportation's staff. Additionally, the Department's technicians will participate in electric vehicle training online via the Institute for Motoring Industry, UK and locally via the Bermuda College."

Read More About