After adjusting for the retail sales rate of inflation – measured at 3.7% in December – the overall volume of retail sales decreased 8.8% when compared to December 2020, according to the recently released Retail Sales Index.
A Government spokesperson said, "On Thursday, 22 March, the Ministry of Economy and Labour released the December 2021 Retail Sales Index.
"December's retail sales fell 8.8% compared to last year. In value terms, retail sales decreased to an estimated $113.3 million, falling 5.4% compared to the previous year [December 2020]. However, compared to the pre-pandemic year of 2019, volume sales were 3.8% higher.
"Service Stations' sales also grew 2.8% due to increased vehicular traffic compared to the previous year. The sales volume for this sector remained 1.3% below the 2019 sales level.
Chart extracted from the report: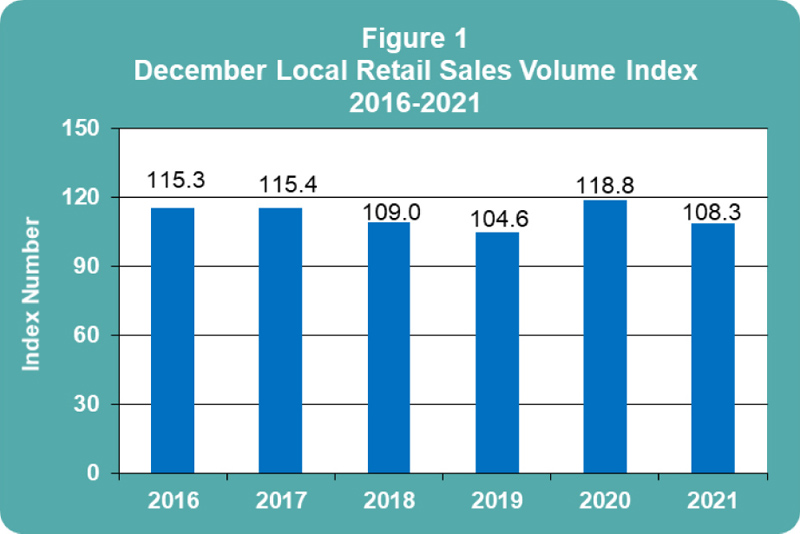 "All other sectors experienced declines. Sales at Apparel Stores decreased 0.2%, reflecting supply chain issues and more residents purchasing apparel overseas. This sales level was 6.5% below pre-pandemic sales in 2019.
"Building Material Stores' sales declined by 0.5% due to lower demand for building products but remained 11.0% higher than the sales level in 2019.
"In the All Other Store Type sectors [comprising stores selling household items, furniture, appliances, electronics, pharmaceuticals and tourist-related goods], there was a 9.2% decrease due to lower sales of appliances and electronics. Sales for this sector registered 7.1% above the sales volume in 2019.
"Sales at Food Stores decreased by 11.9%, and Liquor Stores' sales fell by 18.1%, but both sectors recorded growth in volume sales over 2019 by 2.7% and 5.7%, respectively. Motor Vehicle Stores' sales saw a decline of 22.4% due to fewer cars and motorcycles sold compared to 2019; sales were 12.3% lower.
"Also, overseas declarations increased 12.1% compared to December 2020. The rise in overseas declarations was primarily influenced by higher imports by residents via the airport and households via sea for clothing and accessories. In comparison to 2019, overseas declarations grew by 37.4%."
The full December 2021 Retail Sales Index publication follows below [PDF here]:
Read More About