BUEI's second event in celebration of Bermuda's Dive Month is a special screening of the film, 'Men of Honor' this Friday [April 8] at 7.00pm.
A spokesperson said, "The 'Men of Honor' film, directed by George Tillman Jr., is based on the life of Carl Brashear, the first African American Master Diver in the US Navy. The film chronicles the journey of Carl Brashear, portrayed by actor Cuba Gooding Jr, as he overcomes the racial discrimination around him to become the first African American Master Diver in the US Navy. Robert DeNiro co-stars.
"In April 1968, after a long recovery from an unfortunate accident on a Navy boat which resulted in Brashear's leg being amputated, he became the first amputee to be reinstated back to full active duty as a United States Navy Diver.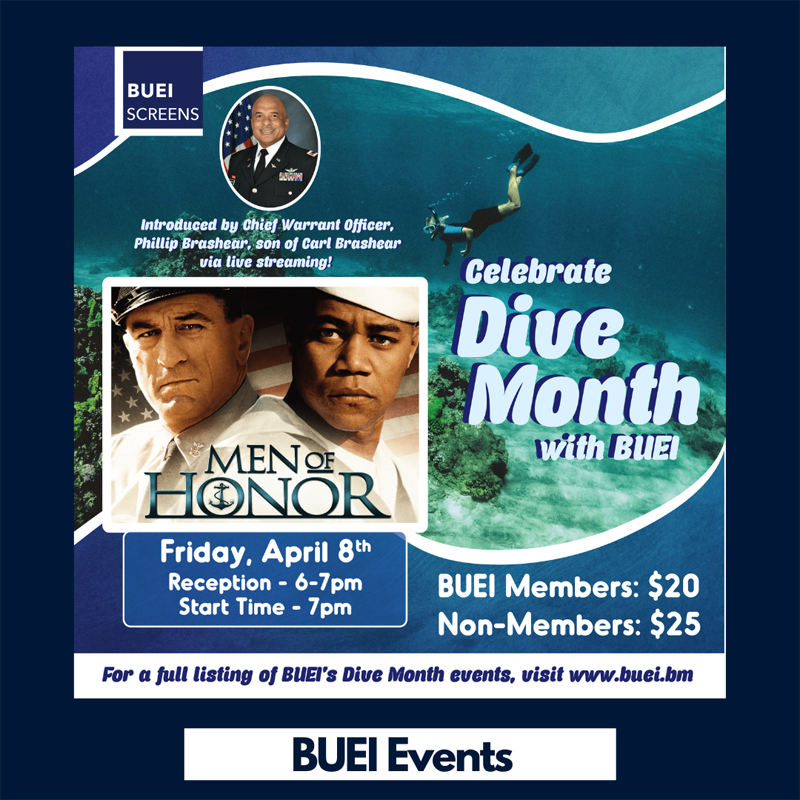 "In 1970, despite facing tremendous racism, he became the first African-American Master Diver, and attained the rating of Master Chief Boatswain's Mate in 1971. Following his death in 2006, the Carl Brashear Foundation was established in his honor by his sons DaWayne and Phillip Brashear.
"Joining us virtually via livestream, Chief Warrant Officer, Philip Brashear, son of Carl Brashear, will open the film and share the impact his father's determination to dive continues to have on others, despite the seemingly insurmountable challenges he faced."
"The story of Carl Brashear is one of powerful emotion, determination, drive and dedication. His breaking of the colour barrier in such an important space was only 54 years ago this month", said Karla Lacey, CEO. "We hope it inspires Bermuda's youth to explore the ocean-centric opportunities present in Bermuda, and to pursue their passions without hesitation."
Trailer for Men of Honor
"In addition to Men of Honor, BUEI Screens will also feature dive-focused film 'The Deep' on Friday, 29 April at 7pm.
"As part of the Bermuda Tourism Authority's [BTA] 'Dinner Date & Dive' promotion, tickets for BUEI Talks: Bermuda Dives are $20 for BUEI Members and $25 for Non-Members. Each ticket includes entry into BUEI's Ocean Discovery Centre from 6pm-7pm and a complimentary beverage courtesy of Gosling Brothers and bag of popcorn courtesy of GlamPop.
"The Harbourfront restaurant will also open at 5pm for each 'Dinner, Date and Dive' event at BUEI! Ticket holders will receive 10% off dinner [food only] and a complimentary cocktail. Reservations required, book early to avoid disappointment. Please call 295-4207 for reservations and be sure to mention Dive Month.
"For a full listing of BUEI's Dive Month events, visit www.BUEI.bm."

Read More About
Category: All, Entertainment, Films/Movies