[Written by Stephen Wright]
Dage Minors believes he is proving it is possible to be an amateur athlete with a professional mentality and hopes his heroics in the USATF Bermuda Games inspire the island's next generation of athletics stars.
Minors produced a career-defining performance at the inaugural meet – a World Athletics Continental Tour Gold Label event – at the Flora Duffy Stadium last Saturday, finishing third in an international field in the 1,500 metres.
His feat is even more remarkable considering he juggles his training with his job as a paraeducator at Sandys Middle School.
Dage Minors, second from the right, during the 1500m race at the USATF Games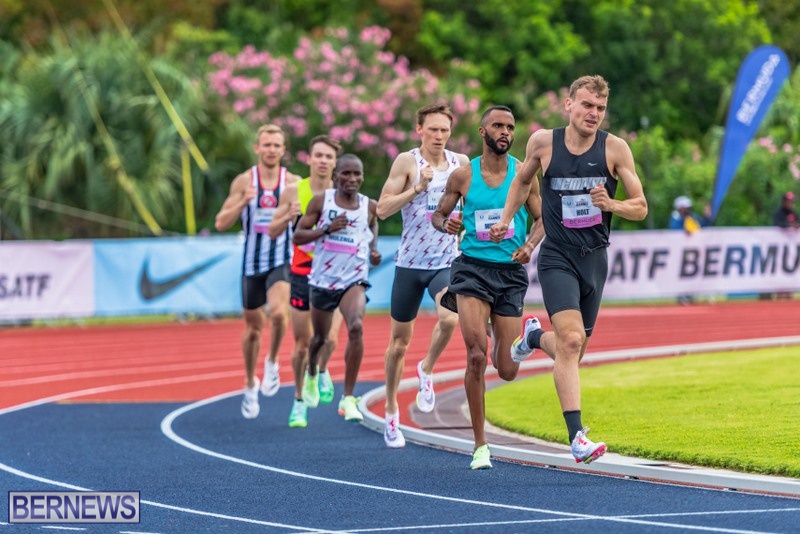 "I'm not the first Bermudian to balance being an elite athlete where you want to act like a professional despite being an amateur," Minors told Bernews during a recent BNV live interview.
"I'm not the first nor the last, and I salute the guys who walked this path before me because they have given me the motivation. It's tough, but if you put your mind to it, you may be able to accomplish it."
The 26-year-old believes it is imperative to set an example for up-and-coming Bermudian athletes and show them anything is possible with hard work and dedication.
"When I go to the track [to train], I see a lot of 15 and 16-year-olds," Minors added.
"If they see me at the age of 26 still out there [and training] after finishing [my] college [career], hopefully, it will inspire them to do it. Hopefully, these guys will be better than me."
Minors said it was difficult not to become overawed by the star-studded field, including Jamaican Yohan Blake and American Noah Lyles, both world-class sprinters, when he arrived at the stadium before the meet.
A cameraman — the event was televised internationally by NBC Sports — films the event in front of a packed crowd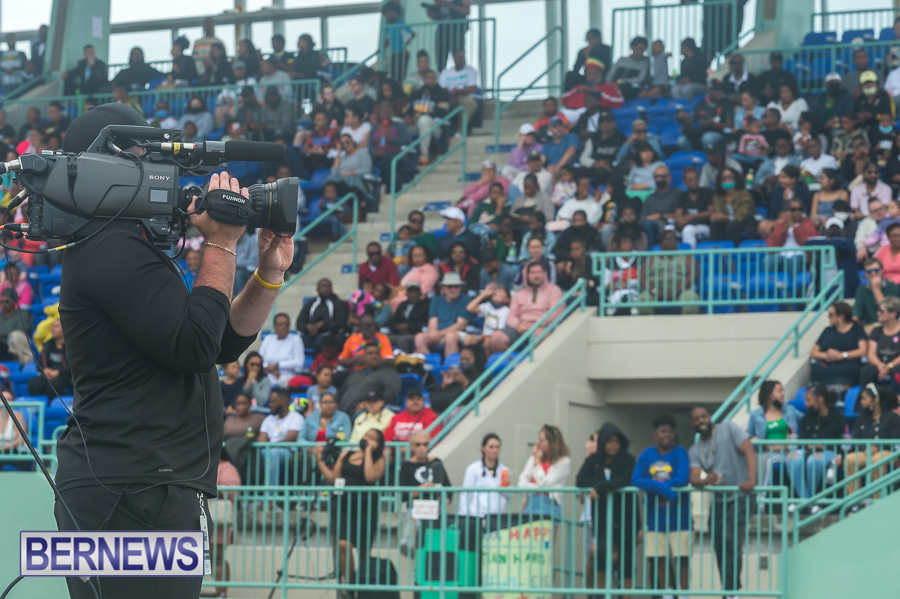 "I almost had to wear two hats – Dage, the fan of athletics and Dage, the competitor," said Minors, who finished the race in 3min 46.82sec.
"I'm a fan of these guys and have followed their athletics journeys, but I soon realised I couldn't just be a fanboy. I'm here at the track for the same reason as them. I'm here to compete.
"One of the best feelings was walking to the start line and seeing a kid who goes to my school say, 'Go, Mr Minors!'. It was surreal.
"It's an experience I wish every Bermudian could have. I'm big on moments."
Hazel Clark, the BTA Director of Global Sales and Business Development, said Minors' achievement resonated with her as a former middle-distance runner and three-time Olympian.
"I just want to educate people out there to let them know how disciplined you have to be to work a full-time job and compete at Dage's level," said Clark, a member of the United States Olympic team in 2000, 2004 and 2008. "He's up against people getting paid to do this as a full-time job. To mix it up with those individuals is huge.
"I was just inspired. I went home and was like, 'Wow'. He rose to the challenge and ran big. This inspires us to attract these events [to Bermuda] and give our local athletes these opportunities. He answered the bell, and we're proud of him."
The BTA's Hazel Clark, a three time Olympic track & field athlete, with BNAA President Dr Freddie Evans at the USATF Bermuda Games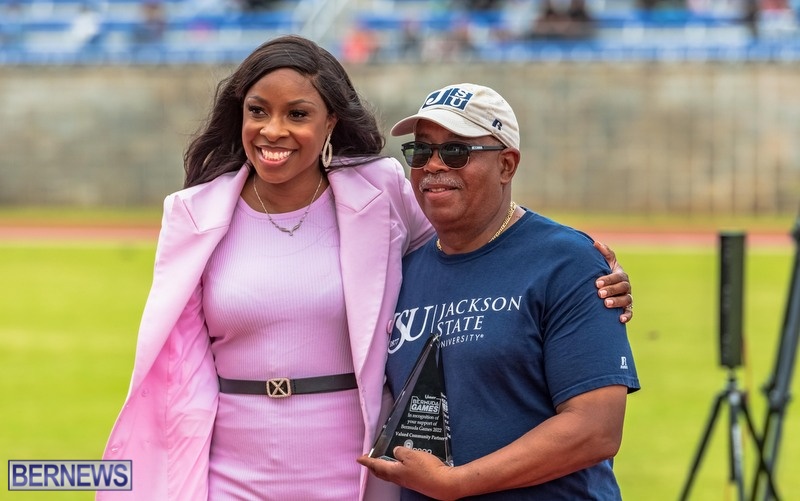 Dr Freddie Evans, the Bermuda National Athletics Association president, said the timing of Minors' show-stopping display could not have been better as the island's team prepares for the Carifta Games in Kingston, Jamaica.
"We have athletes getting ready to go to Carifta, and they got to see athletes like Dage and overseas athletes on their home track doing spectacular things," Evans said. "That will inspire them to do great things. We're turning the corner, and I believe track and field can rival the other sports as the most popular sport."
Evans added: "I want to produce more Dage Minors, and I'm happy he's a professional athlete. However, I'm over the moon that he used his talent to acquire a scholarship, graduate with honours, is well respected at Franklin Pierce University and has come back to work in Bermuda and help young people. I am happy for his success and respect him greatly."
The BNV interview with Dage Minors, Hazel Clark, and Dr. Freddie Evans
Evans and Clark also extended their thanks to the sponsors, including Athene and Butterfield, and expressed their appreciation to the volunteers and everyone who worked hard to help the island host the world class track and field event.

Read More About