The Economic Development Department announced that 12 Bermudians have been "selected to participate in a global FinTech education programme resulting from a partnership between the Government of Bermuda, ViableEdu and NEXT, the island's first digital asset industry association."
A spokesperson said, "NEXT companies are collectively sponsoring the learners' access to the Fintech Apprenticeship Programme, a proprietary curriculum designed by BondCliQ and ViableMkts CEO Chris White. This support gives sponsors access to the ViableEdu Finance 101 curriculum, which has generously been made available to the programme's participants at no additional cost.
Front Row – Colesha Pearman and Bria Maybury Second Row – Saige Ming, Lexy Dowling, DaZarré Place Third Row – Maurice Steede, Kevin Dacosta, Jair Eve. Missing From Photo – Marq Rodriguez, Rian Michelsen, Dominic Tessitore, and Chanae Bascome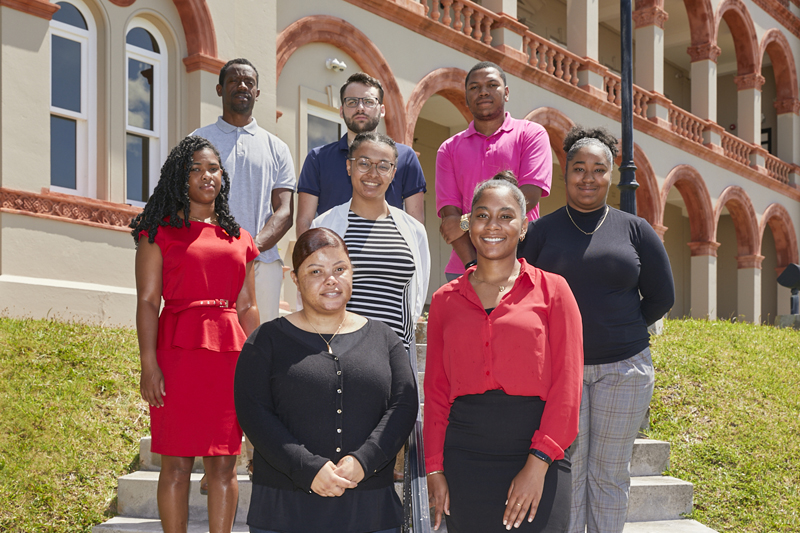 "The rigorous programme includes live lectures, real-time instruction and working at the Bermuda Office of Fintech on specific projects focused on strengthening the island's position as a global leader in the industry.
"The programme participants will also have the opportunity to network with C-Suite members from local FinTech companies, have discussions with leaders of international FinTech companies and a cohort of around 35 peers from several other countries.
"At the programme's conclusion, the Bermudian participants will have benefitted from theoretical instruction, hands-on training and development, project management, soft skills and network building from meeting trailblazers and subject-matter experts."
Minister of Economy and Labour Jason Hayward said, "As stated in Bermuda's Economic Recovery Plan, one aim of the National Jobs Strategy is to work closely with employers to increase opportunities for the training and development required to equip Bermudians for the current and future world of work. And so, in line with that, we are happy to partner with NEXT and ViableEdu. This excellent opportunity will allow Bermudian learners to deepen their understanding and hone their skills in this new, growing sector of our economy."
NEXT Founding Committee member Stafford Lowe explained, "NEXT comprises 14 members, all global entities who are setting up shop in Bermuda to benefit from the ground-breaking regime regulating digital assets. Talent development in Bermuda is one of NEXT's four Cornerstones, and we're excited to co-sponsor this unique Summer Fintech programme. It will provide Bermudians with valuable skill sets and prepare them for opportunities in the Digital Asset industry."
Joel Christenson-Brown, Co-Founder and Lead Program Director of ViableEdu, said, "ViableEdu is thrilled to partner with NEXT and the Bermuda Government to further democratise financial literacy across the island. We are excited to welcome the Bermuda-based learners into our 2022 ViableEdu Fintech Apprenticeship Programme."
The NEXT companies sponsoring the programme are Apex, Bittrex Global, BlockFi, BlockWrk, Ensuro Re, Jewel Bank, Nayms, Relm, Stablehouse, XBTO and 24 Exchange. For more information about the programme, please email Maryem Biadillah, Senior Analyst at the Economic Development Department, at mbiadillah@gov.bm.

Read More About
Category: All, News, technology