At 7:48am this morning [June 19], almost eight and a half hours after Argo finished, skipper Charlie Enright — from Rhode Island — guided the IMOCA 60 Mālama from 11th Hour Racing across the finish line.
Mālama, like Argo a foil-assisted craft, completed the Newport Bermuda course in 41h:28m:48s, at an average speed of 15.3 knots.
While Argo's elapsed time is the fastest in the history of the race, Mālama's is the fourth fastest. The two foilers bookend the 100-foot Comanche's 34h:49m mark in 2016 and the 90-foot Rambler 90's 39h:39m time in 2012.
As Enright disembarked at Royal Bermuda Yacht Club later in the morning, he said that Mālama experienced winds up to 35 knots and never sailed lower than 70 degrees to the wind.
"It was pretty impressive," he said, "sailing with cracked sheets upwind doing 18 knots."
Aboard the new IMOCA 60 Mālama, regular crewmember Justine Mettraux and guest crew Elena Hight stand watch as seawater regularly washes across the observation windows and openings above. Amory Ross/11th Hour Racing photo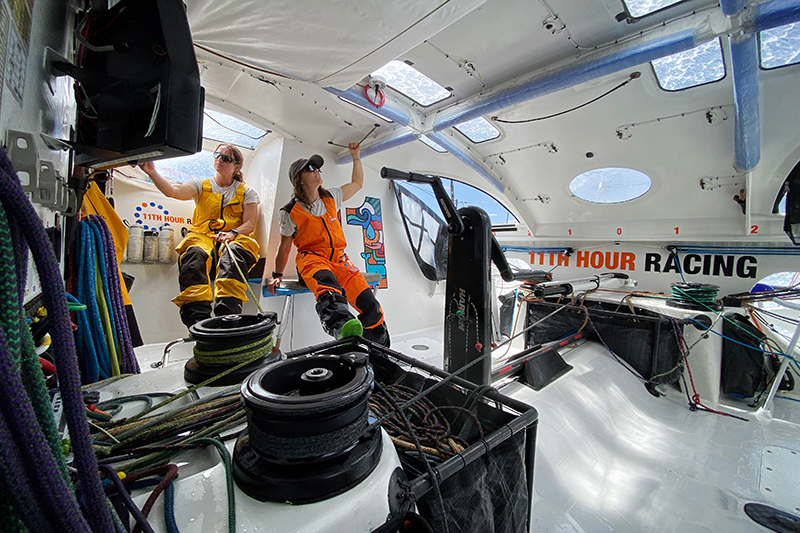 "We had some adversity, but we were able to fight through it," said Enright, referring to issues that cropped up with electronics and rigging. "In those conditions," he added, "we try not to come out of the water [on the foils]; we're trying to displace as much of the boat as possible. We can control how much we come out by adjusting the rake of the foil and the extension of the foil."
The Mālama crew arrives Sunday morning in Bermuda [l to r], Elena Hight, Ian Walsh, Justine Mettraux, and Charlie Enright. Amory Ross/11th Hour Racing photo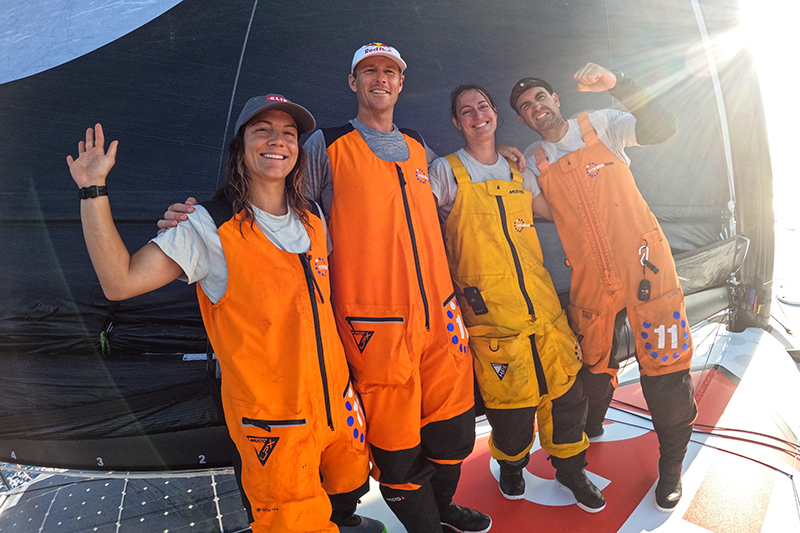 Asked about guest crewmembers big wave surfer Ian Walsh and backcountry snowboarder Elena Hight, Enright said, "Our guest crew was amazing.
"They enjoyed every second of it and got involved in sailing the boat."

Read More About