Jarryd Dillas, Damian Palanyandi, and William Haddrell are representing Bermuda at the 32nd World Amateur Golf Championship.
A spokesperson said, "A 2024 Olympic Games preview of sorts is being staged at Le Golf National and Golf de Saint-Nom-LaB-Bretéche, as the 32nd World Amateur Golf Championship opens today with 71 teams from around the globe playing these two well known golf courses.
"The world's leading amateurs will vie for the Eisenhower Trophy this week. The 2020 Olympics was cluttered with WATC alumni such as Rory McIlory, Collin Morrikawa, Paul Casey and Viktor Hovland. The last time the WATC was held in France at Le Golf National, Tiger Woods was a member of the USA team that captured the gold medal.
"Team Bermuda comprises of the best amateurs who qualified by the Bermuda Golf Association Order of Merit. The players representing the BGA this week are Jarryd Dillas, Damian Palanyandi and William Haddrell. The team are supported by non playing captain Gary Burnet. The WATC team event is calculated with the two best daily gross scores.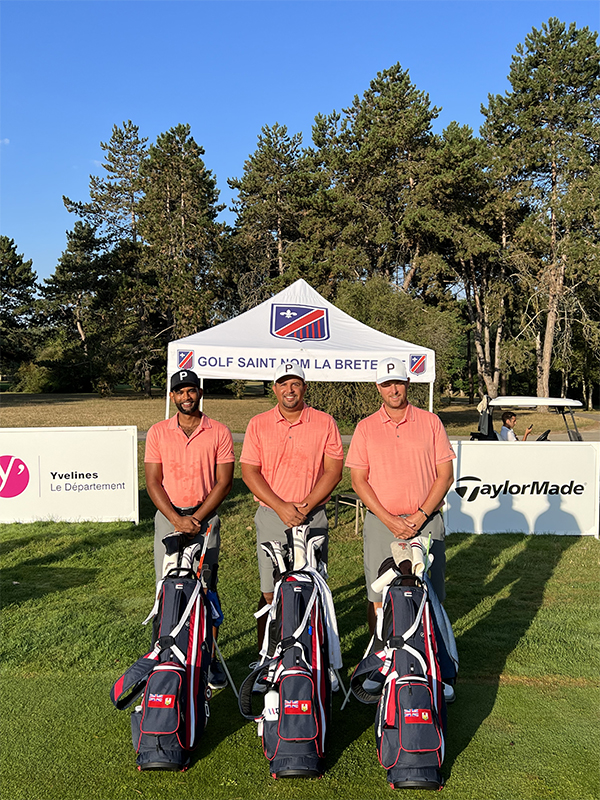 "This event marks a monumental achievement for Jarryd Dillas. As he competes in a record breaking ninth WATC, surpassing the previous mark of eight held by esteemed local amateur golfers Louis Moniz and Brendan 'Bees' Ingham."
Mr. Dillas said, "As always it is a honour to be a part of a golf team representing Bermuda, and the Bermuda Golf Association at the WATC. To surpass stalwarts of the amateur game in Bermuda such as Louis Moniz and Brendan 'Bees' Ingham is special. I played my first event at 17 years of age, and now to be at my ninth event in France with this team means a lot.
"It is our hope to play well, the team spirit this week has been excellent and we will look to play well over two very different and challenging golf courses."
President Craig Brown said, "The BGA are certain this team will give a good account of themselves against some of the best players in the World on two of the most famous courses in Europe. It is testament to Jarryd's long standing commitment and dedication to amateur golf that he now stands alone in representing Bermuda on nine different WATC teams."
The spokesperson said, "The Bermuda team open their event at Golf de Saint-Nom-LaB-Bretéche with tee times at 908am [GMT+2] playing with Bahrain and Luxembourg. Team score is calculated with the two best daily gross scores. Live scoring will be available here [individual] and here [team]."

Read More About