The Muhammad Ali/Gibbons/Osaka Award has been launched with the goal of "highlighting and inspiring qualities of character for Bermuda's U25 demographic."
A spokesperson said, "This maiden Muhammad Ali/Gibbons/Osaka Award has successfully launched with the goal of "highlighting and inspiring qualities of character for Bermuda's U25 demographic."
"Muhammad Ali – the icon – requires little introduction. His principled refusal to join the U.S. war in Vietnam, resulting in a boxing ban for four years, speaks for itself.
"Most U25 are unaware that our own Noel Gibbons took a principled stand in turning down a lucrative cricket offer from South Africa's apartheid regime in the 1980s.
"Naomi Osaka, a U25 seven time tennis Grand Slam winner, consistently champions social justice, and financially sustains a school for the disadvantaged in her father's homeland of Haiti.
"The Minister of Youth and Sport, Dr Ernest Peets, was joined by the Executive Director of the Bermuda Olympic Association, Branwen Smith-King, in a presentation to 12 diverse U25 sports persons, nominees of various sporting organizations from across the island, at the foyer of City Hall.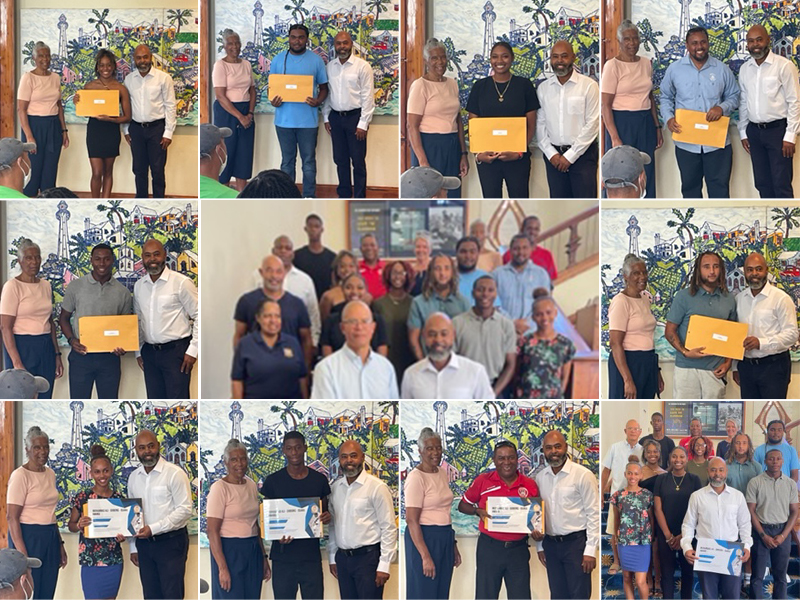 "The Minister expressed his solid support for the initiative, noting that it speaks to the mission of the Ministry. He congratulated the organizing effort in bringing together the various sporting bodies. Branwen Smith was able to share some of her personal experience as an accomplished athlete, noting that the thrust of the award was to remind sports persons and the wider community that sport offers a platform to enhance their communities from the widest perspective.
"The dozen U25s who have been nominated by diverse sporting organizations across Bermuda have offered interesting perspectives in the profiles that they have submitted as a part of the process for the award:
"A common theme across their profiles is they are all active in passing the baton in their sports, providing mentorship for those younger members. This mentorship clearly does not only include skill development in the particular sport, but also involves promoting the mentees' capacity for patience and perseverance.
"This common practice of providing mentorship came out of their appreciation for the shoulders on which they stood.
"Another common theme is that the nominees readily assist in generally sustaining the sports organizations in which they were involved. There were those who inspire colleagues who happened to be older than themselves.
"An account was shared regarding a nominee who, in the past, regularly visited elder homes, giving back by playing his saxophone. Another account records that one nominee is currently regularly involved in a community food program.
"There is a common perspective amongst this group regarding the challenge of adverse peer pressure on the upcoming generation – a phenomenon that is global.
"In the feedback that we received regarding these 12 young people, there's evidence that, notwithstanding the dangers our community faces, there is credible hope in our shared future.
"The nominees are, alphabetically, Liana De Medeiros – Bermuda Bicycling Association; Debre Evans – Bermuda Netball Association; Joshua Fleming – Devonshire Colts; Taznae Fubler – Softball Bermuda; Ajani Lee – Warwick Workman's Club; Jaiden Manders – Western Stars/DandyTown; Kaamilah Nasir – Bermuda Netball Association; Nzari Paynter – St. George CC; Jya Ratteray-Smith – Somerset CC; Tajahri Rogers – Comet Sailing; Aaron Spenser – X-Roads F.C.; and Tah-mi Williams – NVCC.
"This initiative has been made possible through the collaboration of Imagine Bermuda with the Bermuda Football Association and the variety of sporting organizations already referenced.
"We'd like to extend our gratitude to our major sponsor for this effort, One Communications, and the key contribution of the BFA, as well as appreciation for the support from community stakeholders: World Distributors, SAL, Brown & Co, AF Smith, KFC, and Speciality Cinema."

Read More About