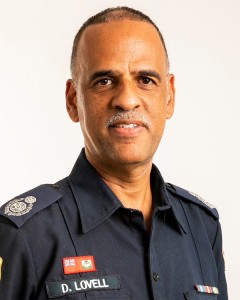 The Ministry of National Security announced the appointment of Mr Dana Lovell as the new Chief Fire Officer of the Bermuda Fire & Rescue Service [BFRS].
A Government spokesperson said, "With 38 years of experience in firefighting and emergency response, Mr Lovell brings a wealth of knowledge and expertise.
"Mr Lovell has been serving as Acting Chief Fire Officer since May 2022. Before his appointment, he served as Assistant Chief Fire Officer, Divisional Officer for Operations and Staff Officer, among other ranks.
"He joined the service as a firefighter and his career to date and appointment to the Chief Fire Officer Post is testament to the career opportunities in the Service.
"In applauding Mr Lovell's appointment, Minister of National Security Michael Weeks, JP, MP, commented: "We are very grateful to have Mr Lovell in this role. He brings the highest level of personal integrity, having worked his way up through the ranks from a firefighter.
"His impressive record of service to the BFRS and his rise to the highest office in the organisation is proof that Bermudian firefighters can expect a rewarding and exciting career."
"As Chief Fire Officer, Mr Lovell will lead the BFRS's mission to partner with the community to provide quality education and fire prevention programmes that identify safety risks and respond to emergencies effectively, efficiently, and professionally.
Mr Lovell added: "I'm very proud and humbled by my appointment. I'm grateful to the BFRS and the Ministry for this opportunity.
"The future of the BFRS is vivid, and I hope my appointment will serve as a shining example of the many opportunities available within the organisation. I've always said that when you join the BFRS, it's not just a job – it's a career.
"I also wish to thank my family for their support throughout my years of service. Without their support, it would have been difficult to endure the many challenges and pressures accompanying such important work and dedication."
Read More About