[Written by Stephen Wright]
Johnny Barnes, the Bermuda Racing-owned thoroughbred, who enjoyed a successful four-year racing career, has died aged 11.
Named after the island's legendary well-wisher, who died aged 93 in 2016, the four-legged Johnny Barnes was the first horse purchased by Bermuda Racing for €310,000 [about $415,000] in December 2013.
Trained by the venerable John Gosden, Johnny Barnes enjoyed several memorable performances in the pink and navy blue silks, storming to victory on his debut at Yarmouth, Norfolk, on the East Coast of England in August 2014.
Image via the Bermuda Racing Instagram account: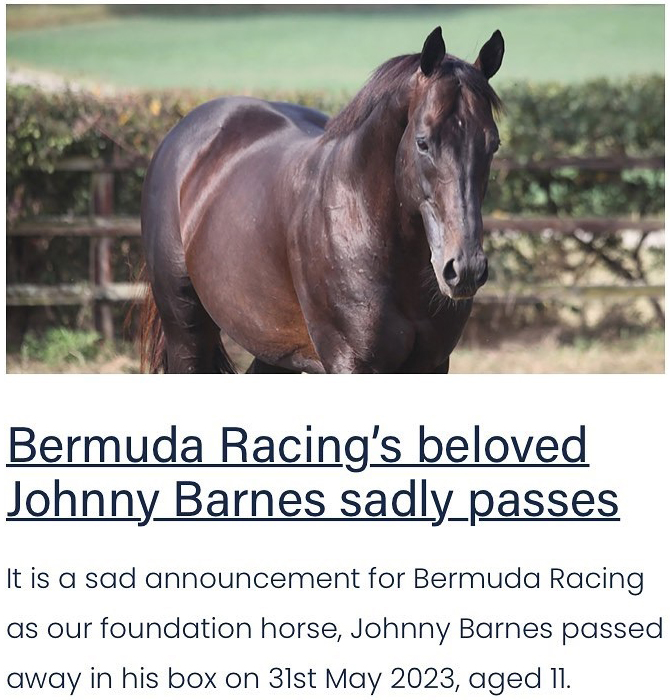 He also won at the Prix Quincy Barriere group-three race at the Deauville Racecourse, Normandy, France, in August 2015, ridden by Frankie Dettori, and came runner-up in his first group-one race at the Critérium International at Saint-Cloud in Paris in October 2014.
Johnny Barnes later moved to a stud farm in Touget, southwest of France, and sired Hayejohn, who won the Prix des Jouvenceaux et des Jouvencelles, a group-three race, in Vichy, central France, in July last year.
Simon Scupham, the Bermuda Racing chairman, described Johnny Barnes as a "special horse who paved the route along which Bermuda Racing is now travelling."
Video of  Johnny Barnes horse in action years ago:
He wrote on Instagram: "Johnny will be greatly missed, not least of all by Mathieu and his team, who gave so much of their time, effort and love to support his stallion career.
"His passing [on May 31] will also certainly leave a big hole in their lives."

Read More About