[Written by Stephen Wright]
Bermuda boxer Adrian Roach bowed out of the Central American and Caribbean Games after losing his first-round bout against Venezuelan Christian Palacio in San Salvador, El Salvador, yesterday [June 23].
The more experienced Palacio was handed a unanimous points victory in the Men's 71kg fight, with four of the five judges scoring the contest 30-27, with the remaining judge scoring it 29-28.
Meanwhile, Bermuda's beach volleyball team of Lisa LeBlanc and Meghan Calhoun lost 2-0 to Guatemala yesterday. They face Jamaica today.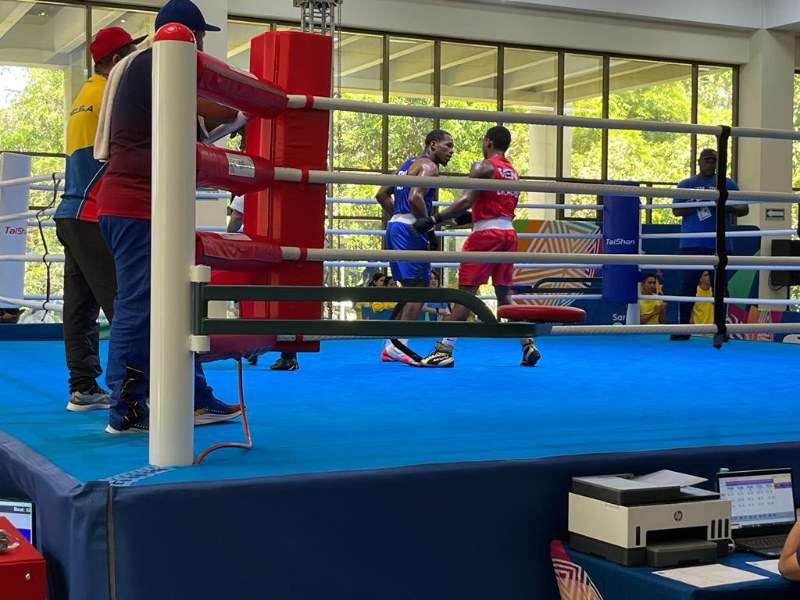 The Bermudian pair lost their opening game 2-0 to the Dominican Republic on Wednesday before being handed a 2-0 win over Surinam, who did not show up for their match on Thursday.
The opening ceremony of the CAC Games were held at the Jorge "El Màgico" National Stadium last night, with boxer Roach and beach volleyball player LeBlanc performing the island's flag-bearing duties.
Peter Dunne, the Bermuda Olympic Association president, said: "The selection of Adrian and Lisa as Bermuda's flag bearers is a tribute to their commitment to sport, their sporting organisations and all of Bermuda.
"They have already commenced a busy two weeks of competition in San Salvador, and we couldn't be more thrilled to have them leading our athletes into the stadium this evening."

Read More About