Three community organizations – Citizens Uprooting Racism in Bermuda, Imagine Bermuda and the Human Rights Commission – have come together to foster collaboration across the Island, leveraging Bermuda's shared legacy.
A spokesperson said, "To this end, an entertaining 30-minute community Gathering will take place at the steps of City Hall, between 12.45 – 1.15 pm, on Tuesday, August 1st, the 189th Anniversary of Emancipation.
"Of course, Somerset and St. George's Cricket Clubs have sustained the mid-summer classic -Cup Match- for 120-odd years, in symbolic recognition this major milestone's significance.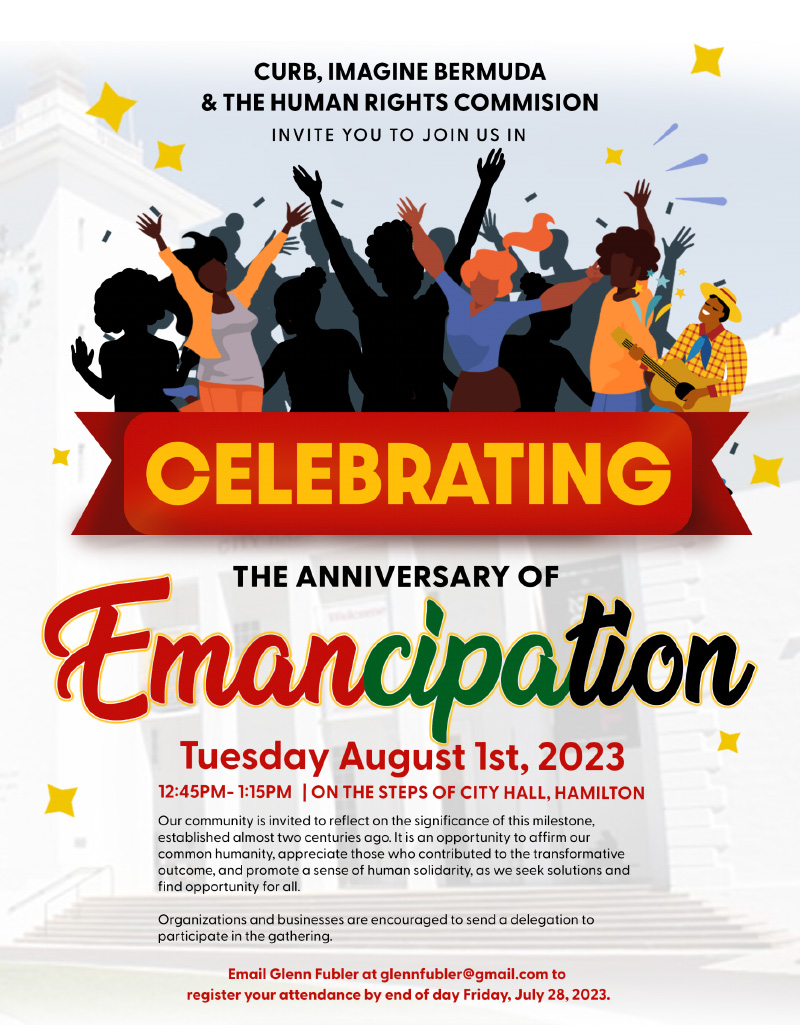 "A wide variety of community stakeholders have rallied to this initiative, in the spirit of 'turning lemons into lemonade'. These include; the offices of the Governor, the Premier and the U.S. Counsel General, along with the Bermuda Chamber of Commerce and the Bermuda Trade Union Congress, among others.
"Emancipation represented a key 'destination in a long journey'. The Abolition Movement, which was addressing the 'worse of humanity', did so by exemplifying the 'best of humanity'. Those examples included; enslaved people with 'little or no' resources defeating Napoleon's troops in Haiti in 1804 and abolitionist Londoners harbouring Mary Prince, facilitating her pivotal contribution to the passage of the Emancipation Act in the House of Commons, on July 22 1833.
"The goal of the Celebration on Tuesday, August 1st at City Hall is to affirm the 'best of humanity'. This becomes most relevant given the existential, global challenges being faced in the 2020's. Rather than relying on 'talking heads' during this celebration, the Gathering will highlight the Arts.
"Bermuda's own – Robert 'Sai' Simons – will make use of the songbook of the iconic Robert 'Nesta' Marley – whose classics speak to the 'best' in all of us. In addition, 'In Motion' will do a relevant dance, choreographed by Malaysia DeRosa.
"The community is welcomed to come and enjoy this brief lunchtime Celebration, joining in leveraging the significance of Emancipation in a way that strengthens the sense of human solidarity across our Island, in 2023."
Read More About