Twenty-two Bermudian students received scholarships worth $630,000 at the annual Association of Bermuda International Companies Education Awards [ABICEA] luncheon.
A spokesperson said, "Funded by donations from ABIC member companies, which are Bermuda-based international companies, the ABICEA programme is one of the island's largest and longest-running scholarships programmes. Over its 46-year history it has supported more than 740 Bermudian students, many of whom today hold leadership positions in the island's International Business sector.
"The awards support the education of qualified Bermudian students pursuing undergraduate or graduate education in areas related to International Business. ABIC member companies have donated more than $6 million to the programme over the last ten years alone."
Front Row: Owenea Roberts [post graduate awardee], Indio Francis, Maya Dean, Jubilee Edness [Interviewer & Mentor] Sara Costa, Lexus Brites, Shayla Cann, Daniel MacPhee; Second Row: Eusebio King-Mills, Shayla Robinson, Meron Simons, Kyra Adams, Jessica Bucher, Zarah Lathan,; Third Row: Nicholas Kessell, Marley Saggar, Sakai Newman, Darien Williams, Ava Gibson, Samiah Fisher; Not Pictured: Asia Scott-Taylor, Zyhun Robinson, Riley Morbey [Pwc Bda College Awardee]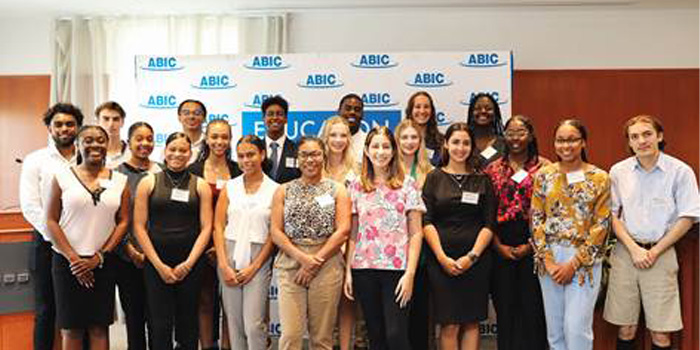 Chairman of ABIC and CEO of AXA XL Insurance in Bermuda Patrick Tannock, who is a past recipient of a scholarship from ABIC's precursor, the International Companies Division of the Bermuda Chamber of Commerce, said: "International Business is one of the key engines driving the Bermuda economy. A critical component of Bermuda's track record of innovation excellence is an enabling environment for the free flow of high-quality intellectual capital while simultaneously developing Bermudian talent.
"In a world of increasingly complex risk, technological disruption, and an accelerated rate of change & innovation, for Bermuda to remain relevant and a jurisdiction of choice, adaptability and learning agility are fundamental competencies and we must as an industry continue to invest in education to nurture our existing and future talent pipeline.
"It is also important that Bermudians from diverse backgrounds have the opportunity through scholarships to acquire the skillsets so they are prepared to participate in International Business."
This year's ABICEA cohort received their awards from guest speaker Natasha Scotland Courcy, Chief Executive Officer of Athene Life Re, Ltd. and Chair of Bermuda International Long Term Insurers and Reinsurers [BILTIR].
"Bermuda is your oyster," Ms Scotland Courcy told the awardees. "International Business in Bermuda is a stalwart and it's here to stay. And I ask each of you to please take your place at the table. The seat is there, it's waiting and it's yours if you are willing to work hard and lean forward to take it."
During her speech, Ms Scotland Courcy drew on her own experience to give the students inspirational advice, including the importance of resilience, knowing your value proposition and emotional intelligence [EQ].
"Remember that self-doubt is the kryptonite to success," Ms Scotland Courcy said. "As you climb the ladder in your career, understand that your brain is programmed to protect. And so, sometimes it wants to keep you in a place of comfort. You need to be aware of that and to learn to actively distract that self-doubting voice and take that next challenge."
Ms Scotland Courcy said the mind was a powerful tool that could drive achievement, reflecting on how her own focus to succeed in law school had helped her to place top of her class. She said: "What you focus on, in your university life and your career, becomes your reality. So, I implore you to focus on the right things that are going to help you to achieve what you ultimately want to achieve."
EQ was more important than IQ, Ms Scotland Courcy said, especially with the growing role of artificial intelligence in business. "AI will never be able to replicate a human's EQ. Being a good listener, finding empathy, understanding emotions, communicating effectively and bringing out the best in others is critical to business. And so, it's critical to your success."
The spokesperson said, "The 2023 ABICEA recipients were:
"Kyra Adams who will attend the University of Vermont, where she will pursue a degree in Economics. Kyra is a graduate of Saltus Grammar School, where she was of Head of Gold Key, responsible for guiding prospective families around Saltus and assisting them in the admissions process. Her exceptional dedication earned her the EY Values Award and the PwC Headstart Award for Excellence. Kyra is also passionate about dance.
"Lexus Brites who plans to attend the University of Tampa, majoring in International Business and Management. An honours graduate of The Berkeley Institute in 2021, Lexus is pursuing an Associate's Degree at Bermuda College. She is very active in volunteering in the community.
"Jessica Bucher who will pursue a Bachelor of Science degree in Strategic Communications and Business Administration at Liberty University in the US. Jessica, a 2023 Saltus Grammar School graduate, is passionate about cinematography and performing and has set her sights on a communications and marketing career.
"Shayla Cann who will pursue a degree in Computer Science with a specialisation in Cybersecurity at Elon University in the US. The Warwick Academy graduate excels as an athlete and was vice-captain of the Bermuda 2023 Carifta Games team. Her volunteer work with the Salvation Army exemplifies her community involvement.
"Sara Costa who will pursue a Bachelor's Degree in Business Management at the University of Liverpool in the UK. In 2023, Sara graduated from Bermuda College with an Associate of Arts in Business Administration, with distinction, as a President's List student. In 2021, she graduated from The Berkeley Institute, where she held the position of Senior Prefect.
"Maya Dean who is pursuing a Bachelor of Science degree in Business Administration Marketing at North Carolina Agriculture and Technical State University, where she earned the Chancellor's List distinction in her first year. Maya graduated in 2022 from The Berkeley Institute, where she was awarded a gold community service award for completing over 200 hours of service.
"Samiah Fisher who will attend the Buckinghamshire New University in the UK to pursue a degree in Accounting. An honours graduate from CedarBridge Academy, she has a passion for accounting and finance. At CedarBridge, she was a member of the netball team, a prefect and vice-president of the CedarBridge Academy Gavel Club.
"Indio Francis who is about to start her second year of pursuing a Bachelor of Science Degree in Business with a concentration in Actuarial Science at St. John's University in New York, where she holds a place on the Dean's List at the Tobin College of Business. Indio is a 2021 graduate of the Bermuda Institute and keen dancer and track athlete.
"Ava Gibson who plans to pursue a Bachelor of Laws Degree at University College London in the UK. Ava is a 2023 Bermuda High School graduate with a passion for public speaking and was on the Bermuda team in the World Schools Debate tournament in Vietnam this summer. An environmental activist, Ava was elected to the Youth Climate Advisory Board of the inaugural Youth Climate Summit in 2021.
"Nicholas Kessell who will attend the University of Guelph in Canada, where he will major in Economics and minor in Accounting. As a Business Administration student at Bermuda College, Nicholas has shown a keen interest in the [re]insurance industry, having joined the ILS Bermuda Educational Programme and attended the Bermuda Risk Summit as an ABIR student delegate.
"Zahra Lathan who will attend George Mason University in the US, where she will major in Cyber Security Engineering. A 2023 graduate of The Berkeley Institute, she is passionate about technology and is a member of ISACA, an international association for IT professionals. She is also a keen dancer and volunteers for community event planning organisation, Kreative Innovations.
"Daniel MacPhee who will attend the University of Toronto where he will pursue a Bachelor of Science Degree majoring in Actuarial Science and minoring in Computer Science and potentially Data Science. The 2023 Warwick Academy graduate gave many hours of community service at the Warwick Academy Marine Science Facility, helping with its operations and maintenance.
"Sakai Newman who is in his second year at Newcastle University in the UK, pursuing a Bachelor's with an integrated Master's degree in Computer Science. A 2021 graduate of the United World College Thailand, whose previous education was at Somersfield Academy, Sakai is a keen footballer and member of the Model United Nations and Newcastle University Computer and Technology Society.
"Shayla Robinson who will attend the University of North Carolina Greensboro where she will pursue a degree in Finance. Shayla is a 2023 graduate of The Berkeley Institute where she was Deputy Head Girl and was involved in activities, including She Leads, track and field, and as the school's senior football manager.
"Zyhun Robinson who is pursuing a Bachelor of Science in Mathematics, minoring in Actuarial Science, at Georgia State University in the US. Zyhun had previously attended West Virginia University where he became a brother of the Alpha Phi Alpha Fraternity, Inc. Zyhun has started taking his actuarial exams while studying for his degree. He is expected to graduate from GSU in May 2024.
"Marley Saggar who is pursuing a Bachelor of Commerce Degree with a focus in Marketing Management at Seneca College in Canada. During his first two semesters he maintained a perfect GPA of 4.0. Marley completed his Associate of Arts [Business Administration] degree from Bermuda College in 2019. He is a former student of The Berkeley Institute, where he was Deputy Head Boy.
"Asia Scott-Taylor who is pursuing a degree in Accounting at The University of Tennessee at Chattanooga in the US. Asia is expected to graduate in the Fall of 2024. A 2020 high school graduate from Tyner Academy in Chattanooga, Tennessee, Asia has a passion for community service, and track and field.
"Meron Simons who will pursue a Bachelor's Degree in Marketing and Communications at Nottingham Trent University in the UK. A 2022 advanced placement merit graduate of Saltus Grammar School, Meron spent a gap year in her native Ethiopia. There she did volunteer work, studying at Unity University. Meron is a three-time Bermuda girls' national cross-country champion.
"Eusebio King-Mills who attends Knox College in Illinois where he is majoring in Business and Management, with a focus in Finance and Accounting. He is a talented footballer, who was named to the Midwest Conference Academic All-conference in 2022. He also participated in the "I've Got Your Back" programme, showcasing student athletes supporting each other to foster inclusive environments.
"Darien Williams who is pursuing a degree in Business Management with Marketing at the University of West England in the UK. The Warwick Academy graduate is also a keen sportsman and is vice-president of the table tennis team at university. He is committed to community service and has volunteered at the Red Cross for three consecutive years.
"Owenea Roberts who will be attending St. John's University in New York, where she will pursue a Master of Science in Accounting with a concentration in Data Analytics. Oweana is a recent Accounting graduate of Quinnipiac University, in Connecticut, where she served as president of the Quinnipiac Student Government Association.
"Riley Morbey who will start the first of two years at Bermuda College, majoring in Accounting, before pursuing his degree abroad. His passion for maths and numbers flourished during an accounting elective at Saltus. Outside academics, Riley loves sport and has represented Bermuda in volleyball tournaments. He has also earned certification as a rescue diver."

Read More About