[Written by Patrick Bean]
During the recent Western Counties All-Star match, Thomas Ball and his nephew, Eugene Ball of T & T Scorers introduced a cutting-edge piece of technology to their cricket statistics and scoring arsenal, a towering digital scoreboard that adds vitality to on-field proceedings.
Standing nine feet tall, the behemoth provides all relevant figures for spectators to observe in real-time and allows information to be managed and operated electronically and remotely.
Added benefits are that the screens can display graphics, animations, and statistics and the entire unit can be moved almost anywhere on around the venue. Its' ability to stream sponsor advertisements and live play would appear a cricket marketer's dream. For the Ball clan it has been something they have been working to secure for while.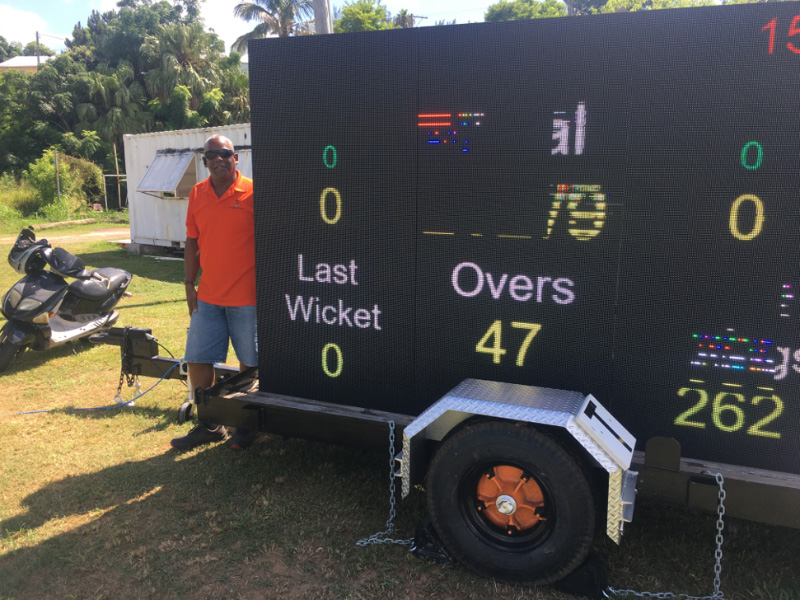 "This project has been in progress for two years," explained Eugene. "My uncle has been scoring for ten years now and we started discussing getting a mobile scoreboard between 2019-2020. We conducted research, worked on it, and here we are today."
"For the past few weeks he's been working on it and building it in the yard," said Eugene while emphasizing its portability. "We can put this anywhere on the island during any sporting event so that everyone can clearly see the status of any match without having to rely on manual scoreboards any more."
Though there are still some kinks being ironed out after setting up this state-of-the-art scoreboard system, once fully operational sponsors will be able to market their products through streaming advertisements.
While Eugene is an avid technophile, Thomas' true passion lies with numbers rather than technology – specifically those compiled onto cricket scorecards – hence the company's tag line, 'We score all out.'
During summer weekends you'll find Thomas inputting statistics at any one of Bermuda's many cricket fields using his own, tailor-made app, which calculates everything from field positions, runs scored, manner of dismissal, individual and team run rates, extras, fall of wickets, bowling analysis, in short, everything required by cricket enthusiasts, record keepers and writers to develop conceptual visualizations of how each game ebbs and flows.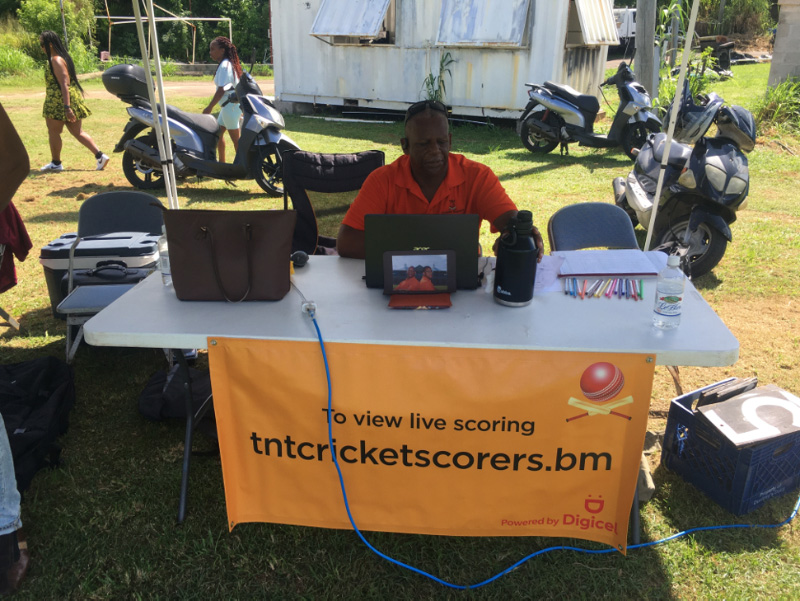 The application and website, which bear the name 'T&T Scorers' can be subscribed to or the app downloaded. It instantaneously compiles data, while uploading information online for site visitors to track.
Bermuda Cricket Board [BCB] and many of its associate clubs currently utilise similar, alternate applications, however Ball said that he is willing to work with the sports governing body and affiliates, whether it be in supply of the scoreboard and/or scoring app.
"I've tried reaching out BCB because my intent isn't about taking anything away from them," said Thomas who was instrumental in pushing the sport toward utilising electronic scoring systems. "It isn't about putting myself out there either; I only want to improve cricket scoring because we know that something lacking these days."
"When I began scoring electronically everyone else was still using books but within two years we've all started doing it."
Thomas' son has encouraged him to further expand by suggesting they have cameras placed around grounds during events they cover, allowing viewers more expansive experiences via streaming services before upgrading again with this latest addition.

Read More About
Category: All, News, Sports, technology