Before she was a multiple time world champion, Commonwealth champion and Olympic gold medalist, Dame Flora Duffy was an Ironkids winner, and she spoke at the event this weekend and noted that the event was an important piece of her journey growing up doing triathlon in Bermuda.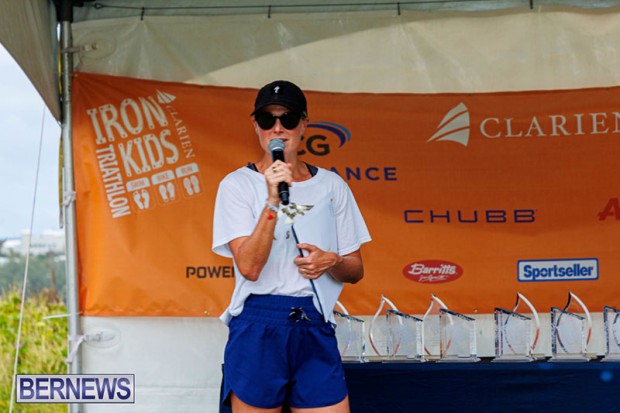 "This was my first triathlon many years ago. I did it when I was seven," Dame Flora Duffy told the gathered crowd prior to presenting awards to the winners.
"It's just so cool to see that it is going many years later, and it's really, really special to me and wonderful to see so many kids taking part, from three all the way up to 15. It's really awesome.
"So thank you to Clarien for supporting this event and it got me into triathlon and certainly was an important piece of my journey growing up doing triathlon here in Bermuda and ended up winning Olympic Gold.
She added, "I am very grateful for the continued support from Clarien and even more grateful for their huge support for the Flora Fund, an initiative that I started in 2018 and has been hugely rewarding."
Widely regarded as one of the best triathletes of all time, Dame Flora Duffy has a myriad of notable accomplishments, as in addition to her Olympic gold medal and two Commonwealth gold medals, she is also the only triathlete in the world to win six Xterra world titles and the only person to win three triathlon world titles in the same year, which she did back in 2016, claiming the WTS, ITU Cross Triathlon, and Xterra titles.

Read More About