The Women's Resource Centre [WRC] in partnership with the Centre Against Abuse [CAA] will be observing Domestic Abuse Awareness and Prevention Month with the launch of a therapeutic programme for survivors of domestic abuse.
A spokesperson said, "Domestic Abuse Awareness and Prevention Month is observed annually around the world during the month of October. It is a time for reflection to raise awareness on the subject, as well as provide opportunities for education, support, and prevention.
"Global domestic abuse statistics show that almost one in three—or 736 million—women above the age of 15 have experienced intimate partner violence. In Bermuda it is estimated that 7,000 women will experience domestic abuse during their lifetime, with an estimated 3,000 women having experienced intimate partner abuse in the last 12 months.
"Research also shows that women who have experienced domestic abuse are more likely to experience financial hardship and mental health obstacles – including, post-traumatic stress disorder, clinical depression, substance abuse, and anxiety.
"Additionally, the consequences of domestic abuse extend beyond the primary victim and significantly affects their children, families, and broader community through the long-lasting impact of trauma.
"In alignment with the mission of both charities, the month of October will be an opportunity to specifically support survivors of domestic abuse through the 'From Victim to Victor' programme.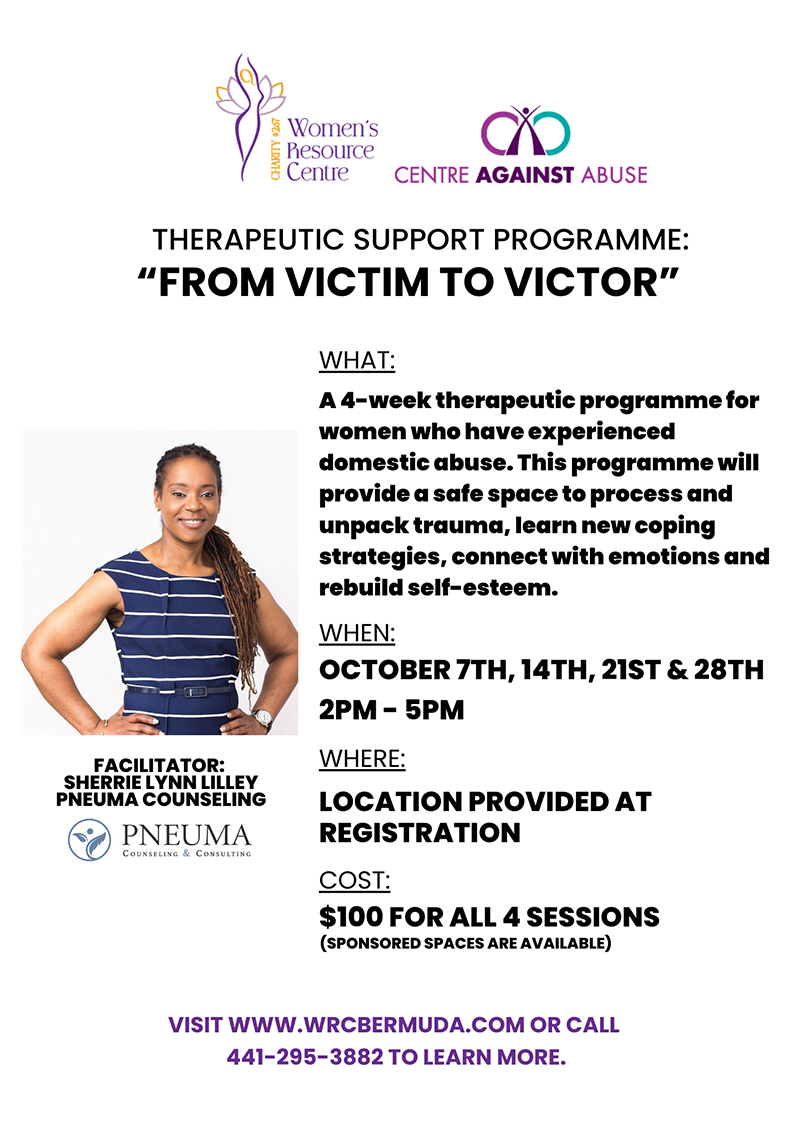 Juanae Crockwell, WRC Executive Director said: "During the month of October, in partnership with the Centre Against Abuse, we will offer the "From Victim to Victor" programme – a 4-week therapeutic experience designed to support women as they navigate life after abuse. The experience will challenge participants to connect with their emotions, pursue new pathways of coping, and increase self-esteem and self-worth in the wake of abuse."
"The programme will be facilitated by Sherrie Lynn Lilley, a Bermudian Clinical Mental Health Counsellor and owner of Pneuma Counselling and Consulting. Ms. Lilley is a skilled counsellor with direct experience with victims and survivors of domestic abuse, having been the sole counsellor at The Allen Women's Resource Centre in Queens, New York.
"Her expertise and experience will be of great value to participants, creating an opportunity for trauma recovery and healing through hands-on activities, including art therapy, vision boarding, music, and meditation.
Ms Crockwell continued: "The issue of domestic abuse is one of great concern to the Bermuda community. While often considered a silent epidemic, its impact is loud and spreads throughout our community, without bias for social or economic position."
"Domestic violence manifests in different forms, including physical and sexual abuse, but extending also to mental, emotional, and financial abuse. All forms are equally damaging on the lives of victims. The Women's Resource Centre's role in mitigating the adverse effects of abuse is to raise awareness through education and provide safe spaces for victims and survivors to find therapeutic support."
Mrs. Laurie Shiell, Executive Director of the Centre Against Abuse, added: "Centre Against Abuse was thrilled to be contacted by Women's Resource Centre to join them during Domestic Abuse Awareness and Prevention Month to support Ms Lilley with presenting this crucial 4-week programme that can be the catalyst for many survivors of domestic abuse to understand how they can move forward and find freedom from abuse. Survivors often leave their abuser, and the abuse continues. Abuse is about power and control, and survivors will be provided with the tools to understand this along with how they can move forward and release the abuser and the trauma of abuse."
Mrs Shiell went on to state, "Centre Against Abuse provides support services to adult survivors of intimate partner abuse and sexual assault. Our services include, counselling, 24-hour hotline [292-4366], legal advocacy, safe housing alternatives, crisis intervention, along with awareness and education on these topics to the community."
"The programme is offered at a total fee of $100, however, sponsored spaces are available through the generosity of donors. We encourage any woman who has experienced any form of domestic violence to consider this support programme as part of their healing journey.
"To learn more about the "From Victim to Victor" programme or to reserve a space, please visit www.wrcbermuda.com or call the Women's Resource Centre office at 295-3882."
Read More About