In a new industrial partnership, Bermuda College recently received one brand new, complete air conditioning system from Efficiency Limited, local representatives of Mitsubishi Electric Trane US, with the College noting that "Efficiency donated the Variable Refrigerant Flow [VRF] system for students to install and train on."
HVAC instructor at the College, Ornette Fough, hailed the new partnership and the donation as a "special day" for the HVAC programme. "This system will assist with hands-on trainee learning and maintaining Mitsubishi equipment," he said.
Bermuda College trainees Emre Leader, Keijah Lee, Jayden Ming, Isaiah Sousa, HVAC Instructor – Ornette Fough. Efficiency staff: – Edward Petty [Residential Field Supervisor], Brandon Morris [Sheet Metal Field Supervisor], Siraj Rashid [Commercial Field Supervisor]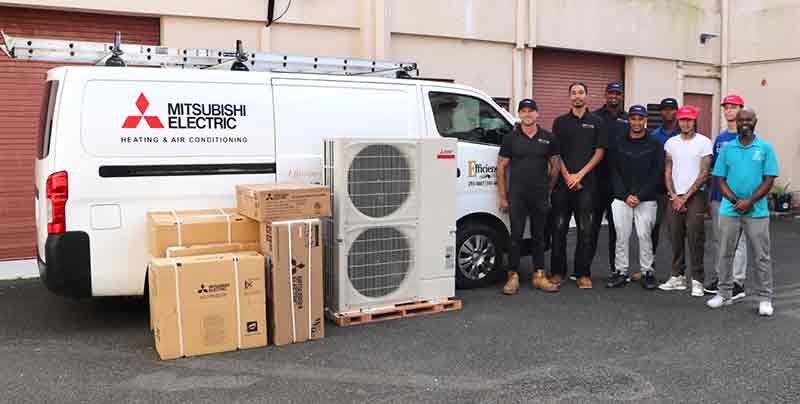 Technical Sales Manager at Efficiency Ltd, Simon Tully noted the value the partnership brought to maintaining the standard of service to the industry, saying, "We recognise that without top quality technicians to install, service and maintain the equipment, the standard would suffer."
Three Efficiency supervisors will train students to go over every facet of the installation process, including diagnostics and the commissioning process, allowing students to have a technical advantage in the field once they graduate with their NCCER certification
. The training also incorporates ductwork for the equipment. Efficiency will provide materials and instruction on how to manufacture the correct-sized duct for HVAC units.
"We look forward to this partnership, and to building a bright future for the air conditioning trade in Bermuda," stated Mr Tully. Mr Fough agreed. "I'm hoping this is just the beginning of a long partnership and the spark for many others."

Read More About