The Figurehead Memorial at Great Head Park in St David's is dedicated to Bermudians over the centuries who were lost at sea.
Despite our best efforts, we were unable to find a full list of persons the statue honors in existence, so we went "old school" and made our way to the East armed with a pen and paper and transcribed the names.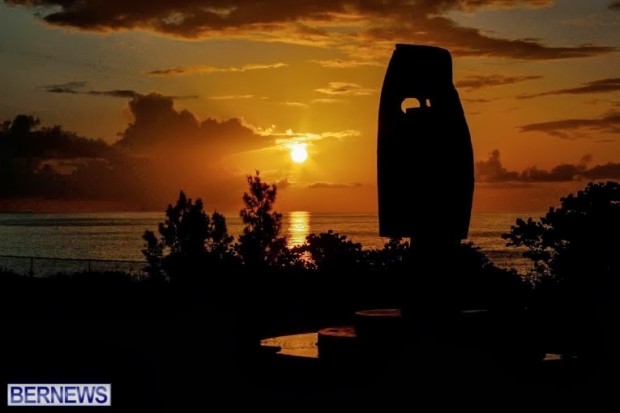 The sculpture is the work of Bermudian artist Bill Ming, and was unveiled by HRH Prince Andrew, Duke of York on November 5, 2005. St David's was selected as the location due to the community's long tradition of seafaring.
The decision to create the memorial was spurred on by the tragic events of January 5, 2003, when Micah Battersbee and Allen Edness were lost at sea after rough weather conditions caused distress to their fishing boat 'New Nuts'.
The memorial is designed to honor those lost at sea, provide a place of mourning/comfort for families, and also mark the island's long standing tradition of ocean traveling and fishing.
The plaque is inscribed with a bible quote from Psalm 107:23-24:
They that go down to the sea in ships, that do business in great waters. They see the works of the Lord, and the wonders of the deep.
As of this writing, the names inscribed include:
Al Wilmot
Alan W Edness
Albert "Cheesy" Hughes
Alex Pearman
Alfred Tucker
Arthur Moniz
Augustus "Gussie" Philpott
Benjamin Joseph Simmons
Benjamin Tucker
Bruce Skinner
Captain John F Leseur
Captain Joseph Nelmes Frith
Captain Samuel Tucker
Captain William Tucker
Cedric Burgess
Charles David Stuart
Charles O'Brian Trott
Charles Raynor
Claudius A Philpott
Crew of Brigante Gazelle
Crew of Schooner Digby
David A Desilva
David Bascome
Dennis Bagnell
Dexter Tucker
Edgar Smith
Elma Paynter Joynes
Ella Dunsombe
Gene Stoneham
Geoffrey Outerbridge
George Forbes Hinson
George Minks
Gladys Saunders
Harry Darrell
Harry L Arorash
Henry Deshield
Henry Ravens
Henry Taylor
Herbert M Richardson
Hilton Bean
Hiram Guest
Israel Todd
Jack Bassett
Joe Fubler
John Ingham
John Newbold
John W.E. Riley
John William Higgs
Joseph Burch
Joseph F Leseur
Joseph Knights
Joseph Trimingham
Kenneth "Mickey" Thompson
Kenneth A Butterfield
Kenneth Wilson
Leonard "Sam" Outerbridge
Lomley Lough
M.S. Dalzell
Macdonald "Bull" Swan
Manuel Pacheco
Marcus Gilbert
Micah Battersbee
Miller T Powell
Nicole O'Connor
Noel Smith
Peter James
Randolph Outerbridge
Reginald D.C Lowe
Richard Cox
Richard Robinson
Robert Gibbons
Sinclair E Samuels
Thomas Swan
Thomas Whittington
Victor "Blair" Lindo
Walter N.D. Smith
William Bean
William S Leseur
William Simmons
Click to enlarge photos:
Read More About