A few hours ago a young man was stabbed multiple times, and was rushed to King Edward Hospital with what has been described as "severe injuries". Bernews understands that he underwent surgery today, and as of this writing is in critical but stable condition. We understand the victim to be a 17 yr old Somerset resident.
Update: A 17 yr old St Georges man has been arrested in connection with the incident.
Bernews has been told by unofficial sources that the young man was on his way home for a lunchbreak, and was stabbed approximately 7 times in the upper body.
The incident occurred in bus lay by across from Traditions Restaurant in Middle Road, Southampton [pictured below] recently today [Apr 17]. We understand the Bermuda Police are investigating the matter, and have unconfirmed reports they are searching the area for the victim's bike.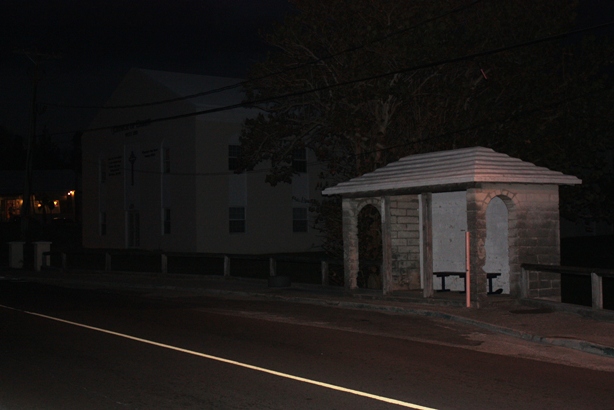 This follows a tragedy early this morning, where a man walking along North Shore Road was struck and killed by a car driver, who was subsequently arrested on suspicion of impaired driving and causing death by dangerous driving. This is also the second vicious attack in broad daylight in Bermuda this month, following the Good Friday murder of Kimwandae Walker at 2pm on April 2nd.
Update 7:35pm: Police confirm incident, and release quote below:
Around 12 noon today (Saturday), Police received a report of a serious assault on Middle Road in Sandys parish in the vicinity of Traditions Restaurant.

Details about this incident are unclear at the moment; however, it appears that an altercation took place in the bus lay by across from Traditions Restaurant.

As a result, a 17 year old Sandys parish man sustained serious stab wounds to his upper body. He was apparently taken to Port Royal Fire Station by a member of the public where he was treated by EMTs before being rushed to KEMH via ambulance.

He is currently in critical but stable condition. A 17 year old St. George's man has been arrested in connection with the incident.

Police are appealing for any witnesses to this incident or anyone with any information, particularly the individual who took the victim to Port Royal Fire Station, to contact the Western Criminal Investigation Unit on 234-1010.
Read More About