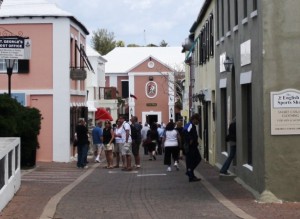 The Cabinet Office confirmed today that following discussions between Mayor Kenneth Bascome and Premier Dr Ewart Brown, Cabinet has recently discussed additional revenue streams in support of the Town of St. George's.
Among those items discussed was the addition of one penny to the retail cost of gasoline and diesel with the funds raised devoted to the maintenance of the Town of St. George's and its related Fortifications which were designated a UNESCO World Heritage Site in 2001.
Acting Minister of Tourism and Transport Zane Desilva said, "We are very pleased to be working with St. George's in this way. The Mayor raised this and other issues with the Premier and Cabinet were very receptive to these suggestions.
Estimates from the consultation between the Corporation of St. George's and the Government indicate that approximately $1.2 million annually could be raised in this way.
Minister Desilva continued, "We will continue to examine this and other proposals as we work to revitalize the Town of St. George's and maintain its focus as a prime location for our tourists."
Read More About