[Updated] The Premier's office today [Aug 16] released a statement saying they have "notified the Bermuda Police Service about this threat and asked for an investigation" after "a so-called 'joke' about assassinating the Premier" on a local message board. The full statement and screenshot provided follows below:
Recently, it was discovered that a so-called 'joke' about assassinating the Premier was published on an anonymous online messaging board with a history of hateful comments against the Progressive Labour Party.

The comment, which did not receive condemnation from fellow commenters on the message board, read, "OK… point me to the grassy knoll then… actually that would be better now thinking about it… I'll actually have a better shot view, and no one will ever see me… and I can leave without a trace…"

Assassination is no laughing matter. To this end, we have notified the Bermuda Police Service about this threat and asked for an investigation.

For years, shrouded in a cloak of anonymity, a small cabal of angry opponents of the PLP has spewed venomous hate toward the Party and its members on this message board. These anonymous online hypocrites claim to be beyond race, but, use it at every opportunity to highlight our differences and advance their agenda. Consider this recent post, published in full:

"Yeah… it's like the qLq (derogatory term for PLP) has forced Bermudian whites to 'circle the wagons' and separate protect themselves from those in power. Including the Gangsters, as they have much power as well. A giant step backwards, but perhaps necessary for survival…."

Remember when the banks used to pull mortgages to advance their political interests? Well, this anonymous commenter wants to bring back those tactics:

"Been calling for a boycott a long time…. you will not see my money going to any business or service owned by anyone related to the PLP Government. Meanwhile I'll cash in on any and all the services they care to provide and jack the price up on anything they have to get from my businesses.

Finally, it's not just about the PLP leadership to these people. It's about PLP members and supporters. They have deep disdain and a fundamental lack of respect for the thousands of Bermudians who support the Progressive Labour Party:

"Many have been accused of referring to PLP voters as ignorant sheep or blind followers. If the shoe fits..."

While we encourage and support freedom of speech – including anonymous speech – comments alluding to violence and assassination must be taken seriously. Assassination is never a laughing matter. Given the tone set by commenters such as those on the anonymous message board and in the media, we must not deny that the potential for political violence exists in our society.
The term 'grassy knoll' was made famous by the assassination of US President John F Kennedy. The screenshot provided by the Premier's office is below [click to enlarge], and the original post can be found here.
-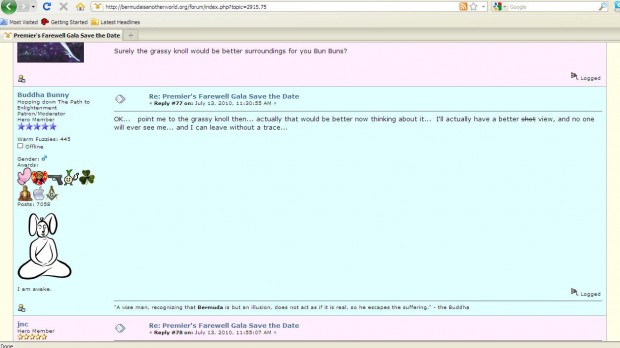 -
Update Aug 17th: Bernews has been copied in on an email from someone claiming to be a poster at Bermudaisanotherworld [BIAW] forum, which came to the public's attention yesterday following a statement by the Premier's press secretary. In addition to mailing the media, the poster has emailed various Police departments stating his/hers concern over a posting made last night on the Premier's Facebook page at 10:15pm Bermuda time, by an account appearing to belong to one of the Premier's family members saying:
…But see me i dont joke about my father being killed….Premier or no Premier if I ever have the chance to find one of these people it will NOT be a good look for them or THEIR family….
The BIAW member goes on to say that:
…. if such family members did find the name(s) of online posters then I truly fear for their – and possibly my own – safety. In times of rapidly escalating violence island-wide I hope you take this threat seriously and investigate to the fullest of your abilities if any crimes have been committed – in much the same manner you will be doing with regards to the 'grassy knoll' posting previously mentioned.
The post has since been removed, however Bernews did see the initial post and we can confirm it existed. We also persused the account it came from, and the poster's email stating whom the account belongs to appears to be correct. You can view the Facebook thread in question here, although the initial post has been removed.
Update #2: The Police released a statement saying:
The Bermuda Police Service following the information received by the Premier's Press Secretary Jamahl Simmons has commenced inquires into the threat against the Premier Doctor the Honorable Ewart F. Brown JP MP. The first course of action will be to assess the threat then identify whether or not any criminal offences have occurred.
Read More About