[Updating] After previously having three storms spare us we seem to have lost our luck as the island appears poised to take a battering this weekend. Official confirmation came from Government last night, who urged residents to prepare saying that "Hurricane Igor is on path to hit Island" and "the current forecast is for a direct hit."
NASA notes that Igor is 550 miles [880 km] wide.  The photo below was taken on Sept 14th by NASA astronaut Doug Wheelock from the International Space Station, and shows the eye of the hurricane. The eye itself is far larger than Bermuda: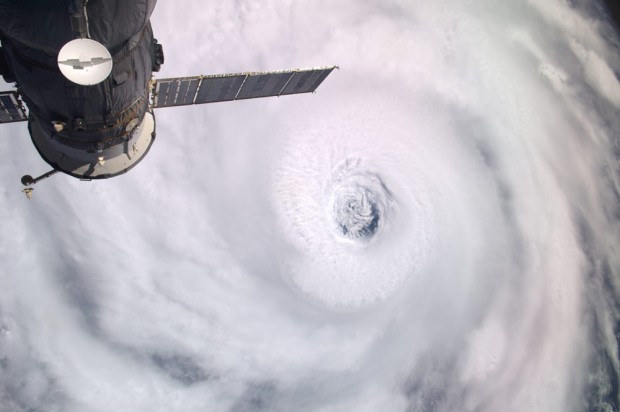 This morning [Sept 16] the Bermuda Weather Service says that Igor will pass close to the island, either to the west, east or a make direct hit and that "hurricane force winds are likely at this stage to occur during the course of Sunday."
Also of this morning, the US National Hurricane Center [NHC] says the "extremely dangerous" Igor is carrying 145 mph [230 kph] maximum sustained winds and is about 955 miles south-southeast of us. The NHC charts give us a 20% chance of being struck by hurricane force winds, up 10% from yesterday, and a 70-80% chance of being struck by tropical storm force winds, also up from yesterday.
For previous posts about Hurricane Igor see here, and we will update this post through the day as applicable.
Update 11:23am: Clocktower Mall in Dockyard will close Saturday and Sunday.
Update 11:57am: The Weather Channel's Jim Cantore said "Even though Igor is still days away, Bermuda needs to be preparing for a Fabian type storm."
Update 12:56pm: The Government has asked us to remind the public that "official advisories and action to be taken will come for the EMO only and they should act only on information disseminated from this source."
Update 1:49pm: Digicel Bermuda will be flying in a private jet, and says they will be taking full measures to ensure good service. Details here.
Update 2:10pm: Bermuda Police issue Hurricane advisory. Details here.
Update 2:15pm: Warwick Academy students are offering help to anyone who needs it in Warwick tomorrow afternoon. Details here.
Update 2:33pm: Bermuda Employer's Council announced they have cancelled the 50th Anniversary Gala Banquet that was due to be held this Saturday the 18th of September at the Fairmont Southampton.
Update 2:35pm: Keep Bermuda Beautiful (KBB) has decided to postpone their annual Island-wide Marine Cleanup which was originally scheduled for this Saturday. The new date will be the following Saturday, September 25.
Update 2:37pm: Sports cancellations via Islandstats: Bermuda Bicycle Association have announced that the Butterfield Bermuda Grand Prix has been postponed until November 6th & 7th. The Warrington Soup "Zuill" Memorial match scheduled for Lord's in St. David's has been postponed until September 25th, the ITF Beach Tennis Tournament that was halted due to Hurricanes Danielle and Earl has again been postponed.
Update 3:18pm: Bermuda Squash Racquets Association Junior Squash Program was scheduled to start back on Saturday 18th, and will now start on Tuesday Sept 21st.
Update 3:21pm: Accuweather warns "Igor May Isolate Bermuda for Days". Link to story here.
Update 4:29pm: Jetblue has added two extra flights tomorrow, cruise ships are beginning to announce they will cancel their visits here. Details here.
Update 5:10pm: The City of Hamilton today [Sept 16] issued a release saying that due to the expected approach of Hurricane Igor this weekend they will be taking various measures including closing the road trench, turning off traffic lights, and closing all City parks & public restrooms. Details here.
Update 5:50pm: Igor has weakened, winds are down to 125mph, and it is a category 3 hurricane now.
Below is the full 36-page Emergency Plan from the EMO, click Full Screen for greater clarity:
Read More About