Yesterday [Oct 22] Minister David Burch recognized Jerl Dill for his hard work and perseverance in the culinary arts, and congratulated him on his Red Seal Award. Mr Dill, who started out 11 years ago as a kitchen porter, has just achieved the Red Seal, which is considered to be a very prestigious qualification in culinary arts.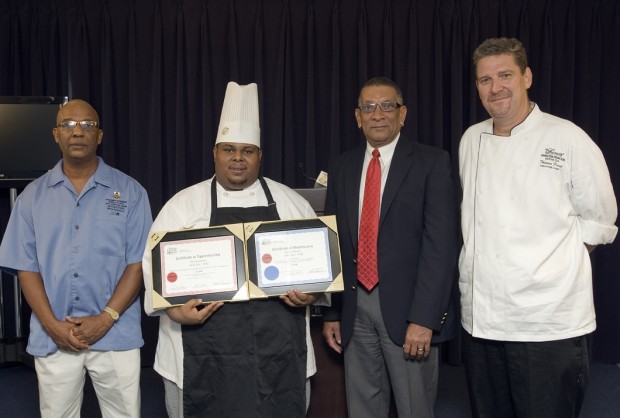 Minister Burch's full statement follows below:
Good morning.

This is one of those occasions when everyone should celebrate.

In 1999 a 20 year old former Cedarbridge Academy student, Mr. Jerl Dill began his first job at The Reefs as a Kitchen Porter. He diligently washed pots and pans, plates and cutlery, swept and mopped floors and took out the garbage. Some folks have been known to say that being in the right place at the right time has its rewards. One day the Head Chef at the Reefs needed someone to assist in preparing salads for dinner service and asked Jerl if he was interested in lending a hand. This presented an opportunity for him to become more involved in meal preparation. As a result this young man's interest in becoming a chef intensified.

With the assistance of the National Training Board Mr. Dill enrolled at the Bermuda College in their Culinary Programme as a Chef Apprentice. Whilst at the Bermuda College he had the opportunity to work at The Lemon Tree with Chef Jean Claude preparing sandwiches and wraps. This experience afforded him a chance to apply good customer service techniques to his ever increasing skills and knowledge of the hospitality industry.

In April 2004 Jerl joined the Fairmont Hamilton Princess as a chef apprentice. He had some difficulty transferring his American work hours into the Canadian model used by the Fairmont Group because the US programme was not accredited. I trust everyone is listening to this important point because I have raised it on more than one occasion.

Our students must attend accredited institutions in order to obtain recognition.

As a result of the non-acceptance of his prior learning, Jerl found that he had to start again at the very beginning in order to achieve his goal of becoming a Chef.

It is significant to note that this adversity did not prevent him from continuing his journey.

In 2006 he attended Nova Scotia Community College in pursuit of the Red Seal Certification. He sat the group A and B exams which consisted of health and safety, basic cooking principles, vegetable and starch cookery, cold kitchen, baking and desserts, stocks and soups, meat, poultry and game cutting (butchery), fish and sea food preparation and finally egg and breakfast cookery.

He successfully completed these exams but did not fully qualify for accreditation.

Still he did not give up

In order to obtain the Red Seal 8,000 hours of work must be completed and sit the group C exams.

After completing these work hours he was sponsored by the NTB to Holland College in Prince Edward Island, Canada to participate in a six-week block program – this is a preparatory course required prior to sitting the exam. Immediately following this program Jerl sat the group C exam and we are here today to officially congratulate him on successfully obtaining his Certificate of Apprenticeship, Certificate of Qualification and the Canadian Interprovincial Standard or Red Seal Certification in the trade or occupation of Cook.

Some of you may ask what is the Red Seal Certification. It is the Interprovincial Standard established to provide greater mobility for skilled workers across Canada. The program is administered in each province and territory under the guidance of the Canadian Council of Directors of Apprenticeship (CCDA). Each province and territory has an appointed Director of Apprenticeship for this purpose. The CCDA works with industry in the development of a skilled labour force, and in the facilitation of labour mobility throughout Canada.

A similar model has been adopted by the NTB to ensure that Bermudians not only obtain recognized qualifications, but ensure that local industry approves and 'buys-in' to external certifications. The NTB cannot attain its mandate without the efforts of industry. Today's presentation is a prime example of how the NTB builds on relationships with industry to ensure Bermudians receive approved qualifications.

Bermuda ….. We must be encouraged! So many of our young people have talent and want to pursue their dreams. We must continue to embrace them and assist wherever possible to ensure that we build a greater more sophisticated and skilled workforce.

This is an outstanding achievement of an 11 year quest to achieve this milestone and a clear example of single minded determination – he never gave up – I warmly congratulate you Jerl, as the first Bermudian to receive the Red Seal in the trade of Cook.

I also commend the Fairmont Hamilton Princess for their vision and agreement to maintaining his employment. With continued hard work and dedication they predict that Mr. Dill will progress from his current position as Chef de Partie to Senior Chef de Partie and with consecutive years of experience move on to become a Sous Chef.

With that said, I would like to now turn over the podium to the Executive Chef of the Fairmont Hamilton, Mr. Thomas Frost, to say a few words.

Thank you.
Related Posts