The Ministry of Culture and Social Rehabilitation announced that the Mirrors Programme successfully completed the three day Coaching for Success training session at the Willowbank Resort in Sandys at a completion ceremony held yesterday [Oct 7].
Minister of Culture and Social Rehabilitation Neletha Butterfield, Ministry of Education Permanent Secretary Kevin Monkman, and Principal of Sandys Secondary Middle School Dr. Timothy Jackson attended and gave the students congratulatory remarks for participating.
Coaching for Success is a new programme aimed at supporting students in achieving their full potential. The programme is offered to 50 students at Sandys Secondary Middle School and 50 students at Whitney Institute.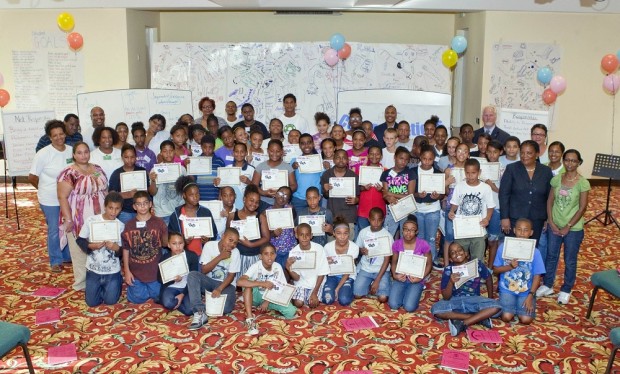 Sandys Secondary Middle School students started the programme with an Opportunity Day on September 30th where 59 students had the opportunity to look at the program and develop characteristics of a successful student along with a reflection on their current climate at school.
They had the opportunity to choose their participation in the programme. 58 students selected to participate and then attended the three day training event from 9am to 5 pm., on October 4th – 6th. 57 students completed the programme.
Each student was matched with a trained volunteer, called an education coach to support him or her in achieving the goals they set for themselves in education over the next 8 months.
Students identified the following objectives: Setting goals for themselves, improving confidence and self-esteem, speaking in class, better attitudes, improving grades in particular subjects, as examples of things they wish to work on.
Twelve teachers have been trained to support the programme at the school and they have various roles from coaching students to coordinating the volunteers at the school site.
The Mirrors team will support the programme at the school site to further create systems for student empowerment and Mirrors can use the school snap shot information to develop peer leaders and student advocates to enhance the school climate. The majority of students were M2 students, however some M1's and M 3's participated. Education mentors attended half a day today to meet the students and began their engagement.
Whitney Institute will begin with the opportunity day today and the three day training on October 11th, 12th and 13th. They have 71 students wishing to attend, however Mirrors will accept 60 today.
"Students who choose to do the programme can achieve more motivation to succeed at school, improve social skills and self-confidence that will help them get and keep employment, higher exam results than they are currently expected to get and increased responsibility for their learning and their school," Minister Butterfield said.
For more information please contact the Mirrors Office at 294-9284 or email mirrors@gov.bm.
Read More About