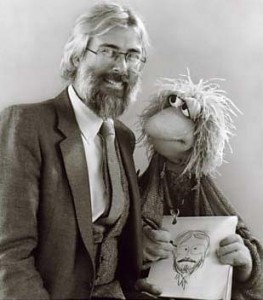 If you grew up dancing your cares away, worrying on another day and letting the music play down at Fraggle Rock, you'll be pleased to know you'll be able to take your own kids to a movie remake of the classic children's series inspired by designer Michael Frith's Bermuda childhood.
Many Bermudians likely grew up watching the Fraggles, without ever knowing of the connection the series had to the island. The show premiered on HBO in 1983, ran five seasons and was broadcast in more than 80 countries.
Bermuda's Crystal Caves inspired the series co-creator Michael Frith to think of the underground world inhabited by the Fraggles.
Hollywood's Weinstein Company has announced it is preparing a full length movie based on the classic Jim Henson series, featuring a mixed cast of actors and Fraggle Rock puppets.
Due to be released in 2012, the film will include key characters Gobo, Wembley, Mokey, Boober and Red. Now retired and spending his time on charitable work, Mr. Frith is not expected to be part of the film adaptation although the late Jim Henson's producer daughter, Lisa, is working on the "Fraggle Rock" movie.
In a letter included in the show's DVD boxed set, Mr. Frith explains his inspiration for the show came from his childhood in Bermuda, specifically from the island's exclusive reliance on rainfall as a source of water.
"And so a water cycle became the center of the Fraggle world," Mr. Frith said. "The difference being that they didn't understand it — or how each resident of the Rock (and beyond) depended on the others to maintain it."
In other interviews, Mr. Frith has said the discovery of Bermuda's Crystal Caves in the early 20th century inspired the underground world inhabited by the Fraggles.
Video courtesy of Bayard Outerbridge
"On some level, Bermuda influences everything I do," Mr. Frith said in a 2001 interview. "I think there are places you find yourself in which for no reason you can explain have a kind of presence. I think Venice is like that. New York is like that. And I've always felt Bermuda is one of those places. It saddens me to see so much of it paved over. And I sometimes worry that one of my favourite things about Bermuda — the absolutely endemic sense of humour — is being leached away.
"But there is something wonderful about this place and its people and I can't imagine anywhere else on earth that has it. It's indefinable but it's definitely present," said Mr Frith.
He was born and raised on Salt Kettle and started his media career in Bermuda, working for both ZBM and the "Mid-Ocean News" as a teenager.
After graduating from Harvard, Mr Frith embarked on his career at New York publishing house Random House in 1963 as a children's book illustrator and editor.
Appreciating Mr. Frith's talents as an artist and designer, Muppet creator Jim Henson brought him on board his creative team. Mr Frith joined Henson Associates as art director in 1975, was named vice president in 1978, and executive vice president and director of creative services in 1985.
Jim Henson articulated the vision for "Fraggle Rock" – "It is a high-energy, raucous musical romp. It's a lot of silliness. It's wonderful". But Mr. Frith and various collaborators fleshed out the basic concept, allowing him to introduce concepts, settings and characters inspired by his Bermuda home into the overall storyline.
Read More About
Category: All, Entertainment, Films/Movies, News