Diamonds are forever – and so, it seems, is James Bond, the most famous member of Her Majesty's Secret Service. Bermuda will be participating in worldwide celebrations marking the 50th anniversary of the timeless movie franchise with a charity screening of the new documentary "Everything Or Nothing: The Untold Story of 007" at the City Hall's Earl Cameron Theatre on Friday [Jan.18].
Hilary Saltzman, daughter of legendary producer Harry Saltzman who co-launched the film series a half-century ago with partner Albert Broccoli, will be on hand for the event which will raise funds for the upcoming 2013 Bermuda International Film Festival [BIFF].
The City Hall venue was recently renamed after Bermudian actor Earl Cameron who co-starred with Sean Connery in the 1965 Bond blockbuster "Thunderball"; he played Pinder, the head of the British Secret Service's Bahamas station in that movie – which remained the highest grossing entry in the spy film series on an inflation adjusted basis until the release of last year's "Skyfall".
Earl Cameron with Sean Connery, Claudine Auger and Rik Van Nutter in "Thunderball"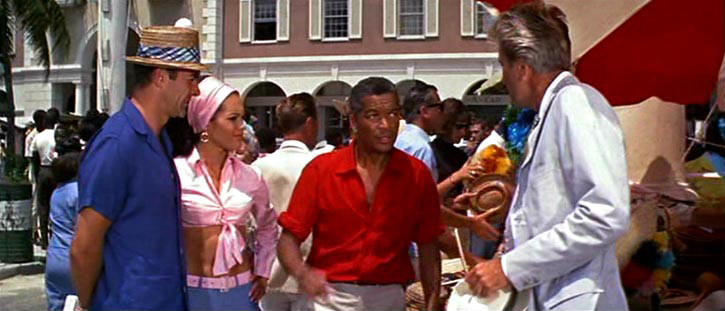 Based on the bestselling series of novels by journalist and World War Two intelligence operative Ian Fleming [1908-1964], there have been 23 James Bond films made under the banner of Eon Productions beginning with "Dr. No" [1962] and continuing up to the present day with "Skyfall" – nominated for five Academy Awards this week including a nod for Adele's title song.
"Everything Or Nothing" was the never-say-die motto of aspiring filmmakers Mr. Saltzman and Mr. Broccoli when they purchased the film rights to the Fleming novels – its acronym, "Eon", became the name of their production company. The two men literally invested every penny they had or could borrow in the first Bond film in what proved to be one of the most astute gambles in the entire history of cinema.
The new feature-length documentary takes a revealing behind-the-scenes look at the history of one of cinema's most enduring and profitable franchises, drawing on the memories of key players — including actors who have portrayed the dapper but deadly British secret agent — as well as Eon's extensive archives.
From the beginning, the Bond films were as perfectly blended as the secret agent's trademark Martinis. Featuring fast-paced plots, witty dialogue, exotic locations, dynamic editing and arresting music, the early 007 movies are credited with breaking the dreary torpor of post-World War Two British cinema.
Big screen wish-fulfillment fantasies in which sophisticated James Bond battles a rogues' gallery of larger-than-life villains and romances a never ending parade of beauties who became known as Bond Girls, it's been said they key to the character's universal appeal is that every woman wants him and every man wants to be him.
Preview clip from "Everything Or Nothing"
Released in October to coincide with the 50th anniversary of "Dr. No's" premiere, the UK's "Guardian" newspaper said "Everything Or Nothing" paints a compelling portrait of "the remarkable movie-industry bromance, between Albert [Cubby] Broccoli and Harry Saltzman … There's more than enough to enjoy, and plenty about the remarkable and melancholy figure of Fleming himself, who never lived quite long enough to enjoy the success of his creation."
Tickets for the event — which will include a post-screening Q.&A. session with Ms Saltzman moderated by Bruce Barritt — are $50 each and can be purchased from premierticketsglobal.com.
The "Everything Or Nothing" screening will be preceded by a fundraising cocktail reception where guests will receive a special Bond cocktail courtesy of Bacardi — presumably shaken, not stirred — and a raffle will be held at the end of the evening.
The reception gets underway at 7 pm and the screening is at 7:30 pm and there is an unofficial Bond-themed dress code with guests being encouraged to attend in black tie tuxedo.
Bermuda has an association with James Bond's creator and the ensuing stories and films which dates back to the Second World War.
In May, 1941 Britain's World War Two Naval Intelligence Director Admiral John Godfrey and his aide Commander Ian Fleming arrived in Bermuda en route to New York to liase with their American counterparts.
"The two men flew KLM [from the UK] to Lisbon and then took the Pan Am Boeing 314 seaplane via the Azores to the British colony of Bermuda, 600 miles east of North Carolina, where the first American garrisons were building a base to help protect what President Roosevelt called 'the Western Hemisphere'," author Nicholas Rankin wrote in his recently published book "Ian Fleming's Commandos", the story of the 007 author's real espionage activities during World War Two [1939-1945].
Admiral Godfrey and Commander Fleming spent several days on the island, being briefed on the activities of the massive British espionage infrastructure established here soon after the outbreak of hostilities between Britain and Nazi Germany.
Ian Fleming at the time he first visited Bermuda as a Naval Intelligence officer in World War Two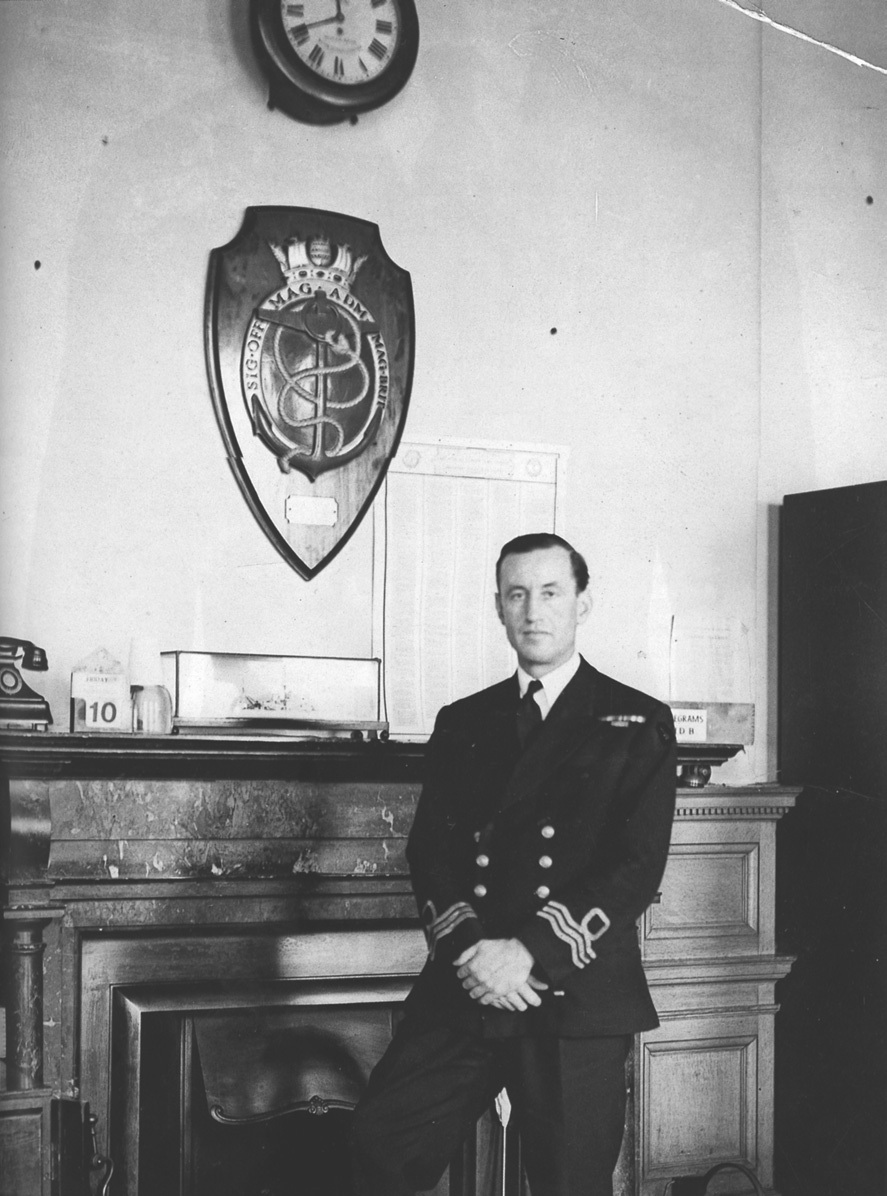 "Hamilton, Bermuda was where the British had set up the Imperial Censorship and Contraband Control Office to read the world's mail, taken off transatlantic ships and planes," says Mr. Rankin. "Fifteen hundred British 'examiners', also known as 'censorettes' because most were women, worked in the waterfront Princess Hotel, processing 100 bags of mail a day — around 200,000 letters — and testing 15,000 for microdots and secret ink messages, before sending on the bags on the next plane or ship."
With his journalist's eye for detail, Commander Fleming is said to have stored away details of a floor-to-ceiling aquarium at the Princess Hotel in his mental files — retrieving them in 1958 when he installed a million-dollar fish tank in the villain's lair in his 007 novel "Dr. No". He also used a Bermuda background for his 1959 Bond short story "Quantum of Solace" although the local setting and most of the slim plot was eliminated for the 2008 movie adaptation starring Daniel Craig.
During his wartime travels to the US Ian Fleming first became acquainted with Sir William Stephenson, the Canadian industrialist who coordinated British intelligence activities in the Western Hemisphere — including the Bermuda censorship operation — from offices in New York's Rockefeller Center.
The two men remained close friends until the author's death. Sir William retired to Bermuda in the 1960s and died here in 1989 at the age of 92. He is buried at St. John's Church, Pembroke.
"High up on my list of heroes is one of the great secret agents of the last war …," said Fleming in a preface to Sir William's 1962 biography. "People often ask me how closely the 'hero of my thrillers, James Bond, resembles a true, live secret agent.
"To begin with, James Bond is not in fact a hero, but an efficient and not very attractive blunt instrument in the hands of government, and though he is a meld of various qualities I noted among Secret Service men and commandos in the last war, he remains, of course, a highly romanticised version of the true spy.
"The real thing, who may be sitting next to you as you read this, is another kind of beast altogether.
"… Sir William Stephenson — decorated with the Military Cross and Distinguished Flying Cross for his exploits as an aviator in World War One — became one of the great secret agents of the last war, and it would be a foolish person who would argue his credentials …"
In 1973 British author John Pearson, a former colleague of Ian Fleming's who had written a bestselling account of his life and work, used the author's friendship with Sir William as the point of departure for his "authorised biography" of James Bond. In the book, which was sanctioned by the Fleming Estate, Bond is supposedly staying in Bermuda as a guest of Sir William while recovering from injuries sustained on a covert mission.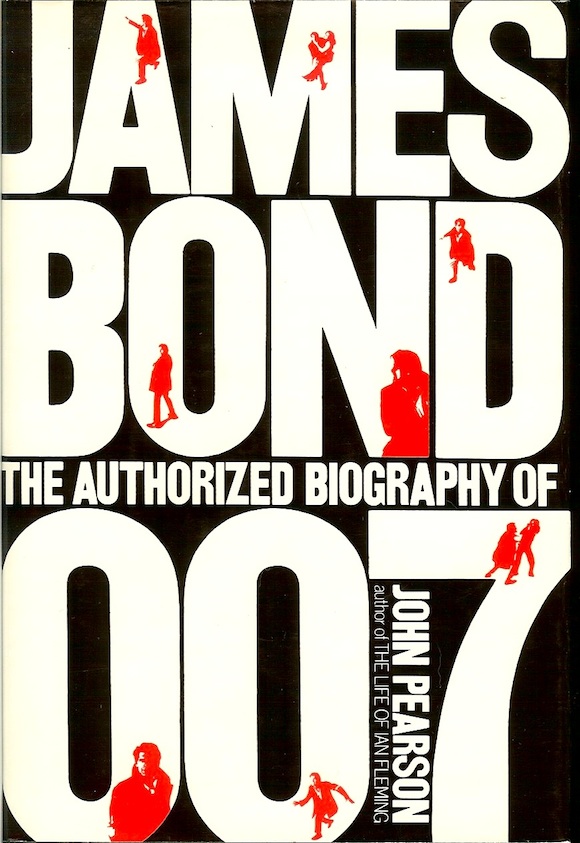 When the tongue-in-cheek biography of one of the world's most celebrated fictional characters was published, it received good reviews and sold well on both sides of the Atlantic.
"It is this book's pretense that there actually was — and is — a James Bond, whose real life corresponds startlingly with Fleming's 'fiction'," said "Time" magazine. "Run to earth in Bermuda and interviewed by Pearson, the real Bond is slightly older than he was at his last appearance in 'The Man with the Golden Gun'."
The magazine noted while the secret agent still had his gun-metal cigarette case and "that laconic, infallible way with svelte women and gross villains" he was heroically abstaining from Vodka Martinis while spending his sick leave at the Princess Hotel in Hamilton.
"The narrative of James Bond 'The Authorised Biography' of 007 is divided between Pearson's adventures interviewing the sometimes uncooperative James Bond living in forced 'retirement' in Bermuda [in which Bond's mysterious female companion is revealed to be none other than Honeychile Rider from'Dr. No'] and Pearson's own retelling of Bond's 'true' life story," said another critic. "Many of the events Pearson chronicles in the book read like James Bond short stories — and good ones at that!"
In 1962 — at the height of early Bondmania — Bermudian Michael Frith and writing partner Christopher Cerf received a strongly-worded rebuke from Ian Fleming when they collaborated on the dead-on satire "Alligator" while contributing to the Harvard "Lampoon" magazine as undergraduates at that Ivy League university.
Published by the "Lampoon" as a short novel and becoming an unexpected bestseller in the US, the spoof's title character Lacertus Alligator hatches a plot to form The Organisation Organised To Hate [TOOTH]. He proceeds to blackmail the British government by stealing landmark London buildings including the Houses of Parliament and floating them to Bermuda. Alligator's lovely assistant is Anagram Le Galion, daughter of an Irish mud-wrestler, who ultimately succumbs to the charms of secret agent J*mes B*nd when he is sent to Bermuda to investigate the case.
The note-perfect send-up of Ian Fleming's writing style had resulted in some American readers confusing "Alligator" for a genuine — if particularly bizarre — entry in his 007 series, the alarmed author informed the young Bermudian.
Today Mr. Frith is perhaps most well-known for his role as executive vice president and director of creative services at The Muppets/Jim Henson Productions, where he developed many of its most memorable characters for "Sesame Street," "The Muppet Show," and "Saturday Night Live." He was also co-creator of HBO's International Emmy Award-winning series "Fraggle Rock",  loosely inspired by Bermuda's Crystal Caves.
"Alligator", which is largely set on the island, had cover art by Bermudian co-author Michael Frith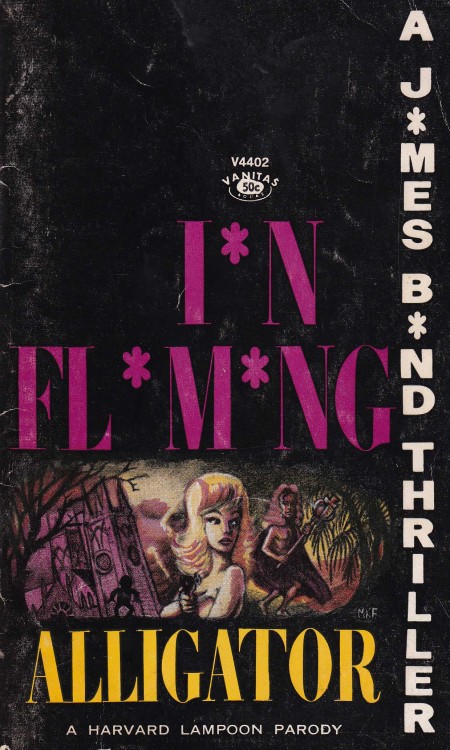 And Earl Cameron isn't the only Bermudian performer to have appeared in a Bond film.  The late actor and dancer Michael Ebbin shared a licence to kill along with secret agent 007  in the 1973 Bond thriller "Live And Let Die."
In that film — the first in the series to star Roger Moore as James Bond — Mr. Ebbin played Dambala, one of the chief henchman of villain Dr. Kanaga [Yaphet Kotto].
Dambala is a voodoo priest of sorts who first appears during the pre-credits sequence,  killing a British agent named Baines with a venomous snake during an occult ceremony on the fictitious Caribbean island of San Monique.
In fact, the ritual murder carried out by Mr. Ebbin's character leads directly into Paul McCartney's Oscar-nominated title song for the film.
The Dambala character later shows up to menace heroine Solitaire [Jane Seymour] and during the film's action-packed conclusion when James Bond shoots him while attempting to find the entrance to Dr. Kananga's hidden lair.
Mr. Ebbin, who shot his scenes at the Pinewood Studios outside London, was a highly-respected featured performer in many local dance revues and plays and also trod the boards in theatrical shows in New York and the United Kingdom.
Bermudian actor Michael Ebbin with Jane Seymour in "Live And Let Die"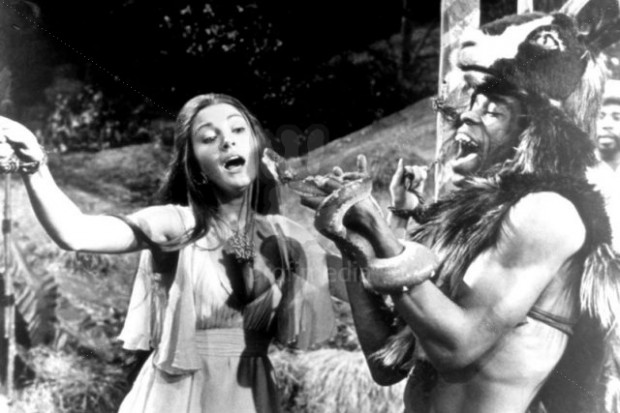 Read More About
Category: Entertainment, Films/Movies, News