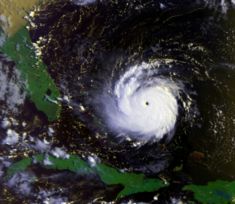 An upgraded hurricane computer model being launched this spring will result in even higher premiums for Florida home and business owners — and even higher profits for Bermuda-based (re)insurers, a Sarasota newspaper newpaper claims today. [Dec.30]
Risk Management Solutions' hurricane modelling — already the subject of highly critical coverage in the "Sarasota Herald-Tribune" earlier this year – is the industry standard among Bermuda (re)insurers who dominate the storm-prone Sunshine State's property insurance market.
"The new model pushes the threat of hurricanes as deep inland as Memphis and Pittsburgh, and erases the unofficial Florida rule that a resident could dodge steep rate increases by buying a house on the landward side of the state's coastal interstates," said the newspaper. "For large swaths of Florida's interior, the hurricane risk rises steeply, climbing from 140 percent to 200 percent for the owner of a frame house in central Florida …
"The primary recipients of the extra money that homeowners will likely pay for their enlarged hurricane risks reside offshore, with reinsurers in Bermuda and London, which cover a large share of insurance company storm losses. In exchange for that protection, they charge property insurers five to 10 times more than the expected loss."
Earlier this month a (re)insurance specialist for ratings agency Standard & Poor told an industry conference the revised RMS hurricane model would likely lead to changes in insurance pricing.
Read More About