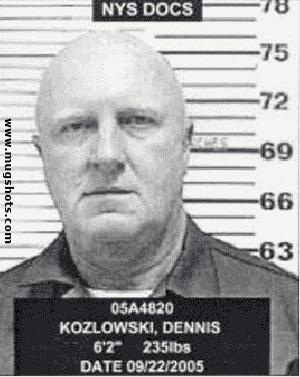 L. Dennis Kozlowski, the jailed former chief executive of Tyco, must replay all of his compensation earned over a nearly seven-year period beginning in September 1995, shortly before the multi-billion dollar manufacturing conglomorate reincorporated in Bermuda. A US federal judge today [December 2] ruled that Mr. Kozlowski has to forfeit more than $100 millon in benefits he received while he was plundering his former company's assets.
Mr. Kozlowski and Tyco have been engaged in a long-running legal dispute over whether the company can reclaim hundreds of millions of dollars in compensation he received. Tyco had been seeking the return of $505.8 million in benefits and compensation. In 2005, Mr. Kozlowski and Tyco's former chief financial officer Mark H. Swartz were convicted in a New York court of systematically looting the company, which incorporated in Bermuda in 1997. Tyco announced it was reincorporating in Switzerland in 2008.
"Kozlowski's multiple breaches of his fiduciary duty over several years clearly demonstrate his faithless service," US District Judge Thomas P. Griesa wrote in his opinion. "Kozlowski must therefore forfeit all compensation and benefits, deferred or otherwise, earned during his period of disloyalty, which began at its latest in September 1995. Because all of the benefits at issue in these contracts were earned during Kozlowski's period of disloyalty, Tyco is relieved from any obligation to honour them."
The total compensation outstanding is more than $100 million, the judge said in his order.
Although he never lived in Bermuda, Mr. Kozlowski was a frequent visitor. As Tyco CEO he ran the company out of Exeter, New Hampshire and New York. But he stayed at the Fairmont Hamilton Princess on a regular basis when he was on the island supervising local Tyco business and occasionally worked out of the company's offices in the Zurich building on Pitts Bay Road.  In February, 2002 — just months before he was fired — Mr. Kozlowski said Tyco was intent on broadening its Bermuda operation. "The offices here are going very well," he said. "We would love to expand in Bermuda with more functions and using the services of local firms."
Mr. Kozlowski was sacked by at Tyco in June, 2002 when the Manhattan District Attorney's office began to investigate him. In June, 2005, a Manhattan court convicted Mr. Kozlowski and Mr. Swartz each on 22 of 23 counts, including grand larceny, conspiracy and securities fraud, in connection with giant bonuses and other improper compensation they received while working at Tyco. Their convictions followed a mistrial in 2004.
Mr. Kozlowski, 64, and Mr. Swartz, 50, were sentenced n August 2005 to between eight and one-third and 25 years in prison. In court papers, Mr. Kozlowski's lawyers have said  he and other former Tyco executives have already paid more than $150 million in restitution to the company.
Read More About