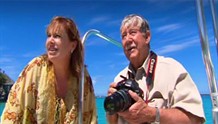 Bermuda-based TV production magnate Reg Grundy made a rare public appearance in his native country last night (Dec.10), receiving the Raymond Longford award for his services to the industry at the Australian Film Institute's annual gala awards ceremony in Melbourne.
The 87-year-old media mogul was responsible for such internationally successful Australian-produced shows as "The Restless Years", "The Young Doctors", "Prisoner" and "Neighbours" as well as a slew of game show formats – including "Sale of the Century" — which have also been exported around the world. He returned to Australia from Bermuda, where he has lived since 1982, to accept the award. Mr Grundy saluted the many people who had worked for him over the years.
"I was no one-man band and if this wonderful award had been a cake I think I'd have cut it up and sent a piece to all of them," he said.
A talented and enthusiastic wildlife photographer, last year an exhibition of his images of Bermuda Longtails called "Longtails: The Bermuda Dream", was held in The Rick Faries Gallery at the Masterworks Museum of Bermuda Art. Other photos Mr. Grundy has taken of Bermuda's unoffical national bird can be found displayed at venues ranging from the Bermuda Maritime Museum to the reception area of the L.F. Wade International Airport.
"The birds to me are the most beautiful in the world … they're real life fairytales. I love 'em," Mr. Grundy has said.
Earlier this year leading Australian TV presenter Tracy Grimshaw travelled to Bermuda to interview Mr. Grundy and his actor/writer wife Joy Chambers prior to the publication of his autobiography.
Read More About
Category: All, Entertainment, Films/Movies