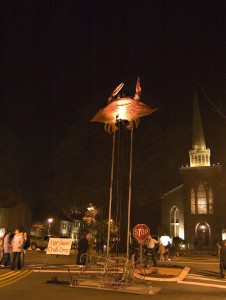 The people in Easton, Maryland used to mark New Year's Eve by watching the televised crystal balls drop over New York City — until two vacationing residents witnessed Bermuda's Onion Drop ceremony.
Today they watch a big, fake crab slide down a pair of poles in the middle of their 300-year-old Chesapeake Bay town.
"Kids pet it and get their pictures taken with it," says Marie U'Ren, chief organiser of the event which features two New Year's Eve crab drops. The first — at 9 p.m. — suits families with young children, while reminding people that 9 p.m. equals midnight in the middle of the Atlantic Ocean, which suits Easton's "mid-Atlantic" location.
"The crab was made by volunteers," Ms U'Ren says. "Each year, they update the numerals at the base of it, which light up when the crab reaches bottom, to greet and denote the New Year."
The oversized, red crustacean actually represents a cooked, blue crab — a culinary staple in Easton.
Richard and Suzanne Hood of Royal Oak, Maryland., suggested the crab drop — and created the first steel-reinforced, papier-mache crab — after witnessing the New Year's Eve Onion Drop in St. George's Bermuda.
The Onion Drop Ceremony originated in the town of St. George's in the 1990s to commemorate New Year's Eve and celebrate the Bermuda spirit.
"It is a St. George's tradition and I was there when we made it 12 or 13 years ago out of reinforcement rod, ­fibre-glass and chicken wire," former St. George's mayor Maria Caisey said last year. "It is our baby."
In 2009 the tradition was embraced by the City of Hamilton when budget constraints forced St. George's to cut back on its usual New Year's Eve festivities.
Read More About