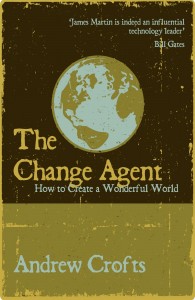 A leading British ghost writer found life was imitating fiction when he was abruptly invited to Bermuda last year on a mysterious assignment.
Andrew Crofts, the author of more than 80 books and the model for the title character in the political thriller "The Ghost" and director Roman Polanski's subsequent movie version "The Ghost Writer", said he was asked to visit Bermuda by Dr. James Martin, the highly private scientist, philosopher and futurist who lives on Agar's Island.
"In the opening lines of his best selling thriller, 'The Ghost', Robert Harris quotes me as saying: 'Of all the advantages that ghosting offers, one of the greatest must be the opportunity that you get to meet people of interest'," said Mr. Crofts. "He then proceeds to take his ghostwriter protagonist to an island where a former Prime Minister is in virtual hiding. Another author's body has been washed up on the beach and an international conspiracy is unravelling.
"Just as it was announced that Harris's book, with which I was obviously identifying strongly, was to be turned into a film I received an urgent invitation to another mysterious island. The invitation came from an old friend who I had re-established contact with after reading that he had just become Oxford University's biggest ever single donor by personally donating the money to found the Oxford Martin School, set up to study all the major issues facing mankind in the 21st century."
Mr. Crofts said Dr. Martin contacted him with an enigmatic but irresistible proposition: " He said, 'I've bought a private island in Bermuda. You must come out for a week so we can talk properly. There's so much to say and so much to be done and so little time.'
"The note of urgency in his voice, mixed with the chance to spend some time with Jim again, was enough to pique my interest …"
"While Polanski was filming Ewan McGregor as the writer and Pierce Brosnan as the former-Prime Minister I was making my way to Agar's Island in Bermuda to find out what it was that Jim believed to be so urgent. I was not disappointed. As the island and its owner gradually revealed their labyrinthine secrets I discovered that it was the very future of mankind which was at stake."
Mr. Crofts said his arrival in Bermuda, when he was dropped off with his wife at a lonely dock in Pembroke before being taken to Agar's Island, was as cryptic as anything in the Robert Harris' novel loosely inspired his life and career.
"The driver dropped us at the gates to the jetty and reversed noisily away up the steep, winding lane, leaving us alone with our suitcases," says Mr. Crofts in the opening chapter of  "The Change Agent: How To Create A Wonderful World", the newly published book which resulted from his stay on Agar's Island. "We could see the island ahead of us, but we had no idea how we were going to get there across this last stretch of water.  Even though we were only an hour or so from sunset and the night insects were already beginning to tune up, the Atlantic was still startlingly blue.
"The scene around us, however, had changed dramatically from the immaculate, manicured and landscaped gardens that we had been driving through since leaving the airport. All the eerily deserted, pastel-coloured mansions had vanished behind the tangle of trees and undergrowth that now surrounded us and it suddenly felt like we were the only people left in the world.
"As the screech of the reversing taxi faded away, silence fell and a cool spring breeze drifted in off the shimmering water. 'What happens now?' my wife Sue asked as we stood beside our cases. `I'm not sure,' I admitted, gazing across at the island as if an answer would present by magic … Our invitation to the island had been urgent and the flights from England hurriedly arranged … We had no idea what to expect once we had found a way to cross this final stretch of water to our destination."
What awaited Mr. Crofts was an introduction to the many, unique challenges facing humankind in the 21st century — challenges Dr. Martin has helped to identify and which he hopes to help preemptively address through the interdisciplinary research being conducted at Oxford's Martin School.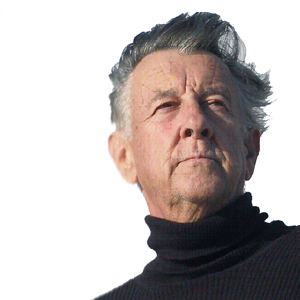 Dr. Martin (pictured at left), described by the London "Times" as "Britain's leading futurogist" and as an "influential technology thinker" by Microsoft founder Bill Gates, told Mr. Crofts that the starkest of choices now faces us all: to create the greatest Utopia imaginable – or plunge ourselves back into the Dark Ages, maybe even destroying humankind completely.
Prior to receiving his invitation to Agar's Island Mr. Crofts, who had been acquainted with Dr. Martin many years earlier, had been surprised to learn of his multi-million dollar donations to Oxford University — and also the runaway success of his 2006 book  "The Meaning of the 20th Century", sub-titled "An Urgent Plan For Ensuring Our Future" (recently made into on-line documentary narrated by former Bermuda resident Michael Douglas) .
" It had been 20 years since I had last seen Jim when I heard about him founding The Oxford Martin School," said Mr. Crofts. "Then I read in 'The Guardian' that his latest book, 'The Meaning of the 21st Century', was the most borrowed non-fiction book from British libraries in 2008, I decided it was time to get back in contact.
"I'd known he had been doing well for many years from his lecturing and writing about technology, and his incredibly accurate predictions about the future but I had no idea he had been successful on this scale."
During his time in Bermuda with the man who is arguably the world's preeminent thinker on the future, Mr. Crofts realised he had two compelling stories to tell — first, an account of the global cataclysm which will inevitably overtake humankind by mid-century unless cultural, economic and social progress catch up with technological advances, secondly the story of Dr. Martin himself.
The Oxford Martin School says the resulting book tells both stories well — ecapsulating Dr. Martin's grim views on how the near-future will play out unless urgent remedial steps are taken on a global basis and providing an intimate portrait of the publicity-shy seer: "For people who have been wondering who really is the man behind Oxford University's biggest ever single donor ($150 million since the founding of the Oxford Martin School in 2005), the answer looks to be found in a new book published this month by Tonto Books.
"According to the book's author Andrew Crofts, 'The Change Agent: How To Create A Wonderful World', is partly a conversation with a wise man and partly fable of James Martin: the story of a shy boy from a poor background who becomes one of the world's foremost authorities on the social and commercial ramifications of computers, a Pulitzer Prize nominee (for his book 'The Wired Society'), and an internationally renowned public speaker.
"The book recounts a gripping conversation about James Martin's global ideology and startling future predictions, warning of potential horrors with an overriding sense of urgency. Along the way, it describes how Martin has encountered people as varied as Bertrand Russell, David Bowie and Lee Kuan Yew, and how he has been called upon for advice by prime ministers and presidents, Cold War spies and business leaders.
"It tells the story of James Martin's ideas, which are the reason so many millions of people read his books and attend his lectures. And it gives insights into why Martin gave a the biggest single donation ever to the University of Oxford to inspire the foundation of a new School (the Oxford Martin School) that would be dedicated to developing the concepts, tools and technologies that will help make the future better. Martin believes we are entering a time of transition during which we could either destroy homo sapiens or we could use human ingenuity to develop and apply new technologies that will help create the most wonderful civilization that has ever existed. He believes that whatever happens, it is now a matter of urgency.
"People already connected with the Oxford Martin School have known about James Martin's extraordinary vision and generosity for many years. Now this new book provides the opportunity to spread his story and inspire others like him."
"The Change Agent: How To Create A Wonderful World" can be ordered through local bookstores.
Read More About
Category: All