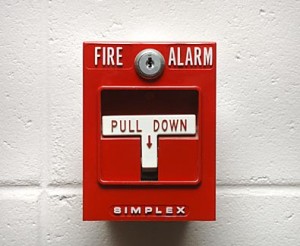 In Magistrates Court today [Jan 18], before Magistrate Khamisi Tokunbo, 33-year-old Francisco Fagundo pleaded guilty to deliberately setting off the Fire Alarm at the Southampton Princess Hotel when there was no fire. The incident took place on Saturday 7th August 2010.
According to the evidence and Mr Fagundo's personal explanation in Court, he had been called to the Southampton Princess Hotel to do some work, and had parked his work vehicle in an area where other hotel vehicles were parked. With his assigned work completed, and ready to leave the hotel property, he found his work vehicle's path blocked by a parked and keyless hotel Shuttle Bus.
Mr Fagundo said that he asked hotel security people to arrange for the vehicle to be moved. However, despite repeated requests, this did not happen. Mr Fagundo said that he was told that the hotel vehicle always parked there, that there were no keys available, and that he'd simply have to wait until someone came on duty and moved the vehicle.
Continuing his explanation, Mr Fagundo said that he eventually grew angry and pulled the Fire Alarm saying that he knew that would get some action. Ms Cindy Clarke for the DPP's office said that this alarm had resulted in the hotel's guests having to rise and troop through the hotel down to fire assembly points, and hotel employees having to go through their emergency fire drills. Mr Fagundo's further statement supported this as he said that once the alarm had gone off, drivers and keys appeared from all over the place and all kinds of vehicles started moving.
As soon as his work vehicle had a clear path, he said that he drove off but was then stopped by a hotel Security guard who jumped in front of his work vehicle and demanded that Mr Fagundo stop and tell him his name. The Security guard's evidence as read out by the Prosecutor was that Mr Fagundo had continued slowly driving his vehicle and had pushed him back twenty feet. Mr Fagundo disputed this saying that he had only "pushed the guy about two feet" but admitted that he had not stopped and had then driven off the hotel property.
Admitting that his actions were wrong, Mr Fagundo said that the next day, he had received a call from someone identifying himself as a policeman, and who had asked him questions about the incident. Mr Fagundo said that he had answered all the questions and had then been told that if he heard nothing more, he was not to worry.
Having heard both sides, Magistrate Tokunbo fined Mr Fagundo $1,500.
Read More About
Category: All, Court Reports, News