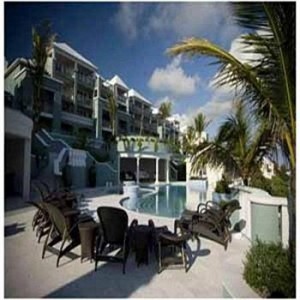 [Updated] Bernews unofficially understands the Newstead Belmont Hills Golf Resort & Spa was placed into receivership by the Bank of N.T. Butterfield & Son Ltd. this morning [Jan. 17].
Further details are expected to be announced later today.
The old Belmont Hotel — shuttered in 1998 — was purchased by Belmont Hills Property Ltd. in 2001 which intended to use the former Trust House Forte resort and golf course for a residential development.
When ground was broken on the project later that year, $10 million alone was invested in redeveloping the golf course into a world class 18-hole facility, the design supervised by veteran California architect Algie M. Pulley, Jr.
The residential redevelopment included 41 apartments within the fully refurbished Belmont Hotel building, 18 1,400-square feet Belmont Hills Golf Course Villas accessed off Middle Road and 17 Belmont Hills Harbour Road Villas of 2,400 square feet.
In 2004 Belmont Hills Property Ltd. bought the Newstead Hotel on Harbour Road and unveiled ambitious plans to incorporate a tourism component into the original concept — redeveloping the boutique waterfront property into a new luxury resort.
Developers said the overall intent of the Newstead Belmont Hills Golf Resort & Spa was to create a fully-serviced resort with a wide range of facilities and amenities provided in a unique partnership between two properties just minutes apart on Harbour Road.
The combined resort would have the benefit of two different but complementary Bermuda locations — the Belmont having access to and views of a newly refurbished golf course while Newstead offered more intimate views and direct access straight across the harbour to the City of Hamilton.
In addition to the golf course, golf academy, swimming pool and restaurant at the Belmont, the refurbished Newstead included a first-class restaurant, a spa with multiple treatment rooms, a fitness room, hair and beauty salon and a new infinity pool and whirlpool on the waterfront along with two tennis courts.
While the Belmont Hills was geared towards Bermudian ownership, the Newstead property included fractional ownership units. Both properties were serviced by a private ferry, which operated on a triangular route between Newstead, the Belmont dock and the City of Hamilton.
Opened in 2008, Newstead Belmont Hills Golf Resort & Spa was Bermuda's first all-suite hotel — and the first large-scale new guest property built on the island in more than 30 years.
The Newstead Belmont Hills Resort featured 45 one-, two- and three-bedroom suites and studios, each with a private balcony featuring views from the garden to the infinity pool to Hamilton Harbour.
At the time of the hotel's opening, developer Kevin Petty said he was optimistic Newstead Belmont Hills Golf Resort & Spa would usher in a new era in the Bermudian hospitality sector:  "I do believe this is a tourism renaissance, this is the start of something. If you dare to dream and have conviction, with the help of many, you can build a new fresh, exciting place like this."
Update 2:00pm: Bernews has been made to understand that the facility will not close, and will likely undergo some form of reorganization.
Update 4:30pm: Officials confirm it, saying that Ernst & Young Ltd., Bermuda have been appointed Receivers and Managers. Full details here.
Read More About