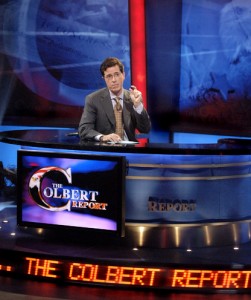 It's no joke. American comedian Stephen Colbert announced yesterday [Feb 11] he will take part in the Charleston-Bermuda Race which gets underway in May.
Mr. Colbert and crew will sail a 65-foot racing yacht on the 777-mile race from his native Charleston, South Carolina to Bermuda. This will mark the second time the comedian has entered the race, having completed it in 2005.
Stephen Colbert is the host of Comedy Central's "The Colbert Report", a satirical news show in which Mr. Colbert portrays a caricatured version of a conservative political pundit.
An AP news agency report says Mr Colbert plans to make the sailing adventure a focal point on his show.
Mr. Colbert, 46, said in a statement: "The ocean has had a free ride too long. Well, it has to deal with me now. Brace yourself, Atlantic!" In 2005, before the "Colbert Report" premiered, Mr Colbert completed the race for the first time.
J. Richard Speer, CEO of race sponsor OnDeck Group US, met Mr. Colbert at Thanksgiving when the comedian was visiting family in Charleston. Mr. Speer told the "Charleston Post Courier" Mr. Colbert spoke affectionately of the race, even though when he sailed in it in 2005 the experience could be charitably described as a disaster.
The boat Mr. Colbert sailed on lost its sanitation system, ran out of fuel and reached  Bermuda two days after the awards ceremony festivities were over.
"They had to listen to the awards ceremony on the boat's VHF radio," Mr. Speer said.
Mr. Speer said despite his misadventures in 2005, Mr. Colbert was enthusiastic about taking part in the Charleston-Bermuda race again and is going to attempt to press gang other celebrities into participating.
"We can't think of anyone better qualified to represent the spirit of this event and take command of the fleet in this exciting race to Bermuda," Mr. Speer said
The biennial Charleston-to-Bermuda race began in 1997, the idea of South Carolina sailors and marine industry professionals, David Browder and Rick Hennigar. In the previous seven runnings, up to 20 boats have competed.
Mr. Colbert grew up on James Island, South Carolina and in downtown Charleston.
The comedian is expected to promote both the race and the island heavily on his popular television show — although he once jokingly branded Bermuda "a state sponsor of terrorism" after four former Guantanamo Bay detainees were relocated here. The four Chinese Uighurs were released from the US detention centre at Guantanamo, Cuba and resettled in Bermuda in July 2009.
Read More About