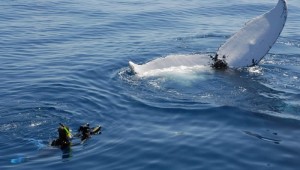 Bermuda documentarian Andrew Stevenson's "Where the Whales Sing" has been awarded High Honours at the Princeton Environmental Film Festival held in New Jersey.
This is the second international honour for the film has earned, after winning its category at the 2010 BLUE Ocean Film Festival.
Three years ago Mr. Stevenson embarked on a project to film the North Atlantic humpback whales underwater in the middle of their mid-ocean migratory crossings.
He worked on the film between February, 2007 and February, 2010 during which time the humpback whales became an overriding passion. The film shares his journey, told through the eyes of his six-year-old daughter, Elsa.
The 60-minute documentary is the culmination of Mr. Stevenson's Humpback Whale Film & Research Project, intended to research and collect visual and acoustics data on the humpbacks as they migrate past Bermuda to broaden our knowledge of these magnificent animals.
"Where the Whales Sing" will also show at the following upcoming film festivals:
Yale Environmental Film Festival
Nation's Capital Environmental Film Festival in March
International Film Festival Pelagos 2011 that will take place in Rome from February 19 to 27.
Palmetto Wildlife Film Festival, March 10-12, Beaufort, SC
Rocky Mountain Wildlife Film Festival, May 20-22, Denver, CO
Hamptons Wildlife Film Festival, September 23-25, Sag Harbor, NY
National Wildlife Film Festival, November 4-6, Washington, D.C. area
Footage of humpback whales Mr. Stevenson shot off Bermuda during the course of his research for the documentary is shown below.
Read More About
Category: All, Environment, News