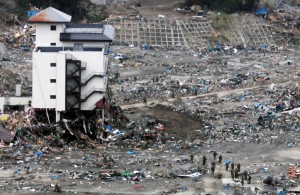 Insured damage estimates from the 9.0 magnitude earthquake and tsunami that devasted Japan reached as high as $35 billion, catastrophe modelers said.
The official death toll in Japan soared past the 8,000 mark with another 12,272 still missing, the Washington Post reported today [Mar.20].
The temblor was the most powerful to hit Japan in 100 years. The subsequent tidal wave tore through coastal areas and towns including Sendai and Fukushima at about 3pm local time on March 11, destroying large areas. Japanese television showed cars, ships and even buildings being swept away by the vast wall of water.
Catastrophe modeler AIR Worldwide said, "Based on currently available information, AIR estimates that insured property losses from Friday's earthquake will range between 1.2 trillion JPY to 2.8 trillion JPY. Using today's exchange rate of 81.85 JPY to the dollar, this translates to a range of between 15 billion USD and 35 billion USD."
"The AIR Earthquake Model for Japan does not account for the effects of tsunami. It should be emphasized, however, that any external estimates of tsunami losses should not be added to the loss estimates provided here, as that would result in significant double counting. Many of the properties destroyed by the tsunami first sustained damage from ground shaking and fire, as witnessed by videos of tsunami waves sweeping along entire buildings ablaze."
In its estimate, California based catastrophe modeler EQECAT Inc. projected the catastrophe would cost re/insurers between $12 billion and $25 billion.
Some Bermuda-based re/insurers have commented on their expected losses from the twin disasters. On March 16th ACE estimated losses of $200 – $250 million related to the Japanese earthquake.
RenaissanceRe said it is too early to provide an accurate estimate, but their losses will be "significant and is likely to be material," while Lancashire Holdings, Everest and Endurance acknowledged they would sustain losses, but said it is too early to estimate
Aspen Insurance Holdings Ltd said it does not have "any known exposure to property damage, business interruption or liability for any nuclear incidents arising from the Tohoku Earthquake."
Re/insurers were impacted before the Japanese quake by four recent disasters in the Asia Pacific region — the two New Zealand earthquakes, as well as Cyclone Yasi and floods in Australia.
According to Bloomberg, based on AIR Worldwide's preliminary estimate, the quake could be the second-most costly disaster for insurers and reinsurers after Hurricane Katrina in 2005, which cost the industry over $60 billion.
Read More About